ltmcd2584.jpg
The Wake \ Tidal Wave of Hype [LTMCD 2584]
Tidal Wave of Hype is the fourth studio album by Glasgow group The Wake, originally released by Sarah Records in 1994 (catalogue number SARAH 618).
Recorded after the group slimmed down to a duo, Tidal Wave of Hype was produced by the band with Duncan Cameron (Teenage Fanclub, BMX Bandits) at Riverside Studios. Along with core members Caesar (guitar and vocals) and Carolyn Allen (keyboards and vocals), the sessions also featured James Moody and Matthew Drummond of Sarah labelmates The Orchids.
This 2015 remaster features the original Sarah artwork as well as additional images by Matt Haynes. The two bonus tracks are from the 1991 single Major John (SARAH 48), on which Michael Hiscock of The Field Mice played bass.
"Here is the music we made during and after that sudden period of transition from Factory to Sarah," explains Caesar. "Spiky protest songs, unfettered pop satires, direct and personal, far removed from everything, travelling alone. Glasgow. Manchester. Bristol. There and back again."
CD tracklist:
1. Shallow End
2. Obnoxious Kevin
3. Crasher
4. Selfish
5. Provincial Disco
6. I Told You So
7. Britain
8. Back of Beyond
9. Solo Project
10. Down On Your Knees
11. Big Noise, Big Deal
12. Brit Mix
13. Major John
14. Lousy Pop Group
Available on CD only. To order please select correct shipping option (UK, EU or Rest of World) and then click on Add To Cart button below cover image.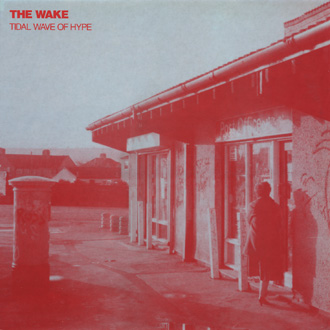 Reviews:
"The Sarah days were great days because The Wake appeared to have been freed from the shackles of caring any more" (In Love With These Times, 03/2002)
"With their Sarah albums, The Wake were making oddly personal political protest albums. What was always so great about the Sarah era Wake songs was that it was the sound of a band enjoying themselves. English Rain and Cheer Up Ferdinand were terrific, pounding pop gems, prickling with terrific keyboard riffs, like tinny Italo House pianos dubbed over naive electro New Wave" (Tangents, 02/2002)
"The Sarah-era Wake is significantly more polished, refined and - hey! - are they smiling in those pictures? It seems the clouds have cleared, and you're at a picnic with Felt and The Field Mice" (Other Music, 03/2002)
"Plaintive, passionate and plangent, just like pop should be. It's simply perfect" (Melody Maker, 01/1991)
"A cast of grotesques and social commentaries, with Back of Beyond a return to plaintive glory" (Classic Pop, 12/2015)