Twice As Nice: The Be Music/DoJo/Kamins/Baker Productions [LTMCD 2398]
Intended as a sequel to Cool As Ice, Twice As Nice is a second compilation of electro and dance sides produced by Be Music, the tag used by New Order, together with other Factory and Crépuscule label tracks produced by Donald Johnson, Mark Kamins and Arthur Baker.
Several, such as Genius, Keep On Dancing and Cool As Ice remain influential club classics, and have been extensively sampled and bootlegged. Other classic old school dance cuts include the Madonna-connected Call Me Mr Telephone, an ultra funky remix of Quando Quango's cover of Low Rider and both sides of the first Factory single by 52nd Street: Express and Look Into My Eyes. The album also includes two early sequencer tracks masterminded by Bernard Sumner in early 1982, long before Blue Monday changed music forever: one is an exclusive edit of the original version of 586 by New Order, ther other influential electro-pulse Sakura by Section 25.
Tracklist:
1 52nd Street Express
2. Cheyne Call Me Mr Telephone
3 Quando Quango Low Rider (400 Blows remix)
4 Anna Domino Summer (Arthur Baker remix)
5 52nd Street Look Into My Eyes
6 Quando Quango Genius (Pt 2)
7 Marcel King Keep On Dancing
8 Shark Vegas You Hurt Me (version)
9 New Order Video 586 (edit)
10. Section 25 Sakura
11. Thick Pigeon Jess + Bart (remix)
12. RFATP Motherland
13. 52nd Street Cool As Ice (Jellybean Mix)
Available on CD and download.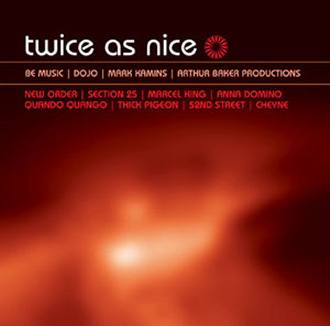 Reviews:
"In the early 1980s, energised by hip hop and electro, New Order produced a string of acts for Factory under their studio moniker Be Music, the results of which were greeted with indifference in the UK. Quite why is hard to fathom since, as this CD attests, tracks like Sakura by Section 25 and Motherland by Royal Family and the Poor were taut, bewitching slices of robo funk that still excite today. The other producers herein (Arthur Baker, Mark Kamins and Donald Johnson) all had their moments too" (Uncut, 11/2004)
"Another winning collection. Let it be said that 52nd Street's contributions to the electro-dance/new wave sound is immeasurable, while surrounding songs by New Order, Thick Pigeon and Royal Family and the Poor are ripe even for today's upmarket dancefloors" (The Big Takeover, 09/2004)
"Genius Pt 2 is a cross-over hit that never was, between Art of Noise and Orbital. The advent of the sequencer is one of the main aural interest of this collection and its use in diverting the dancefloor's attention away from disco and funk to electro-pop, and eventually onto Acid to full House. Essential" (Whisperin' & Hollerin', 10/2004)