Quando Quango \ Pigs + Battleships [LTMCD 2360]
CD and download album from Factory dance trailblazers Quando Quango, the seminal 80's electro combo helmed by Hillegonda 'Gonnie' Rietveld and Mike Pickering. Formed in 1981 in Rotterdam, Mike and Hillegonda relocated to Manchester in 1983 and went on to release four 12" singles and an album for Factory Records. As well as the full 1985 album (FACT 110) this remaster also includes singles Love Tempo, Atom Rock, Go Exciting and Genius.
Pigs and Battleships was mixed in New York by legendary deejay/producer Mark Kamins, who also handled the remixes of Love Tempo and Atom Rock included as bonus tracks. Associate Quango members included percussionist Simon Topping (ex A Certain Ratio), bassist Barry Johnson (ex-Sweet Sensation, later Aswad) and Reinier Rietveld (Spasmodique). Guest musicians include singer Beverley McDonald (52nd Street), pianist Andy Connell (ACR, Swing Out Sister) plus guitarists Vini Reilly and Johnny Marr.
Tracklist:
1. Genius
2. Go Exciting
3. Happy Boy
4. Rebel
5. This Feeling
6. S.T.
7. 40 Dreams
8. Low Rider
9. Love Tempo (Mark Kamins remix)
10. Atom Rock (Mark Kamins remix)
11. Triangle
12. Tingle
13. Go Exciting (original version)
Pigs + Battleships has been digitally remastered from the original master tapes and runs for 74 minutes. Booklet includes sleevenotes by Gonnie Rietveld. A different version featuring alternate bonus tracks is also available as FBN 110 CD:
FBN 110 CD tracklist:
1. Genius
2. Go Exciting
3. Happy Boy
4. Rebel
5. This Feeling
6. S.T.
7. 40 Dreams
8. Low Rider
9. Love Tempo (Mark Kamins remix)
10. Atom Rock (BBC version)
11. Triangle (BBC version)
12. Swampland (BBC version)
13. S.T. (BBC version
14. Genius (Pt 2)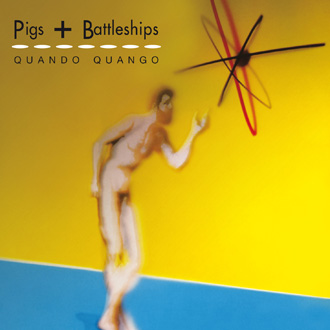 Reviews:
"In retrospect they make perfect sense. Genius sounds like Kraftwerk attending New York's Puerto Rican day, while Love Tempo is quirky, shouty dance perfection" (Q Magazine, 01/2004)
"From the frisky tricks and busy mischief of the opening Genius and Go Exciting through the Brazilian danger man theme on S.T., the lovers-rock bubblegum of This Feeling and the closing cover of War's Low Rider, Quando are consistently surprising and persuasive. A happy record" (NME, 1985)
"They got their formula right all along, and the album remains a treat for head, heart and feet. P&B covers a variety of bases successfully, taking in 80s style club moves, smouldering sambas with gorgeous jazzy piano, and nudges into updates of that classic 70s Jamaican reggae vibe. Very attractive indeed, people" (Whisperin' & Hollerin', 11/2003)
"A time-stamped snapshot of ambitious artists trying to re-make countless styles, from salsa to funk to Afropop" (eMusic, 09/2006)
"Stand-out track Love Tempo reaches away from the East Coast and toward continental Europe, with almost Italo disco arpeggios, beats that recall the malleable percussive ticks of minimal House, and a fat, chorused bassline" (The Wire, 01/2008)