Ludus \ The Visit/The Seduction [LTMCD 2333]
This CD and download collects together three releases originally issued on New Hormones. The Visit EP was the first Ludus record, released in March 1980, and includes the classic I Can't Swim I Have Nightmares. These tracks are joined by alternate 7" single versions of Mother's Hour and Anatomy Is Not Destiny.
The core of the CD is debut album The Seduction, which first appeared as a double 12" package in February 1982. This features some of Ian Devine and Linder's most accessible music (Mirror Mirror), as well as their most adventurous (The Dynasty).
Tracklist:
1. Lullabye Cheat
2. Unveil
3. Sightseeing
4. I Can't Swim I Have Nightmares
5. Mother's Hour
6. Anatomy Is Not Destiny
7. Unveiled - A Woman's Travelogue
8. My Cherry Is In Sherry
9. See The Keyhole
10. Her Story
11. Inheritance
12. The Dynasty
13. Mirror Mirror
14. The Escape Artist
Features original artwork by Linder Sterling, as well as extensive sleevenotes. Digitally remastered from the original tapes, 14 tracks, 71 minutes of music.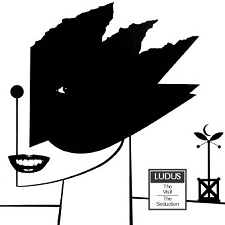 Reviews:
"Linder's voice remains a brilliantly discomforting instrument, glassy and gliding at tangents to conventional pop melodics" (Mojo, 12/2002)
"Linder's blood-smeared cocktail frock of a voice lived in sin with Ian Devine's high-life guitar stylings to peroduce carnal knowledge that was too cool to commit, forever at odds with its own beauteous untouchableness" (Glasgow Herald, 09/2002)
"Rich, strange, exotic, playful and terrifying - these are words that only scratch the surface of their singular soundworld. Spectacularly unclassifiable - 8 out of 10" (Whisperin' & Hollerin', 10/2002)
"The Seduction is arguably their most cohesive statement, and contains their most accessible Pop songs. The swinging Mirror Mirror and The Escape Artist are like Weekend with rougher edges and sharper teeth" (Careless Talk Costs Lives, 01/2003)