Ludus \ Biography
Ludus is the latin word for game, or play. Applied to the provocative music of Linder Sterling and Ian Devine it's an apposite self-description, since Ludus remain one of the most enigmatic groups to emerge from Manchester during the post-punk era.
Ludus formed in the city in August 1978 around Liverpool-born artist Linder Sterling and guitarist Arthur Kadmon, and were originally to have been called Bloodsport. Previously Kadmon had played with Manicured Noise, while Linder (born Linda Mulvey in 1954) was already moving within elevated creative circles, having provided the epoch-defining cover art for Buzzcocks (Orgasm Addict, 1977) and Magazine (Real Life, 1978), as well as publishing The Secret Public collage fanzine (1977) with Jon Savage. The Buzzcocks classic What Do I Get? was also written with Linder in mind.
Linder and Kadmon were joined by Willie Trotter on bass and drummer Philip 'Toby' Tomanov. At the time Linder told NME: "Everybody around me was making music, it seemed like a very obvious thing to do, and it seemed so easy for everyone else, so I got musicians together and it's not that hard after all."
Although this line-up released no records, two studio demos were recorded in October 1978 and February 1979, the latter with Linder's then-partner Howard Devoto producing. These reveal a punkish guitar band in search of a sound of their own, although some comparisons (Banshees, Penetration) were more obvious than others, including Annette Peacock and Sylvia Plath, whose poem Daddy the band boldly set to music.
From the outset Ludus were feted by the music press, and their live debut at the Factory Club in October 1978 (supporting the Pop Group) was widely reviewed. The band also played an early show at Liverpool Eric's, and travelled to London with Magazine for dates at The Venue on 23 and 24 November. Reviewing a second show at the Factory Club (with Crass) in January 1979, Paul Morley offered effusive praise: "Ludus are anything but ordinary. A rich, bewitching quartet, led by the enigmatic Linder, whose maturing, enchanting voice adds layers of mystery, fragility and haunting strength to the esoteric music... Arthur supplies the solids, Linder the shadows; Arthur the rain, Linder the wind. It's a classic combination... The overall mixture is of a precious dance music: Gothic, but not glossily so, like Magazine; impressionistic and expressionistic; compact and exuberant. It's music that chills and warms, with images that scare and comfort... Still young, still unsure onstage, their music is already alone and knowing. And they're getting better all the time. Take good care of them."
Initially both Factory Records and New Hormones showed keen interest in recording the new group, although the labels differed in that Tony Wilson wanted to tape the band immediately, whereas Richard Boon preferred to wait. The result was that Linder and Ludus would contribute to two somewhat hypothetical Factory projects in 1979. Famously, Linder designed the menstrual abacus (or egg-timer) designated Fac 8, although this artifact never progressed beyond the drawing board, and slipped off the label's release sheets towards the end of the year. Ludus did however contribute a video clip for the song Red Dress to the 8mm short Factory Flick (Fac 9), also featuring Joy Division and A Certain Ratio, and premiered at the Scala Cinema in London in September.
Following a short UK tour supporting Buzzcocks in March 1979, Arthur Kadmon quit Ludus, and would subsequently play with The Distractions and The Fall. After placing the time-honoured 'musician wanted' ad in NME the band recruited two replacements, although only Ian Devine lasted long enough to relocate from Cardiff to Manchester. He beat off several strong rival candidates, one of whom was John Kirkham, late of Pink Military and soon to form Factory latin-jazz contenders Swamp Children (aka Kalima). Ian began to write with Linder, and made his live debut at a 'Stuff the Superstars Special' event at Manchester Funhouse on 28 July, a bill which also featured Joy Division and The Fall.
Linder, Ian and drummer Toby eventually recorded their debut EP, The Visit, at the close of 1979. The distinctive Ludus sound was by now in place, combining angular, jazz-informed music, often irregular free-form arrangements, with Linder's unflinching lyrical exploration of sexual politics and cultural anxiety. The long-anticipated record was released in March 1980 to enthusiastic reviews, reaching #32 on the indie chart. One avid local fan was Steven Patrick Morrissey, who reviewed their show at Manchester's Beach Club in April 1980 for Record Mirror in glowing terms: "Ludus are sound psychology for the modern clientele... Tonight's set consisted of three lengthy bursts of experimental music. Linder delivered a wild melange of ill-disciplined and extraneous vocal movements, apparently without any effort. An exquisite torture. The set was a little too vague for general consumption, and that nothing from the EP was featured was an intense disappointment. But finally, that Ludus are valuable and special is impossible to deny."
Ludus also played regularly in London, where shows included the Prince of Wales Conference Centre (YMCA) with The Tiller Boys and Clock DVA (August 1979), the Electric Ballroom with Psychedelic Furs and Monochrome Set (November 1979), the Nashville with Eric Random (March 1980), an ICA Rock Week (June 1980), and another date with the Furs at the Lyceum in September. Ludus also performed at Cabaret Futura, the offbeat London club run by Richard Strange, all-but clearing the room. A second single, My Cherry Is In Sherry, described by Linder as a three minute pop song about 'hormonal victory', emerged in October 1980 to consolidate their burgeoning reputation. Towards the end of the year drummer Toby left the band and was replaced by Dids (aka Graham Dowdall), while Barry Adamson of Magazine provided occasional bass at gigs.
April 1981 saw the release of a stylish six-track cassette package, Pickpocket, which included a badge and the SheShe booklet featuring photography by Christina Birrer. At the same time Ludus undertook a short New Hormones package tour through Belgium and Holland with Eric Random. Their show at the Free University in Brussels on the 21st proved serendipitous, since the audience included Benoît Hennebert of chic new Belgian indie label Les Disques du Crépuscule. Hennebert, a retiring but hugely talented graphic artist, was much impressed by Ludus, and expressed interest in working with the band. Meanwhile a third single emerged on New Hormones in June, coupling the ferocious Mother's Hour with Anatomy Is Not Destiny - judged a single of the week by Sounds, yet 'formidably unlistenable' according to Melody Maker.
Although the first incarnation of Ludus had attracted a good deal of press without even troubling to release a record, during 1980 and 1981 the band had offered up a string of challenging records and provocative live shows, even daring to improvise onstage at the third Futurama festival in September 1981. A major NME profile by Paul du Noyer that same month came as a mixed blessing, in that it seemed to write-off its own subject: "Once a highly-promising new outfit who played early dates supporting Magazine, they've since split and splintered and come back in different shapes, and drifted steadily away from the mainstream of commercial potential and critical acceptance... I used to rate them an awful lot. Nowadays, although I can admire their uncompromising stance, their musical output seems more erratic: flashes of magic and puddles of boredom."
Financial constraints were also a hindrance. Throughout their career the impoverished group were obliged to record hurriedly, in basic studios, with the result that certain sessions lacked polish. Moreover, while The Visit sold a healthy 3,500 copies, My Cherry Is In Sherry sold only a third of that number. Yet though the average indie consumer found their uncompromising art hard to swallow, Ludus eschewed contemporary trends to work in purposeful opposition. It's also worth noting that Ludus never employed an outside producer, although Martin Hannett expressed interest, as did ex-Van Der Graaf Generator mainman Peter Hammill, who edited some songs at his home studio after attending a show at the Factory in 1979. Quite how such an outsider might have influenced so wilful an ensemble remains an interesting hypothetical.
After a period of relative silence, 1982 saw the release of not one but three Ludus albums. The Seduction appeared as a double 12" package in February and offered some of their best work to date, notably on more orthodox tracks such as Mirror Mirror, See the Keyhole and The Escape Artist. Danger Came Smiling followed in September, and was an altogether more challenging work. Comprising 18 frequently short tracks, it was subsequently described by Ian as a therapeutic exercise, and by Linder as an exorcism. Bored of singing conventional lyrics, Linder instead offered a selection of shrieks, yells, laughter and spoken interludes (including diary records of therapy), while the music kicked very hard indeed against the slick, calculated new pop then dominating the charts.
The third album, a compilation titled Riding the Rag issued in Italy, was based largely on Pickpocket. All three attracted largely positive reviews, yet sales remained modest, and for many Ludus were simply too abstract, too radical, too hard to decode. As Cath Carroll later wrote of Linder in Sublime: "The dark continent of her own experiences and anxieties lead her to Reichian therapy, mystical feminist literature such as the Wise Wound, and Rebirthing. Her collector's eye and keen aesthetic sensibility showed in her projection of her own physical image. Feminist but never Puritan, Linder was big on weird, messy sex (what else, my dears, would you expect from such a Weird, Sexy Mess?). In conjunction with longtime collaborator, photographer Christina Birrer, she was doing arty, vintage underwear and pale, shadowy flesh years before Madonna and Gaultier, only Linder kept her underarm hair. Then she did blood, she did meat, bandages, squealing, primal catharsis-stock vocabulary of performance art, but presented in a new! sexy! context. After this, all that remained were bodybuilding and baby-making. So she did those too."
Having purged some poisons with Danger Came Smiling, Ludus felt able to move towards writing more accessible material. After the demise of Magazine in mid-1981, and on the recommendation of Howard Devoto, keyboard player Dave Formula accepted an invitation to play with Ludus, and also brokered talks with Virgin, although these came to nothing. With New Hormones short of money, at the beginning of 1982 the band opted instead to make their next record with Les Disques du Crépuscule, and took up Benoît Hennebert's suggestion to cover of Brigitte Bardot's risque 1970 pop hit Nue au Soleil. With hindsight, Hennebert's role as a svengali seems an unlikely one, albeit no more so than Ludus simultaneously adopting an irregular management team comprising Cath Carroll and Liz Naylor (aka The Crones), both Manchester scenesters and co-editors of sharp-tongued fanzine City Fun.
Recorded in Manchester that summer, the Nue au Soleil EP saw the group expand to achieve a richer, more sophisticated sound. Linder, Ian and Dave Formula were now joined by bassist Paul Cavanagh, drummer Roy O'Shea and sax players Lee Buick and Graham Revell, which made for an excellent (if geographically far-flung) musical unit. As well as the arch Bardot cover, the session also produced She She, the freeform What a Falling Off Was There and an accomplished pop original in Let Me Go Where My Pictures Go. The single should have emerged on 12" as TWI 102, but it was endlessly delayed, and eventually appeared only in Italy through Base Records (SIDE 8407). It deserved far better.
August 1982 also saw the group record an excellent four-song BBC session for John Peel, with Covenant (Pride Below the Navel) and Vagina Gratitude remaining unrecorded and unreleased elsewhere. By now the size of the seven-strong band meant that live performances became relatively rare, the most celebrated being a show at The Haçienda in Manchester on 5 November. Although the music showcased the band's new pop sensibility (three live cuts appear on compilation CD The Damage), visually the show took a very different direction. Talking to Ian Greaves in 1997, Linder recalled: "At the same time at The Haçienda they were showing lots of soft porn, and they thought it was really cool. I took my revenge. I was a vegetarian, I got meat from a Chinese restaurant, all the discarded entrails... The Haçienda was still this male preserve. They were panicking - "It's going to mark the floors!" And they withdrew the Bloody Linder from the cocktail bar."
Helpfully, Naylor and Carroll decorated every table in the venue with a paper plate, on which sat a red-stained tampon and a stubbed cigarette. Dave Formula: "Tony Wilson came in and just went fucking spare. He went completely bananas. I've never seen him lose it like that before - he's normally the urbane Mr Cool, you know. He was incredibly shaken by it, meaning they put them all away. But then Linder came up with the trump card of The Dress."
The Dress was made of discarded chicken meat sewn onto layers of black net, pulled aside during the last number (Too Hot To Handle) to reveal a large black dildo. As a response to Bucks Fizz losing their Eurovision skirts the previous year it drove home one of Linder's central themes (the cultural expectation of women) all too well, although the gesture was unlikely to launch the group far towards the mainstream. That said, two decades later Lady Gaga would create headlines the world over with her own version of the same garment.
Whipping the meat dress aside certainly had a dramatic effect on the crowd at Fac 51, as Linder confirms: "I remember the audience going back about three foot. There was hardly any applause at the end. And that was a crowd who thought: nothing can shock us, we see porn all the time, we're cool. When that happened, when they stepped back, I thought, that's it. Where do you go from here?"
For a band in the skewed thrall of Brigitte Bardot and Serge Gainsbourg, the obvious answer was France. In March 1983 Ludus recorded a swansong single for cult French label Sordide Sentimental. Two tracks were taped at Spirit Studio in Manchester, Breaking the Rules (aka One and One) and Little Girls, which again evidenced a deeply subversive approach to pop. The single appeared as a limited edition package of just 2509 numbered copies, and like Nue Au Soleil vanished into relative obscurity. As a result an excellent BBC radio session taped in April for Janice Long (now lost) probably reached a wider audience, at least in the UK.
At about the same time relations between Linder and Ian became strained, and the band slowly lost momentum. In 1984 the pair returned to Belgium with the object of recording another album, again at the instigation of Benoît Hennebert. The duo briefly shared a flat above Interferences, Crépuscule's bar-cum-cultural venue, but creative chemistry was lacking, producer Alan Rankine somewhat doubtful, and no records emerged. Ian and Linder left Brussels separately, and would not speak for more than a decade.
After the split, Ian returned to Wales and formed Heb Gariad, who signed to the Welsh-language Anrhefn label, before joining forces with former Young Marble Giants vocalist Alison Statton. As Devine and Statton the pair produced two well-regarded albums for Crépuscule, The Prince of Wales (1989) and Cardiffians (1990), as well as several singles. He also produced an album for Belgian band Fats Garden, and co-wrote with Tuxedomoon man Blaine L. Reininger. From 1992 he played with Cardiff group Low Gods, and in 2001 resumed his musical partnership with Linder to produce the largely electronic soundtrack to the performance piece Clint Eastwood, Clare Offreduccio and Me, released as a seven track CD Requiem on Welfare State. An album of new songs, Devine and Griffiths, appeared in 2007.
Original drummer Philip 'Toby' Tomanov later played with Primal Scream, while Graham 'Dids' Dowdall joined Eric Random's Bedlamites as well as The Faction. Dave Formula went on to produce a Crépuscule single for Winston Tong (1984), opened the Strongroom studio in London, and co-produced the second album by Howard Devoto's post-Magazine project Luxuria, Beast Box (1990). He currently teaches musicology and production analysis, and performs with the re-formed Magazine.
After Ludus dissolved, Linder remained in Belgium before returning to Manchester in 1986 to concentrate her energies exclusively on visual art. She later published Morrissey Shot (Secker & Warburg, 1992), a volume of photographs documenting two world tours, and her images were also used for the albums Your Arsenal (1992) and Beethoven Was Deaf (1993). 1997 was marred by a near-fatal car accident, and a one-woman show at London's Cleveland Gallery titled What did you do in the punk war, mummy? The following year she filled a room in a disused Widnes school with 42 tonnes of industrial salt for Salt Shrine.
Subsequent exhibitions, installations and performances pieces have included The Return of Linderland (2000), featuring the film Light the Fuse (with a soundtrack by Ian Devine), the four hour performance piece The Working Class Goes to Paradise (2001) and the requiem Clint Eastwood, Clare Offreduccio and Me (2001). An exhibition of photomontages and early works held at the Mayor Gallery in London in 2002, and in 2006 Linder (with Ian) staged The Working Class Goes to Paradise at the Tate Triennial. A deluxe art monograph Linder Works 1976-2006 was published by Swiss imprint Jrp/Ringier in 2006.
Incredibly, in June 2004 Ludus reformed for two shows at the Royal Festival Hall in London, as part of the Morrissey-curated Meltdown Festival. Backed by a group of picked Cardiff musicians, Ian and Linder delivered two exemplary sets of re-arranged Ludus classics, once opening for Nancy Sinatra (20 June) and once for Morrissey himself (25 June). Indeed we may leave the last word to Morrissey, whose sleevenote for an unissued 1985 Crépuscule compilation (TWI 340) offers these closing thoughts: "Ludus lay on us the decorative impulses of their music, and nowhere more significantly than on the volume which now lies before you. people who know real genius will love this record... Her singing leaves me out of breath... Linder went to Brussels and I remained stuck in Manchester, battling with the tides of fortune. Our shrill spirits still slide through the ugly streets of Manchester, always wet through, always caught out, always spectating, our hearts damaged by too many air-raids."
James Nice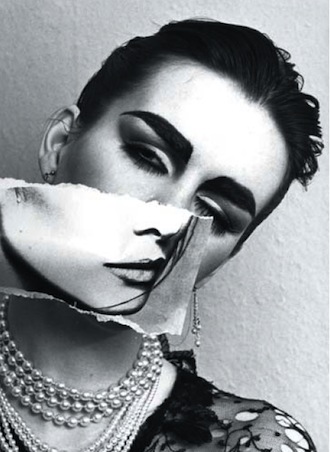 "Linder's 2013 show at the Musée d'Art Moderne de la Ville in Paris tells an earlier tale: of how, in 1976, graphic design student Linda Mulvey became Linder and, informed as much by feminism as by Dada and Surrealist manifestos, embarked on an incisive, arresting, often hilarious study of the relationship between consumertism, sex and gender." (The Wire, 04/2013)