Winston Tong \ In A Manner Of Speaking (Best Of) [LTMCD 2520]
Best Of collection by the singer and performance artist also known for his work within the group Tuxedomoon. Recorded between 1982 and 1990, the twelve tracks gathered on In a Manner of Speaking include five from Tong's acclaimed 1985 solo album Theoretically Chinese, produced by former Associate Alan Rankine and featuring a stellar cast of guest musicians including Jah Wobble, Steven Morris, Simon Topping and Dave Formula. Two tracks come in the form of dance remixes previously only available on an Italian maxi single.
The CD also features representative tracks from Tong's other solo projects: Like the Others and Miserere, as well as interpretations from three scarce compilation albums: Duke Ellington's Prelude to a Kiss, witty festive ditty The Twelve Days of Christmas, and Syd Barrett's Late Night.
There are also two memorable Tong songs recorded with Tuxedomoon, namely Albert Camus tribute The Stranger and In a Manner of Speaking, the 1985 song later covered by Martin Gore of Depeche Mode and more recently by Nouvelle Vague. Indeed thanks to the Nouvelle Vague cover, IAMOS has now become a standard, featuring in the soundtracks of several high profile movies and television shows.
Tracklist:
1. In a Manner of Speaking
2. Reports from the Heart
3. The Principles of Movement
4. Theoretical China
5. Broken English (Remix)
6. Big Brother (Remix)
7. The Stranger
8. Like the Others
9. The Twelve Days of Christmas
10. Prelude to a Kiss
11. Miserere
12. Late Night
Available on CD and download.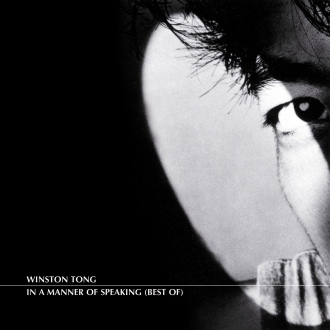 Reviews:
"Winston Tong's all-inclusive view of his muse - where singing and songwriting is part of a larger whole rather than his sole focus of interest - has meant he's sometimes received short shrift even from sympathetic voices, seen wholly in terms of Tuxedomoon or his irregular releases. The joy of In a Manner of Speaking lies in its handy summarizing of the musical part of Tong's work in life as well as acknowledging that larger context more thoroughly; if LTM's reissues of Theoretically Chinese, Like the Others, and Miserere went some distance on that front, this disc does an even better job. Drawing on those three albums, predominantly the first two, In a Manner of Speaking starts off with something else again -- his most legendary song, the title track, which appeared on Tuxedomoon's Holy Wars. A skeletal arrangement, matched with Tong's astonishing lyric about emotional conflict and hesitance, resulted in an oft-covered classic, but handily its appearance here doesn't overwhelm the rest of the disc, instead providing an initial context for the other choices. Those who know Tong's work from the LTM reissues will still find some surprises here, including a 1990 compilation selection featuring his slightly off-kilter cover of the Duke Ellington classic "Prelude to a Kiss" and another cover, Syd Barrett's "Late Night," from a 1985 movie soundtrack. Another Tuxedomoon song, "The Stranger," also takes a bow, as does his reworking of "The Twelve Days of Xmas." As for the more familiar cuts, songs like "Reports from the Heart" and "Like the Others" further confirm Tong's abilities as ever." (All Music Guide, 2008)