Fidelity was originally released by Les Disques du Crépuscule in April 1996, and features ten tracks written and performed by Vini Reilly, with occasional guest vocals by Elli Rudge. In addition to Vini's trademark guitar style, the album also features sleek programmed beats and synth textures.
The CD contains one bonus track, My Only Love, originally issued in 1995 on a free CD with a guitar magazine. The booklet for this digitally remastered CD and download includes background notes, and the text of the original press release.
Tracklist:
1. Fidelity
2. For Suzanne
3. Future Perfect
4. Abstract of Expression
5. G + T
6. Remember Me
7. Sanko
8. Grace
9. Guitar for Mother
10. Storm for Steve
11. My Only Love
Available on CD and download.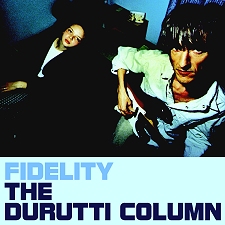 Reviews:
"Fidelity fuses chill-out room samples and beats alongside Ellie Rudge's choirgirl voice on this rarely-heard gem" (Plan B, 03/2008)
"As with much Durutti Column, so much relies on the listener's mood, but this is both amiable and slightly edgy" (Record Collector, 04/2008)
"Despite the absence of a unifying sound the tracks work together extremely well, especially the frantic and rhythmic opening title track" (SubCulture, 03/2008)
"Fidelity is almost exclusively performed by Vini Reilly, with a few supplementary guest vocals by Elli Rudge. In addition to his signature guitar style, the album's sonic makeup owes much to an array of electronics, drum loops and synthesizers. Aside from a few wayward brass sounds in For Suzanne, this cocktail of digitally rendered audio and organic sound comes together in a fashion that actually slots into the preoccupations of current musical climes well, with thin, wispy echo devices coating everything in a kind of old-fashioned foggy aura that's entirely out of place with the analogue-favouring sensibilities of recent years. Of course now we've reached revisionist dream-pop saturation point in 2008, this all sounds a good deal more in vogue than it might have just a few months ago. Interestingly, one of the most compelling (most guitar-centric) pieces here comes in the form of bonus track My Only Love, originally issued on a cover-mount CD that came free with a magazine" (Boomkat, 02/2008)
"A more synthesized sound, but the good bits are still very good" (Exclaim!, 09/2008)