Umbrellas in the Sun [LTMDVD 2400]
Umbrellas in the Sun takes its title from the 1981 video compilation of the same name released by chic Belgian label Les Disques du Crépuscule (TWI 099), and features selected clips from that project, as well as footage from A Factory Video (Fact 56), A Factory Complication (FBN 7) and A Factory Outing (Fact 71). Plus previously unseen material - the definitive genre document!
Featuring cover art by Crépuscule design director Benoît Hennebert, the DVD contains 23 clips filmed between 1979 and 1987 and runs for over 2 hours. The audio soundtracks have been digitally remastered. The disc is Region 0 (multi-region), NTSC format.
DVD tracklist
Antena The Boy From Ipanema
A Certain Ratio Back to the Start
Josef K Sorry for Laughing
Cabaret Voltaire Sluggin For Jesus
Marine A Propositio dei Napoli
Section 25 New Horizon
The Names Nightshift
The Durutti Column Marie-Louise Gardens
New Order Everything's Gone Green (live)
Crispy Ambulance The Presence
Minny Pops Dolphin's Spurt
Malaria! White Sky/White Sea (live)
Tuxedomoon Litebulb Overkill/Jinx (live)
Berntholer My Suitor
Thick Pigeon Wheels Over Indian Trails
Paul Haig Heaven Sent (live)
Kalima Trickery
Stockholm Monsters Partyline
Swamp Children You've Got Me Beat (live)
Kalima The Smiling Hour
Quando Quango Go Exciting (live)
Marine Une Soirée Avec... (28 minute film)
Available to buy for £12.00 from LTM Mailorder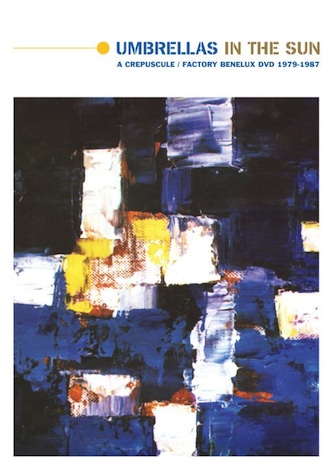 Reviews
"Uncut Recommends! Fantastic archive clips from early '80s indie darlings, from Josef K to A Certain Ratio via New Order. A fascinating historical document" (Uncut, 07/2005)
"Umbrellas in the Sun is a wonderful document which captures a lost moment of art-into-pop infusion. Splendid - vintage videos can be embarrassingly dated, but the bulk of the material on Umbrellas gives off a sense of limited means, effectively used" (The Wire, 07/2005)
"Five stars. Most of the participants are steeped in deadpan disdain for their role as performers. But although the work here may occasionally be visually naive, it indicates a knowingness, an attitude towards making music that seems to look down from the past on our own times. ACR's Back to the Start video is superb, cutting between solemn shots of the band observing the rituals of the rhythm and children dancing as if their milk's been spiked. Josef K are waif-like, intense, mighty impressive, while New Order play Everything's Gone Green live in 1981, half-drowned out by the sequencer, unaware they were about to 'become' New Order. And the collection is alone worth purchasing for Cabaret Voltaire's hard-to-find Sluggin Fer Jesus clip" (Uncut, 06/2005)
"Should be awarded a Nobel prize" (Word, 06/2005)
"These 21 videos represent the symbiotic relationship between two '80s indie labels, one from Brussels (Les Disques du Crépuscule) and one from Manchester (Factory). Lots of deep shadow and self-consciously serious facial expressions" (Q Magazine, 08/2005)
"Factory and its offshoots visually caught in time. Excellence and absurdity wander hand in hand within these sharp and low budget films, which, when bundled together, offer a refreshing glance back to an age of high camp, lo-fi posing" (Record Collector, 08/2005)
"Curveballs are thrown to make this journey worthwhile, with the naive imagination of Antena and Thick Pigeon, and an outstanding moment where a young-looking Vini Reilly is filmed in the beautiful setting of the Marie Louise Gardens" (Leonard's Lair, 07/2005)
"Memo - please pass a law the video clip budgets may not exceed 5000 euros. What years ago may have appeared clumsy simply delights today. Antena pose coquettishly, ACR ooze androgynous cool, Marine throw great shapes, Malaria! show once again that they may just have been one of the coolest bands of all time, and Durutti Column perform minimalist psychedelia in a public garden. A dream for today" (Spex, 07/2005)
"An absorbing two hours of anyone's time" (Whisperin' and Hollerin', 10/2005)
"Heureux LTM qui, a l'instar de Soul Jazz ou Vadim Music dans leurs styles respectifs, replacent dans nos oreilles des pans entieres de la musqie pop" (PopNews, 09/2005)