ltmlp2549.jpg
Josef K \ Sorry For Laughing [LTMLP 2549]
The first official vinyl release of Sorry For Laughing, the legendary first album by cult Scottish guitar group Josef K, recorded for Postcard Records but destined to become one of the greatest 'lost albums' of the postpunk era.
Recorded at Edinburgh studio Castle Sound in November 1980, Sorry For Laughing was due to be issued as Postcard 81-1, only to be shelved after the band and label boss Alan Horne decided that the 12-song set sounded too polished. Perhaps two dozen white-label copies in unmade sleeves exist; a few have sold for high prices to collectors. Josef K went on to release their second pass at a debut album, The Only Fun In Town, in July 1981, only to split after completing a promotional tour.
This remastered vinyl-only edition replicates the original Robert Sharp artwork (a solarised portrait of the band atop Calton Hill, printed in a silver pantone), and features detailed sleeve notes on the inner bag. Album is pressed on clear vinyl. The package also includes a bonus CD, The TV Art Demos, featuring all 12 tracks from the band's first tentative recording sessions in 1979.
Tracklist:
Disc 1 (Sorry For Laughing vinyl LP)
A1. Fun 'n' Frenzy
A2. Heads Watch
A3. Drone
A4. Sense of Guilt
A5. Art of Things
A6. Crazy to Exist
B1. Citizens
B2. Variation of Scene
B3. Terry's Show Lies
B4. No Glory
B5. Endless Soul
B6. Sorry For Laughing
Disc 2 (The TV Art Demos CD)
1. Chance Meeting (Take 1)
2. Terry's Show Lies
3. No Glory
4. Final Request
5. Art of Things
6. Romance (Take 1)
7. Torn Mentor
8. Night Ritual
9. Heads Watch
10. Chance Meeting (Take 2)
11. Sense of Guilt
12. Romance (Take 2)
To order vinyl LP + CD package please first select the correct shipping option (UK, Europe or Rest of World) and then click on Add To Cart button below cover image.
Or, you can order with the option of tracked shipping from our friends at Burning Shed (click here to order)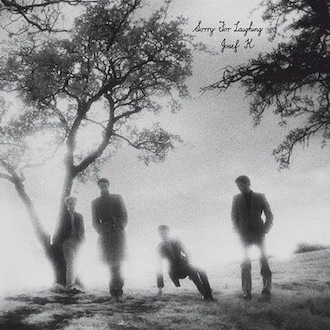 Reviews:
"Nervy, echoing, ecstatic - like a panic attack in a golden underpass. Heard now, on this vinyl-only remaster, the album sounds astonishingly wired, its short, sharp guitar attacks imbued with beauty and threat. An essential document of post-punk fire" (Mojo, 01/2013)
"Ageless anthems for doomed youth. Actually it's more listenable than The Only Fun, with Haig's existential croon mixed higher and free rein given to the angular violence of Ross' guitar" (Uncut, 02/2013)
"There is an urgent, constant motion in the music, dystopian disco rhythms and melodic bass lines, and for a while it seemed that this could be a blueprint for a new kind of art pop. Endless Soul is magnificent. Here the guitars carve out a dramatic space over an ebullient bass and drums groove, before they accelerate together into an exhilarating bridge" (The Wire, 04/2013)
"They were The Sound of Young Scotland, together with Orange Juice, whose guitars were also radiant and brittle, whose rhythms were also scrubbed and blunt, whose vocals were also proud and serious, but who sounded like another group entirely" (Paul Morley)
"In retrospect, their aborted attempt at a debut album feels much superior to what was finally released. The early versions of the songs sound superbly coiled and keen, the sublime poise of Endless Soul their truly timeless blaze of glory" (Simon Reynolds)
"A moment that didn't last long, but they were terrific. I liked Sorry For Laughing more than the official release" (Jon Savage)
"Cracking package, and a lost album no more" (Flipside, 02/2013)