Voices of Dada forms part of LTM's popular series of archive audio CDs exploring 20th century avant-garde and modern art. The album features interviews and phonetic poetry by six key figures from the celebrated Dada movement, active between 1916 and 1923.
MARCEL DUCHAMP contributes two extended interviews recorded in 1959, together with a reading from A l'infinitif (1967). TRISTAN TZARA offers a 1948 recording of his poem Pour Compte, while KURT SCHWITTERS is represented by recordings made in 1932 of his best known phonetic poems, Die Sonata in Urlauten and An Anna Blume. There is also an extended interview with RICHARD HEULSENBECK from 1959, plus a reading from Fantastic Prayers. RAOUL HAUSMANN is heard on three phonetic poems written in 1918 and recorded in 1956, as well as a colourful interview from 1959. HANS (JEAN) ARP contributes Dada-sprüche, a rare recording from 1961.
Tracklist:
1 HANS ARP Dada-sprüche
2. RICHARD HUELSENBECK Interview
3 RICHARD HUELSENBECK Phantastische Gebete
4 MARCEL DUCHAMP Interview #1
5 KURT SCHWITTERS Die Sonata in Urlauten
6 MARCEL DUCHAMP A l'infinitif
7 TRISTAN TZARA Pour Compte
8 MARCEL DUCHAMP Interview #2
9 KURT SCHWITTERS An Anna Blume
10. RAOUL HAUSMANN BBB + FMSBW
11. RAOUL HAUSMANN KP'ERIOUM
Voices of Dada runs for 76 minutes and includes a 12 page booklet featuring detailed liner notes, as well as associated images and graphics. The majority of the audio material is in English. Album available on CD and download.
TRISTAN TZARA (1896-1963)
Born Samuel Rosenstock in Moinesti, Romania, Tristan Tzara moved to Zurich in 1916 and founded the original Dada group together with Hugo Ball, Emmy Hennings, Hans Arp, Marcel Janco, Hans Richter, Richard Huelsenbeck and other émigrés. The anarchic and anti-art Zurich Dadaists concerned themselves chiefly with literary activity, much of it presented on the stage of the celebrated Cabaret Voltaire. In contrast to the combative Italian Futurists led by Marinetti, the exponents of Dada reacted to the First World War with disgust, choosing to remain in neutral Switzerland. "It's not Dada that is nonsense - but the essence of our age that is nonsense."
Primarily a writer and poet, Tzara claimed to have coined the term Dada (French for hobby-horse), becoming chief propagandist for the group through the pages of his review Dada, which he mailed to a large number of contemporary artists, Apollinaire and Marinetti included. Dada quickly spread abroad, notably to New York and Berlin, and in January 1920 Tzara relocated to Paris, where he planned to continue artistic provocation in company with the proto-Surrealist group centred around Louis Aragon, André Breton and Philippe Soupault.
By 1923 this alliance was in tatters, and factional scuffles broke out at a performance of Tzara's play The Gas Heart in July. During the 1930s Tzara would be reunited with his former Surrealist colleagues under the common banner of Marxism, this as a means to combat the rise of Fascism in Europe. An eager connoisseur and collector of African art, Tzara died of lung cancer in Paris in December 1963, having published 37 volumes of poetry, five plays, six collections of criticism and one volume of manifestos.
On this recording (taped in Paris in 1948) Tristan Tzara reads his poem Pour Compte (from Phrases, 1949). An extensive interview with Tzara can be heard on the companion CD Futurism and Dada Reviewed (LTMCD 2301).
RICHARD HUELSENBECK (1892-1986)
Born in Frankenau, Germany, Richard Huelsenbeck studied medicine in Berlin and Munich and there met Hugo Ball, the founding father of Dada. In 1916 Huelsenbeck followed Ball to Zurich and began performing at the Cabaret Voltaire, Dada's anarchic literary nightclub. "He is regarded as arrogant, and that's also how he looks." wrote Hans Richter. "His nostrils vibrate, his eyebrows are arched." Together with Tristan Tzara and Marcel Janco, Huelsenbeck co-created the celebrated 'simultaneous poem' L'amiral cherche une maison à louer in 1916.
Huelsenbeck returned to Germany the following year, and in April 1918 founded a Club Dada in Berlin with Raoul Hausmann, George Grosz, Johannes Baader, Hannah Hoch, John Heartfield and others. More aggressive and directly political than its Zurich forebear ("there is a difference between sitting quietly in Switzerland and bedding down on a volcano"), Berlin Dada issued numerous proclamations and manifestos, and also embraced visual art techniques such as photomontage, assemblage and typography. Huelsenbeck's own works include Dada Almanac and En Avant Dada, both published in 1920, the same year in which the German faction organised the First International Dada Fair.
Berlin was outraged. "These individuals spend their time making pathetic trivia from rags, debris and rubbish. Rarely has such a decadent group, so totally void of ability or serious intention, so audaciously dared to step before the public as the Dadaists have done here." After Berlin Dada petered out, Huelsenbeck fell back on his medical training and became a ship's doctor, before fleeing Nazi Germany and practising as a psychoanalyst in New York under the name Charles R. Hulbeck. In 1974 he published an autobiography, Memoirs of a Dada Drummer.
In this interview Richard Huelsenbeck speaks on 'Inventing Dada' with Basil Richardson in 1959. The recording appears courtesy of Mariele B. Richardson. The poem from the verse collection Phantastiche Gebete (Fantastic Prayers) (1916) was recorded by Huelsenbeck in New York in November 1967.
MARCEL DUCHAMP (1887-1968)
Born near Blainville, France, Marcel Duchamp remains one of the most influential conceptual artists of the 20th century. In 1915 Duchamp all-but abandoned painting and relocated to New York, where he worked on radical 'ready-made' artworks such as Fountain, in fact a porcelain urinal. Other leading Dada lights in New York included Francis Picabia and the photographer Man Ray.
Readymades may be defined as utilitarian objects (bottle driers, bicycle wheels etc) which achieve the status of art through the process of selection and presentation. Duchamp's pioneering achievement was to identify the important of context and 'appointment' in evaluating a work of art.
Duchamp produced relatively few real paintings, the best known being Nude Descending a Staircase (1911), and the large stained glass window, La Mariée mise à nu par ses célibataires, même (The bride stripped bare by her batchelors, even, aka The Large Glass), which evolved between 1915 and 1923. Much more of his work, and his influence as a theorist, was in the sphere of the abstract and conceptual.
The shorter Duchamp interview on this CD was recorded by George Heard Hamilton in London in 1959. The longer conversation was taped by Richard Hamilton in London in 1959. The text from A l'infinitif (In the Infinitive) (1912-1920) was made in New York in 1967.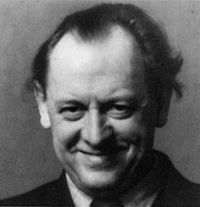 KURT SCHWITTERS (1887-1948)
Born in Hanover, Germany, Kurt Schwitters came to Dada relatively late, meeting Raoul Hausmann, Hannah Hoch and Hans Arp in Berlin in 1918. Abandoning his previous Expressionist style, Schwitters adapted certain of Arp's collage and assemblage techniques to style his own unique variant, Merz, which survived the end of Dada essentially unchanged.
Denounced as imitative and apolitical by Huelsenbeck, Schwitters was excluded from Club Dada in Berlin, not least because his comparatively orthodox verse collection An Anna Blume became a surprise commercial success. Although independent, and a Dada 'outsider', Schwitters remained close to Hausmann, and on hearing his sound poem fmsbw in 1921 recognised the potential of this radical form of expression. The resulting phonetic poem Die Sonata in Urlauten (or Ursonate) grew in size and scope over the years, eventually being published in 1932 (in Merz #24) with typography by Jan Tschichold.
"No one could perform poetry as Schwitters could. What Schwitters made of the poem, and the way he spoke it, were totally unlike Hausmann. Hausmann always gave the impression that he harboured a dark menacing hostility to the world. His extremely interesting phonetic poems resembled, as he spoke them, imprecations distorted by rage, cries of anguish, bathed in the cold sweat of tormented demons. However Schwitters was a total free spirit. He was ruled by nature. No stored-up grudges, no repressed impulses. Everything came straight from the depths, without hesitation... Everything he said was colored by his Hanover dialect, one notoriously ill-suited to poetical and gnomic utterences. But everything he said was so new that one ended up being ready to accept Hanoverian as the new world language. People laughed at him. They were right to laugh, but only if they understood why." (Hans Richter, in Dada: Art and Anti-Art, 1965)
These abridged recordings of the Ursonate and An Anna Blume were made by Kurt Schwitters for German radio on 5 May 1932 and appear courtesy of Ernst Schwitters / Cosmopress Geneva. It remains possible that both recordings were made as early as 1927.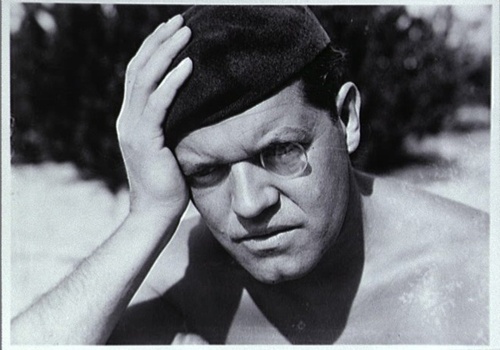 RAOUL HAUSMANN (1886-1971)
Born in Vienna, Raoul Hausmann was a founder member of Berlin Dada in 1917, along with Richard Huelsenbeck, George Grosz, Johannes Baader and John Heartfield. His absurdist visiting card identified him as "President of the Sun, the Moon and the little Earth (inner surface), Dadasopher, Dadaroul, Ringmaster of the Dada Circus". The First International Dada Fair was staged in Berlin during June and July of 1920.
In his 1918 manifesto "Synthetic Cino of Painting" Hausmann attacked Expressionism and proposed the use of new materials in art. He claimed to have discovered the technique of photomontage while on holiday in the Baltic in 1918, although, as with the name Dada itself, this paternity is disputed. Whatever the truth, the (anti) art of combining photographic images, printed text and other 'found' visual material would become a hallmark of Dada, and is reflected in many of Hausmann's best known photomontages, including Tatlin Lives at Home (1920), The Art Critic (1919/20) and Dada Conquers (1920). Other physical works include the found-object assemblage Mechanical Head (circa 1920) as well as his linocuts, although Hausmann elected to abandon graphic art after 1923 to concentrate on experimental photographic techniques.
Hausmann also experimented with poetry after 1918, apparently inspired more by Futurists (such as Marinetti) than by his Dada counterparts in Zurich such as Tzara and Hugo Ball. In his poems syllables are isolated, language deconstructed, and sounds take on a life of their own. Hausmann also linked visual montage and verse in 'optophonetic' poster poems, using woodblock letters printed on large sheets of wrapping paper, intended to be pasted onto walls across Berlin. Sound poems such as fmsbw predate Schwitters' comparable Die Sonate in Urlauten by three years, and while the pair remained on friendly terms (unlike Schwitters and Huelsenbeck), Hausmann nevertheless considered Schwitters a plagiarist.
"The great step by which total irrationality was introduced into literature took place with the introduction of the phonetic poem... In order to express these elements typographically, I used letters of varying sizes and thicknesses which thus took on the character of musical notation. Thus the optophonetic poem was born. The optophonetic and the phonetic poem are the first step towards totally non-representational, abstract poetry." (Raoul Hausmann, Courrier Dada, 1958).
These recordings of bbb, fmsbw and kp'erioum were made by Hausmann in 1946.
HANS ARP (1887-1966)
Born in Strasbourg, the capital of Alsace, Jean (Hans) Arp was classified as an enemy alien by Germany when war broke out in 1914, and the following year took refuge in Switzerland. Arp was involved in Zurich Dada from the outset, and like many of his fellow Dadaists was an acknowledged talent in both literature and the visual arts. When Hugo Ball opened the doors of the Cabaret Voltaire on 5 February 1916, Arp had designed the décor, and later performed his eccentric, humorous poems onstage.
Arp supported Tristan Tzara in his claim to have christened the Dada movement, rather than Richard Huelsenbeck. "I hereby declare that Tzara invented the word Dada on 6th February 1916, at 6pm. I was there with my 12 children when Tzara first uttered the word... It happened in the Café de la Terrasse in Zurich, and I was wearing a brioche in my left nostril." (Hans Arp, Dada au grand air, 1921)
Two themes dominate Arp's work within Dada: collaboration with other artists, and the creative possibilities afforded by chance. Both are illustrated by key pieces such as the wooden Relief Dada (1916), Collage With Squares Arranged According to the Laws of Chance (1916-17) and i-picture (circa 1920), the latter inspired by the i-drawings of Kurt Schwitters. This recording of Dada-sprüche was made by Arp in 1961, and is taken from a longer album held by the Fondation Arp in Meudon.
Liner notes by James Nice.