Futurism & Dada Reviewed [LTMCD 2301]
Futurism & Dada Reviewed is an archive primer compiling more than an hour of original sound recordings made by luminaries from both 20th century art movements, including F.T. Marinetti, Antonio Russolo, Jean Cocteau, Marcel Duchamp, Wyndham Lewis, Guillaume Apollinaire, Kurt Schwitters, Tristan Tzara, Marcel Janco and Richard Huelsenbeck. The audio content includes interviews, tone poetry and avant-garde musical pieces, all of which were recorded between 1913 and 1959.
Tracklist
1 LUIGI RUSSOLO Risveglio di una citta
2. ANTONIO RUSSOLO Corale
3 F.T. MARINETTI Sintesi Musicali Futuristische
4 ANTONIO RUSSOLO Serenata
5 F.T. MARINETTI La Battaglia di Adrianopoli
6 F.T. MARINETTI Definizione di Futurismo
7 LUIGI GRANDI Cavalli + Acciaio
8 WYNDHAM LEWIS End of Enemy Interlude
9 GUILLAUME APOLLINAIRE Le Pont Mirabeau
10. T. TZARA/M. JANCO/R. HUELSENBECK L'amiral cherche une maison à louer
11. MARCEL DUCHAMP La Mariée mise à nu par ses célibataires, même
RICHARD HUELSENBECK Inventing Dada
TRISTAN TZARA Dada Into Surealism
12. KURT SCHWITTERS Die Sonate in Urlauten
13. JEAN COCTEAU La Toison d'Or
14. JEAN COCTEAU Les Voleurs d'Enfants
Available on CD and digital download. Deluxe booklet with text and images. Collage artwork by Joël van Audenhaege.
Reviews:
"Exceptional - from Wyndham Lewis' posh tones to some skippy jazz-hot from Jean Cocteau, this is unremittingly fresh and joyous" (The Wire, 10/2000)
"Wonderful. You could imagine Tim Burton using it for a camp re-creation of a silent frightener" (The Guardian, 11/2000)
"The most enthralling LTM project to date, should lie in every record collection bar none" (Melody Maker, 12/1988)
"Blows the pants off most of the crap which passes for pop these days" (Marie Claire, 1988)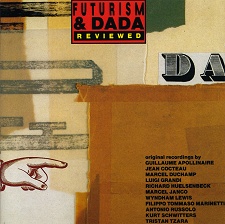 Liner notes:
9. GUILLAUME APOLLINAIRE Le Pont Mirabeau (1.14)
Born in Rome and educated in France, Guillaume Apollinaire (1880-1918) published his first writings in La Revue blanche of 1902 before meeting Max Jacob and Pablo Picasso three years later, thereafter frequenting the artistic and literary circles of Montmartre and Montparnasse. As well as novels and short stories he would write much influential art criticism, and was one of the first to champion the Cubist movement. When the Mona Lisa was stolen from the Louvre by a former associate in 1911 Apollinaire found himself arrested on suspicion of complicity. He was soon cleared, and despite being seen by some as a dangerous foreigner and thief his verse collections Alcools (1913) and Calligrammes (1918) would establish him as the leading French poet of his day.
This priceless recording of Le Pont Mirabeau was made in 1913. In an ultra modern form, with short verses, a refrain that repeats throughout the poem like a song, and without punctuation, the poem speaks of the classic themes of the fatality of passing time and the pain of love.
Volunteering for the infantry in 1914, Apollinaire suffered a serious head wound two years later and was invalided out of the army. He died in Paris in November 1918, a victim of the great influenza pandemic which broke out that year. Nevertheless, despite his early demise he remained a significant influence on many of the poets of both Dada and Surrealism. Indeed it was Apollinaire who first coined the word "surrealist" in the programme notes for Parade, a ballet by Jean Cocteau and Erik Satie first performed on 18 May 1917. His own play Les Mamelles de Tiresias (The Tits of Tiresias) further established the term.
13. JEAN COCTEAU La Toison d'Or (2.52)
French poet, auteur and cultural catalyst Jean Cocteau (1889-1963) became a creative figure of considerable influence worldwide. Mischievous, morbid, shocking and brilliant, Cocteau's poetic oeuvre even extended to this lively side recorded in March 1929, backed by the Dan Parrish Jazz Orchestra.
The music played behind La Toison d'Or (The Golden Fleece) is based on Holidays, written by band leader and pianist Dan Parrish. Despite being a leading figure in the avant-garde, and briefly associated with Tzara, Cocteau was disliked by core Surrealists such as Breton, Aragon and Eluard. Nevertheless, this novel recording is included here as an evocative snapshot of the jazz age.
14. JEAN COCTEAU Les Voleurs d'Enfants (3.47)
Another recording by Cocteau with the Dan Parrish Jazz Orchestra cut in March 1929, with the poet this time set to the foxtrot Pourquoi j'ai regretté by banjo player Vance Lowry. During his lifetime Cocteau was President of the Jazz Academy and of the Academy of the Disc.