Futurism & Dada Reviewed [LTMCD 2301]
Futurism & Dada Reviewed is an archive audio collection first issued in 1989. Intended as a basic primer, the CD and download compiles over an hour of original sound recordings made between 1912 and 1959 by luminaries from both 20th century art movements, including F.T. Marinetti, Antonio Russolo, Jean Cocteau, Marcel Duchamp, Wyndham Lewis, Guillaume Apollinaire, Kurt Schwitters, Tristan Tzara, Marcel Janco and Richard Huelsenbeck. The featured material includes interviews, tone poetry and avant-garde music.
Tracklist
1 LUIGI RUSSOLO Risveglio di una citta
2. ANTONIO RUSSOLO Corale
3 F.T. MARINETTI Sintesi Musicali Futuristische
4 ANTONIO RUSSOLO Serenata
5 F.T. MARINETTI La Battaglia di Adrianopoli
6 F.T. MARINETTI Definizione di Futurismo
7 LUIGI GRANDI Cavalli + Acciaio
8 WYNDHAM LEWIS End of Enemy Interlude
9 GUILLAUME APOLLINAIRE Le Pont Mirabeau
10. T. TZARA/M. JANCO/R. HUELSENBECK L'amiral cherche une maison à louer
11. MARCEL DUCHAMP La Mariée mise à nu par ses célibataires, même
RICHARD HUELSENBECK Inventing Dada
TRISTAN TZARA Dada Into Surealism
12. KURT SCHWITTERS Die Sonate in Urlauten
13. JEAN COCTEAU La Toison d'Or
14. JEAN COCTEAU Les Voleurs d'Enfants
Available on CD and download. Deluxe booklet with text and images. Artwork by Joël van Audenhaege.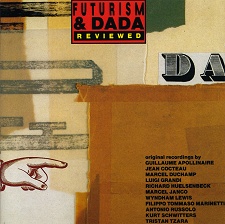 Reviews:
"This is exceptional - from Wyndham Lewis' posh tones to some skippy jazz-hot from Jean Cocteau, this is unremittingly fresh and joyous" (The Wire, 10/2000)
"Wonderful... You could imagine Tim Burton using it for a camp re-creation of a silent frightener" (The Guardian, 11/2000)
"The most enthralling LTM project to date, should lie in every record collection bar none" (Melody Maker, 12/1988)
"Blows the pants off most of the crap which passes for pop these days" (Marie Claire, 1988)