Rainy City Reggae
Formed in the Moss Side area of Manchester as early as 1975 by brothers Wesley (Honey) Ricketts and Patrick (Leddy) Ricketts, Exodus elected to play a more political/progressive style of reggae, free from the religious dogma typical of other reggae bands at the time.
In addition to vocalist Honey and drummer Leddy, the core line-up included Trevor Bell (bass), Ricky Jones (lead guitar), Dave Reid (rhythm guitar), and Johnny Caton (keyboards). Rodger Reid, Dave's brother, assisted as sound engineer/roadie. Several other musicians passed through the band over the next three years, notably backing vocalist Gayle Reid and a sax player named Herbie, but the core crew remained that outlined above.
After rehearsing for 18 months the band played live for the first time in 1977, early appearances including Manchester Free Trade Hall, along with various local Rock Against Racism gigs. With the 'punky reggae' crossover in full swing, Exodus invariably preferred to share the stage with 'alternative' new wave bands such as The Distractions, with whom the band played numerous gigs, along with Foreign Press, Mekons, Frantic Elevators, and underrated Manchester punk band Armed Force.
Early in 1979 the band took on manager Martin Dunlop, and two slices of 'Rainy City Reggae' were demoed at Drone Studios in Chorlton. English Black Boys and See Them A Come offered gritty comment upon growing tension within UK black communities due to the growth of the right wing National Front. Later these lyrics would seem all the more prophetic when, in 1981, riots took place in Brixton, Handsworth and Toxteth in response to widely (ab)used police 'Stop and Search' (SUS) laws.
Meanwhile Tony Wilson, Alan Erasmus and Peter Saville had recently formed Factory Records. On 12 June the group played at the Russell Club (then still known as The Factory), and Joy Division manager Rob Gretton brought X-O-Dus to the attention of the label. Radicals both, Wilson and Erasmus liked the political content of Honey's songs, and it was agreed that Factory would release a 12-inch single. Since reggae was something of an unknown quantity at Factory, Tony and Alan pulled out the stops and engaged Dennis 'Blackbeard' Bovell, then the leading reggae producer in Britain, whose postpunk credits included The Pop Group and The Slits, as well his own band Matumbi, and the soundtrack to excellent 'reggae Quadrophenia' movie Babylon. The single was recorded at Cargo Studios in Rochdale in June 1979, though Bovell proved curiously reluctant to travel north for the mix. In the meantime X-O-Dus took part in Fac 15 ('Zoo Meets Factory Halfway') - in reality a poorly attended Zoo/Factory sideshow at Leigh Festival on 27 August, along with Joy Division, A Certain Ratio, The Distractions, Crawling Chaos, Orchestral Manoeuvres, Teardrop Explodes and Echo and the Bunnymen.
'Still waiting for Dennis Bovell to mix it down,' griped Wilson in the Factory newsletter for September. 'He's in the Bahamas this week, on holiday.' Thankfully, by January 1980 the dub wizardry was all done, with Janet Kay (riding high in the charts with the Bovell-produced Silly Games) also attending the mix session at Cargo. 'It took Blackbeard many months of serious thought to produce this particularly memorable 12-inch 45. It's particularly memorable when you realise that most people forgot we were actually doing it.'
Maddeningly, there were further delays on account of the sleeve. Furthermore the spelling of Exodus had to be changed to 'X-O-Dus', since a London based roots reggae band had (equally unimaginatively) also begun using the Marley derived name. These various travails were duly noted by Melody Maker: 'Factory may be a hive of activity when it comes to Joy Division, but some of the other acts are not so fortunate - reggae band X-O-Dus had to wait 14 months for their first single to be completed. The 12-inch took one day to record, ten months to mix and there was a four month wait for the artwork.'
Fac 11 eventually emerged in April 1980 (as a pressing of 5,000) in a light grey sleeve designed by Peter Saville. 'It came direct from Willy Fleckhaus,' explains Saville today. 'Optima type, ranged left of the rule. I just did it because I felt like doing it. There was no brief, although the black, white and grey colour scheme ties into the title, English Black Boys.'
Inside, the labels credited both songs to 'Anderton Music' - a sly dig at Manchester's then chief constable, James Anderton. Wilson's enviable media connections also secured TV appearances on What's On and Pebble Mill at One, along with an invitation for Leddy to drum with Kid Creole and the Coconuts for a Granada TV slot. Half a dozen advance white labels were also circulated and John Peel gave his copy reasonably good airplay, which helped X-O-Dus scale the indie singles chart. A NME clipping shows English Black Boys at #2, above Wah Heat, Cramps, Teardrop Explodes and UB40. Another 5,000 copies were pressed with a darker grey sleeve. Critics were positive, with Sounds praising 'militant reggae - bleak, cold and hard', Melody Maker a 'poignant slow-burner' and NME 'some subtly understated rock-orientated guitar beneath the languid vocals.'
In April 1980 X-O-Dus also took part in 'Factory By Moonlight', a London media showcase at the Moonlight Club in Hampstead, spread over three nights. The group performed at the closing event, 4 April, a Friday, along with comedian John Dowie, The Durutti Column and unbilled headliners Joy Division. 'To these unaccustomed ears they sounded no better nor any worse than most other British reggae bands,' wrote Neil Norman in NME. 'Though there was a distinctly hard edge to the loping riff that gives them extra bite. Their main appeal rested in their lyrics, which avoided religious dogma and dealt mainly with the problem of being an English Black Boy.'
Although pleased to have a single released on Factory, the group were never happy with the extended dub format, since it was not representative of live performances or their real direction. On stage X-O-Dus were much more punchy, with signature jazz or rock lead guitar breaks, one song even beginning with 60 seconds of free-form noise which built to a crescendo before any reggae even started. Nevertheless, it was agreed with Wilson that the second single would be a 7-inch, and that Factory would also release a self-produced X-O-Dus album. To this end, seven songs were recorded at Drone, the arrangement being that X-O-Dus would pay for the studio time, which cash-strapped Factory would later reimburse.
Meanwhile X-O-Dus continued to gig extensively, touring Scotland in June (advertised as 'Reggae for the Jocks') and even supporting Gary Glitter at a Strathclyde University Christmas all-nighter. The band were called back for five encores when supporting Bad Manners at the Caledonian Hotel in Inverness, much to Buster Bloodvessel's chagrin. The Rock Garden in Covent Garden became a regular headline gig, and, following a string of shows with The Rezillos, X-O-Dus were asked to support celebrated Jamaican reggae act Culture at Manchester Apollo. All well and good, but gigs with Bad Manners and Gary Glitter hardly reflected 'the Factory way'.
Indeed the success of Joy Division stretched resources at Factory throughout 1980, and ultimately no further X-O-Dus records appeared. 'Factory and Rob were always obsessed with the black music scene in Manchester,' Wilson explained to John Robb two decades later. 'As we all know, black music is the heart of rock n' roll. But all Manchester black acts fuck up. As a journalist I ended up making a film about this. I can remember interviewing the bass player from X-O-Dus [Trevor Bell], his explanation was that "We all fall out". Factory put out their record English Black Boys and they then broke up - typical!'
In 1981 X-O-Dus would indeed fragment, after which the core members continued to play out as Partecs until 1982, with the Band On The Wall providing a regular Friday gig. Partecs in turn split in early 1983, and the most progressive and innovative reggae band in the country was gone, with FAC 11 as their sole vinyl legacy. The music on this CD consists of both sides of the Factory single, along with seven unreleased tracks recorded at Drone for the unfinished album. We apologise for slight sonic imperfections on some of the Drone tracks, but the fact that they have survived in such good condition on cassette tape for thirty years is, in itself, remarkable.
Thanks to Alan Erasmus for his efforts in tracing the original band members ahead of the release of the Factory: Communications 1978-1992 box set in 2008. Thanks also Tony and Oli Wilson, John Cooper@Cerysmatic and James Nice@LTM.
Martin Dunlop
2012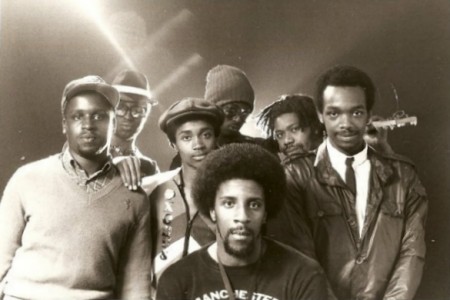 "One of the most remarkable chapters in British reggae history" (The Wire, 06/2012)