ltmcd2411.jpg
Avant-Garde Art \ Wyndham Lewis - The Enemy Speaks [LTMCD 2411]
A CD audiobook of readings by Percy Wyndham Lewis (1882-1957), the influential British modernist writer, artist and self-styled 'Enemy' feted both by T.S. Eliot and Mark E. Smith.
Lewis is best known as the founder of the Vorticist art movement, an English variant of Italian Futurism. Publication of their journal Blast was interrupted by the outbreak of the First World War in 1914, after which Lewis the artist pursued a parallel career as a writer of fiction, satire and criticism.
The Enemy Speaks gathers together rare broadcast recordings made by Lewis in 1938, 1947 and 1951 on various subjects in art and politics, as well as readings of three poems from One-Way Song recorded at Harvard in 1940. The CD also features a dramatised extract from his Bloomsbury-baiting satire The Apes of God, recorded in 1951 with an introduction by the critic V.S. Pritchett. The CD closes with the recording of Sympathy which so vexed Lieutenant Lewis in a shared dug-out near Ypres in 1917.
CD booklet features archive Lewis images and historical notes by James Hayward. Project released in association with the Wyndham Lewis Memorial Trust.
CD tracklist:
1. When John Bull Laughs (1938)
2. End of Enemy Interlude (1940)
3. Song of the Militant Romance (1940)
4. If So the Man You Are (1940)
5. A Crisis of Thought (1947)
6. The Essential Purposes of Art (1951)
7. The Apes of God (extract) (1951)
8. Sympathy (sung by Nelson & Leigh) (1917)
Available on CD and digital (MP3 or FLAC). To order CD please first select correct shipping option (UK, Europe or Rest of World) and then click on Add To Cart button below cover image. Digital copies are delivered to customers by link sent via email.
Reviews:
"Amazing recordings. The Enemy Speaks is the exact opposite of the phrase 'dumbed-down' - if only we could let him loose on the majority culture of our time. And the last track, Sympathy, is a brilliantly ironic twist" (Pop Matters, 07/2007)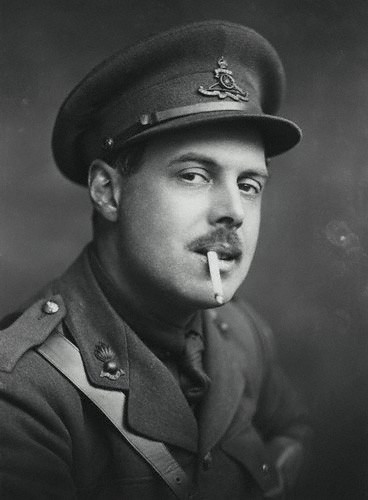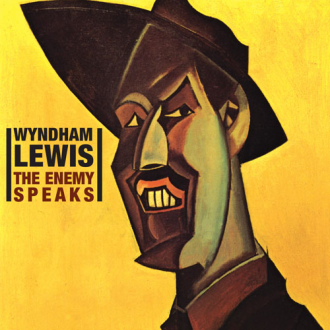 Born off the coast of Nova Scotia (Canada) on 18 November 1882 to a British mother and American father, Percy Wyndham Lewis was educated in England, first at Rugby School, then at the Slade School of Art in London. Between 1902 and 1908 he undertook a bohemian grand tour of Europe, during which he studied art in Paris and Munich, absorbing there the innovations of Cubism and Expressionism, as well as finding an early mentor in Augustus John. In 1909 he published his first writing in The English Review, edited by Ford Madox Ford.
In 1911 Lewis produced his first Cubist/Futurist paintings, and completed a decorative mural for The Cave of the Golden Calf, an avant-garde nightclub. Lewis also took part in Roger Fry's second Post-Impressionist exhibition, but quickly fell out with the Bloomsbury clique, instead founding a rival Rebel Art Centre in March 1914. Indeed Lewis' quarrelsome, hostile temperament remained a constant throughout his life.
Between 1913 and 1915 Lewis developed the style of angular, geometric abstraction for which he is best remembered, and which was christened Vorticism by his close friend Ezra Pound. Based on machinistic and architectural forms, the work produced by Lewis and other members of this unique English avant-garde art movement combined the dynamism of the Italian Futurists with the strong structure of Cubism. Lewis was the principal author of the Vorticist manifesto; other notable Vorticists included Henri Gaudier-Brzeska, William Roberts, Edward Wadsworth, Jacob Epstein and Frederick Etchells.
Prior to forming the Vorticist group, Lewis and his faction had actively embraced Futurism and hosted several visits by F.T. Marinetti, the extrovert Futurist leader. However they disagreed with some of the Futurist tenets, and fearful of being branded as subsidiary and provincial, disrupted a performance by Marinetti and C.R.W. Nevinson at the Dore Galleries on 12 June. The creative independence of the Vorticists was underlined by the first issue of their journal Blast, a polemical 'Review of the Great English Vortex' edited by Lewis and featuring artwork, typography and prose by Wadsworth, Roberts, Brzeska, Epstein, Ford and Ezra Pound (among others), as well as Enemy of the Stars, a complex play by Lewis.
Vorticism and Blast established Lewis as the leading British avant-garde artist of the day, and one of the 'Men of 1914' alongside James Joyce, T.S. Eliot and Ezra Pound. Unfortunately both his group and career were all but destroyed by the First World War. After just one exhibition in June 1915, and a second, final 'war number' of Blast in July, the Vorticist group broke up, and early in 1916 Lewis volunteered for military service. Serving first as a bombardier in the Royal Garrison Artillery, Lewis was eventually commissioned and spent much of 1917 on active service in the Ypres sector, Passchendaele included. Although as a heavy artillery officer Lewis was spared the horror of the front line trenches, he endured frequent shelling and forward observation duties, and also succumbed to trench fever. Keen to extricate himself from the rigours of sharp-end soldiering, Lewis was appointed as an official war artist at the end of 1917, producing two representational works, A Canadian Gun Pit and A Battery Shelled. Lewis later documented this period in a volume of autobiography, Blasting and Bombardiering.
His first novel, Tarr, a modernist fiction of ideas, was published in 1918. After the war Lewis resumed his career as a painter, producing the self-portrait Mr Wyndham Lewis as a Tyro (1920/21) reproduced on the cover of this CD. Two further short-lived journals appeared (The Tyro and The Enemy), but during the 1920s Lewis came to renounce the avant-garde and instead devoted most of his energies to writing, with theoretical and critical works including The Art of Being Ruled (1926) and Time and Western Man (1927). The Childermass (1928) was an afterworld fantasy, while his long satirical novel The Apes of God (1930) blasted the Sitwells and Bloomsbury, and is extracted on this CD with a perceptive introduction by the writer and critic V.S. Pritchett.
A political radical in the 1920s, during the thirties Lewis came more and more to support the authoritarian right, as evidenced by disastrous socio-political books such as Hitler (1931). His best novel, The Revenge for Love (1937), was strongly critical of Communist activities in Spain before the Civil War, and portrayed drawing-room Republicans in England as deluded. As a result Lewis was widely condemned as a fellow-traveller of fascism, and although later texts such as The Hitler Cult and The Jews, Are They Human? (both 1939) offered a qualified apology, the stigma and taint remained. Always antagonistic, Lewis believed that a form of critical freemasonry had irreparably damaged his career during the 1930s, not least after the Royal Academy rejected his striking portrait of T.S. Eliot. As biographer Jeffrey Meyers noted, Lewis was "one of the loneliest figures in the intellectual history of the Thirties."
Excellent paintings such as Surrender of Barcelona (1936-7) and Red Portrait (1937) and other portrait work failed to revive his career as an artist, and in September 1939 Lewis and his wife Froanna left England first for Canada, then the United States. In exile the couple were to endure six years of bitter penury, during which few commissions were offered, while new books sold modestly, and lecturing posts seldom endured. In 1942 Lewis was again commissioned as a war artist, although A Canadian War Factory would be delivered more than two years late and unfinished, leading Sir Kenneth Clark to note, "I fear that we have simply been swindled."
Lewis returned to London in August 1945, though already his sight was deteriorating and by 1951 he was blind. Despite this tragedy Lewis produced another seven books in as many years, including Rude Assignment (1950), Rotting Hill (1951), and the semi-autobiographical novel Self Condemned (1954). This final burst of creativity coincided with the beginnings of a critical reappraisal of his life and work, and in 1956 he was given a major exhibition at the Tate Gallery, 'Wyndham Lewis and Vorticism'. He died aged 74 at Westminster Hospital on 7 March 1957, as a result of the brain tumour which had crushed his optic nerve and caused his blindness.
During 50 years of vigorous creative endeavour, Wyndham Lewis produced over 40 books, 100 paintings, 360 essays and 1000 drawings. From this often bewildering range and quantity of work emerges an independent, courageous artist, a gifted (if flawed) human being, and one of the most stimulating and controversial figures in 20th Century English art and literature.
James Hayward