One of the most talented and prolific bands on cult Manchester label Object Music, precocious avant-pop group Grow-Up released a pair of great lost albums, drawing comparisons with XTC, Beefheart and even Weimar cabaret, yet ultimately sounding like no-one else.
In 1978, aged just seventeen, John Bisset-Smith was a student at Rochdale Art College, and an early member of the Manchester Musician's Collective. 'The core of the MMC then included Dick Witts (percussion, and soon to form The Passage), Trevor Wishart (electro-acoustic composer and extraordinary vocal improviser), Simon Holt (art student and serialist composer) and Tony Friel (bass with The Fall, cello with the Collective). It was a fertile brew of different energies, and there were regular MMC gig nights at the Band on the Wall on Swan Street. My first ever public appearance was at one of these eclectic nights, with The Fall headlining. I performed under the name Pride, and playing part-composed, part-improvised pieces for piano and kettle, as well as cymbals, tent poles, paint tins, treble viol and 12 string guitar. The inclusion of tent poles in the list of instruments for this gig made the front page of the Manchester Evening News, and local current affairs programme Look North asked me to play on their evening show. I refused, and said they were treating me like a freak show.'
At about the same time Bisset-Smith was invited to audition for Spherical Objects, a new band being put together by songwriter and Electric Circus deejay Steve Solamar. 'I think he took me on as lead guitarist mainly because I couldn't have played a conventional solo if I'd tried. I turned up for the audition with an acoustic 12 string.'
In fact Solamar knew exactly what he was doing, telling Paul Morley in an NME interview: 'I've been in bands long enough to know now what I want, and I've got reasonably strong ideas on how I want to present it. I found that musicians of my own age were very cliché-ridden so I looked for younger musicians where the chances of them being less spoilt were greater. Everyone in the band has freshness, they're all 20 or under, and they play effectively without in any way being virtuosos.'
Bisset-Smith remained with Spherical Objects for two years, recording the albums Past & Parcel and Elliptical Optimism. By 1979, however, the precocious guitarist was growing restless. 'When I started writing my own songs Steve Solamar didn't want to incorporate them into the Objects' set. So I got together with saxophonist Richard Westwood. We performed as a duo for a while, with Richard playing toy accordion and bits of percussion besides the sax. Soon Richard's younger brother Steven joined in on trombone, and then drummer John MacDonald. After a bad experience with a bass player who famously strolled into a gig during the closing song of a set, I took to bass and Roger Blackburn came in as guitarist. So began Grow Up.'
Grow Up recorded their debut EP Stay Awake at Graveyard Studio on 17 February 1979. Released in April on 7" as OM 05, the record contained six short songs, four of which - River, Stay Awake, Photo and So Long lasted barely a minute. All were written by Bisset-Smith: 'They stemmed from one hot summer night when I stayed up all night with my girlfriend, outdoors.'
Grow Up also featured on the next Object album project, also released in April and drawn from the talent pool of the Manchester Musicians' Collective. Now dominated by groups, gigs were organised on a rota basis at the Band on the Wall on Swan Street, and later the Cyprus Tavern. A short list of better known MMC bands includes Warsaw/Joy Division, Fast Cars, Frantic Elevators, Spherical Objects, The Not Sensibles, Slight Seconds, The Passage, A Certain Ratio, Grow Up, Crispy Ambulance, Manchester Mekon and Dislocation Dance.
A Manchester Collection, curated by Solamar and released on Object as OBJ 003, featured Grow-Up, IQ Zero and Manchester Mekon, as well as Fast Cars, Mediaters, Fireplace, F.T. Index, Slight Seconds, Vibrant Thigh, Property Of. and Picture Chords. Grow Up contributed two of the best tracks, You Are The One and Night Rally. Of the latter, Bisset-Smith recalls: 'Night Rally was written in 1978, when Elvis Costello released Armed Forces. His album includes a track of the same name, and the Grow Up song is about a dark sexual encounter, during which the Costello songs plays repeatedly in the protagonist's head. We were invited onto a show on Piccadilly Radio in Manchester. The DJ played the track, and asked me what the lyric was all about. I said I wasn't going to tell him - cue crackling dead air, and a rapid termination of the interview. The others were incensed, as they were very excited, sitting around with their headphones on, waiting for their big moment.'
In July 1979 Bisset-Smith cut his last album with Spherical Objects, Elliptical Optimism, and the first by Grow Up, The Best Thing. Both were recorded in tandem over five days at Pluto Studio, and produced by the band along with engineer Phil Ault. By turns touching, slapstick, humorous and barbed, the album boasted accomplished harmony, brass and woodwind arrangements, and intriguing lyrics from Bisset-Smith: 'The Best Thing uses imagery from Elvira Madigan, an arty French film I saw in 1977. Missing was a pun on the name of my object of desire, Miss Inga, sister of Fred Burrows. Her Song is based on a conversation with a drunken old dear I met at a bus stop in Oldham. The Peak is about growing up and leaving home, entering the labyrinth of life. No Mirror was about Steve Solamar and his flat in Hulme, and him bringing self-awareness to me. David concerns my other great mentor at that time, who was head of foundation at Rochdale College of Art. Later I wrote The Hypnotist about him too.'
Released in October as OBJ 005, The Best Thing was some way ahead of its time, and attracted excellent reviews. Writing in the NME, Paul Morley judged: 'Grow Up's LP The Best Thing is not only extremely commercial, it's a record of mellow, sublime magic that extends the terse sound of the EP to a brilliant, luxurious level. Their sound is a sort of ingenious, sax-propelled chamber pop, of the Ayers/XTC English eccentric line, but it also holds the melancholy depth and sauce of Brechtian cabaret, the twists of Beefheart, the ambiguous tension of Lou Reed. Grow Up have invented a whole new delirious pop world. They fracture tradition, push out and bend into spaces but kept it light, snappy and appealing. The Best Thing is not only Object's greatest release, but a record that is up there with the obvious Mancunian biggies.'
The original Spherical Objects parted company in September 1979, after John Bisset-Smith moved to London to study at Ravensbourne art college. However, his place would be taken by Grow Up guitarist Roger Blackburn, and there was no acrimony. Bisset-Smith recalls: 'Steve Solamar's attitude to Grow-Up was amazingly benevolent. He basically put us in swanky 24 track studios for an EP, two albums and a single without any conditions other than time. There was no question of the group contributing to the cost of anything - several members were still at school and certainly none had a job. He would sit in the control room, gently overseeing things, making comments to the sound engineer such as, "if John's rustling his lyric sheets you can be sure it's part of the performance", or patiently reminding me of The Passage of time as I struggled to record vocals whilst leaning into a grand piano with Richard holding down the loud pedal.'
With Object concentrating on album releases, the very last single on the label came courtesy of Grow Up. Recorded at Revolution on 10 April 1980, and released in July as OM 12, lead track Joanne was described by the band as a 'quality pop song', while the flip featured a sequence of brief musical skits by Roger Blackburn: Affirmation of Existence, Reaffirmation of Existence and Swept Away, as well as Bisset-Smith's GGGDADGADADAD. This attempt to enter the Guinness Book of Records went unnoticed by the compilers, and soon afterwards the original line-up went their separate ways.
In February 1981, Steve Solamar decided to abandon his past life and identity to become a woman. Having failed to find a successor to take on Object as a going concern, the label closed down, although Solamar did finance the recording of a second Grow Up album, Without Wings. The album was recorded at Revolution in Cheadle Hulme (Manchester) in August 1981, with Stuart Pickering engineering. With Bisset-Smith now based in London, the new Grow Up comprised two fellow students, Tony King (bass) and Harry Van Rooij (drums), along with regular guitarist Roger Blackburn. Several tracks embrace an overt jazz feel, while overall the sound was more robust than on the Object releases.
'Without Wings was a different beast altogether,' says Bisset-Smith today. 'The songs contain much more of the sexual ambiguity that was an undercurrent at Object. I think Punishment was the best song on the album, semi-improvised, with the vocal mic put through a distortion pedal as it entered the mixing desk. It combines imagery from games (playing cards, boxing, crossword puzzles, etc), nursery rhymes, hymns and the Bible over a bass and drums that are really cookin'. The working title of the album was Pack of Lies, and this track was to have the central theme.'
Although Solamar met the studio costs, manufacture and distribution was left to the band. The result was a disaster, and relatively few copies of the album reached the shops. Do Choose, one of the two unreleased demo tracks from 1982 which close this double archive set, sets the scene for the end of Grow Up. Today John Bisset-Smith explains: 'In a world where mortality is always on hand, you need to work at something you're happy to do, some home to someone who loves you. Above all you need to make a choice - be decisive - which is exactly what I did at that point, having a baby and dedicating my life to that. At the grand age of 22 I decided to settle down.'
Indeed it would be another sixteen years before Bisset-Smith released another record. 'The intervening years were full of artistic activity. I was a painter, a writer, a composer, at times trying to combine all three into 'musical theatre' or opera, at other times separating them off or trying to focus on just one area. In 1994 my father died suddenly. He was a clarinettist and conductor. One consequence of his death was that I put away my paints and my pen and decided to become a guitarist only. This was very liberating. The variety which I had previously sought in different mediums I now found in different kinds of music. To mark this new stripping down I trimmed my name to John Bisset. I joined the London Musicians' Collective and became active putting on gigs and playing with everyone I could. I started running The 2:13 Club which expanded to Berlin and Athens.'
'When it came to forming the label, 2:13 Music, I very much replicated what Steve Solamar had done. I had been directly involved in all stages of the business with Object, accompanying Steve in his Cortina to pressing plants on the outskirts of London, watching the molten vinyl being squeezed into shape; then around the London record shops, delivering a pile here and a handful there; visiting the designer in Portsmouth, overseeing my design ideas, and so on. But it was not only the logistics I had imbibed, but the ethos: I paid scant regard to commerciality, releasing what seemed interesting to me, what my musical colleagues were doing, giving concrete repeatable expression to my musical preoccupations. And I continue to operate this way with both the label and the club.'
James Nice
September 2008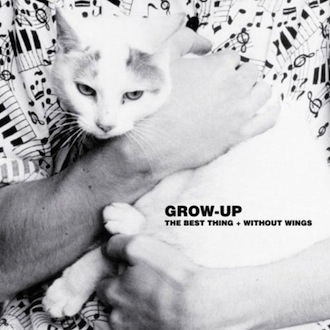 "Grow-Up's LP is not only extremely commercial, it's a record of mellow, sublime magic that extends the terse sound of the EP to a brilliant, luxurious level. Their sound is a sort of ingenious, sax-propelled chamber pop, of the Ayers/XTC English eccentric line, but it also holds the melancholy depth and sauce of Brechtian cabaret, the twists of Beefheart, the ambiguous tension of Lou Reed... Grow-Up have invented a whole new delirious pop world. They fracture tradition, push out and bend into spaces but keep it light, snappy and appealing. The Best Thing is not only Object's greatest release, but a record that is up there with the obvious Mancunian biggies" (Paul Morley, NME, 10/1979)