Way Out is a 2008 studio album from Alessandra Celletti, the Italian composer/pianist whose previous CDs include acclaimed interpretations of works by Glass, Satie and Gurdjieff.
Way Out is Alessandra's third album of original material, following Overground (1997) and Chi Mi Darà Le Ali (2006). Recorded in Rome in 2007, Way Out marks an inovative exploration of several musical styles, including vocal tracks sung by Alessandra as well as a number of her exquisite solo piano compositions. She is joined on most of the tracks by drummer Fabio Ferri, while Renzo Pin provided English-language lyrics.
Stand-out tracks include Dear To Me, Burning and Hundred Points, the latter a future pop classic complemented by a brilliant animated video clip made by Tony Sbarbaro. A unique set that defies classification, the album also features one bonus song, the beautiful title track from Alessandra's previous artist album, Chi Mi Darà le Ali.
Tracklist:
1. Dear to Me
2. Hundred Points
3. Burning
4. Drops of Life
5. I Descend to You, You Ascend to Me
6. Gold
7. Circles
8. Nirvana
9. The World Is a Ball
10. Through Your Eyes
11. Two Trees
12. Every Moment
13. Sing For Me In the Forest
14. Ask Me
15. Foolish Child
16. Seventh Heaven
17. Chi Mir Darà le Ali
The cover image is the painting Pensando alla Guerra by artist Isobel Blank.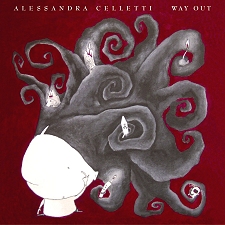 Reviews:
"Way Out is really something new, an album of wayward songs featuring just voice, piano and drums. Alessandra's vocals are brittle and beautiful, at times spectral and shot through with melancholic joy. While it's hard to single out the best songs, the oblique nursery rhyme Hundred Points and the breathless Burning are two of them. Another masterpiece from Celletti - strange, touching and extremely personal" (Rockerilla, 02/2008)
"A remarkable work - very brilliant" (Greg Lake, 04/2008)
"Celletti is a classically-trained pianist with an extensive pedigree, and my goodness you can tell. A very good album, and an interesting mix - there are still plenty of classically influenced pieces here, but these are staggered with tracks that toy with contemporary songwriting and arrangements, including raw and occasionally thrilling drum tracks. The wild and tumbling Burning rocks, and Hundred Points evidences the ambition of the songs she has written here" (SubCulture, 1/2008)