Department S \ Sub-Stance [LTMCD 2349]
Formed from the ashes of London band Guns For Hire, Department S released three memorably abrasive singles during 1980 and 1981, including Going Left-Right, I Want and Is Vic There?, the latter reaching number 22 on the UK national singles chart in April 1981, earning the band three appearances on Top of the Pops and a Smash Hits cover.
Despite this success, and a busy live schedule, their impressive debut album Sub-Stance (produced by Parallel Lines engineer David Tickle) remained unreleased after the band split. On this CD and download the lost album is augmented by singles and b-side tracks, along with five powerful live tracks from a club date in December 1981.
Tracklist:
1. Of All the Lost Followers
2. Just Pretend
3. Romany Blood
4. I Want
5. Fighting Irish
6. Is Vic There?
7. Going Left-Right
8. Age Concern
9. Somewhere Between Heaven and Tesco's
10. Whatever Happened to the Blues
11. Ode to Koln
12. Clap Now
13. Is Vic There? (live)
14. Going Left-Right (live)
15. I Want (live)
16. Clap Now (live)
17. Tell Me About It (live)
18. She's Expecting You (b-side)
19. Monte Carlo or Bust (b-side)
20. Put All the Crosses in the Right Boxes (b-side)
21. Solid Gold Easy Action (b-side)
22. Another Route Home (demo)
Original artwork and detailed sleevenotes.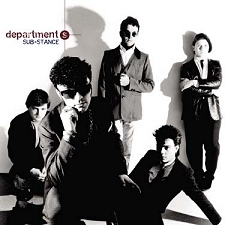 Reviews:
"With so many bright new hopes openly worshipping at the altar of scratchy, early 80s UK punk-funk (PiL, Gang of Four), it now seems doubly outrageous that Department S were denied the album release of this like-minded debut at the time. Vaughn Toulouse would savour the overdue recognition this should grant him" (Uncut, 04/2003)
"A band full of energy and attitude, with a lead guitarist - Mike Herbage - of considerable ability" (Record Collector, 03/2003)
"An excellent anthology that should go a long way towards re-establishing Department S as every bit the legend they once threatened to be" (Goldmine, 05/2003)
"Vic still sounds as potent and smart as ever, led by Mike Herbage's scorching guitar, mysterioso keyboards and Vaughn Toulouse's charismatic baritone. It's as impressive an introduction as any band could wish for, but it's by no means the whole story, as Sub-Stance proves. By the time they got to record the album they were a powerhouse, and it's hard to see why the follow-up singles failed. Indeed Ode to Cologne, the strident opener Of All the Lost Followers and the band's under-exposed secret weapon Clap Now are the equal of any of the singles. Sub-Stance is a more than welcome release that should ensure Toulouse and co's work gains at least posthumous attention. However belated, respect is unquestionably due here" (Whisperin' & Hollerin', 01/2003)
"This is a skeleton worth retrieving from the cupboard. They successfully negotiated the usual morose routes by developing a knack for expediency and aggression, and the five live recordings even surpass the originals in some cases" (Leonard's Lair, 01/2003)
"Their stay was too short but the results were definitely sweet. The killer live tracks show just how good these guys really were" (Mohair Sweets, 03/2003)