Devine & Statton \ The Prince of Wales + Extras [LTMCD 2433]
The first album by vocalist Alison Statton (Young Marble Giants, Weekend) and guitarist Ian Devine (Ludus, Low Gods), recorded in Brussels in September 1988. All 12 tracks were written by Ian Devine, except for their charming cover of the New Order favourite Bizarre Love Triangle. The music on the album is remarkably and deliberately sparse, a jazzy Celtic blues for the late 20th century, topped with Alison's distinctive voice.
The Prince of Wales was previously released on Les Disques du Crépuscule in 1989, and has now been remastered with 3 bonus tracks. The CD also boasts upgraded artwork by Hennebert, archive photos and liner notes by writer/editor Everett True.
Tracklist:
1. Under the Weather
2. Friend of the Family
3. Bizarre Love Triangle
4. We Deserve It
5. Never Coming Back
6. I Wish I Was
7. You're Almost There
8. Like a Blind Man
9. Break Up Your Heart
10. Comprehensible
11. Turn the Aerials Away From England
12. Ugly Town
13. Under the Weather (Paco Trinidad Remix)
14. In the Rain (version)
15. We Will Be With You And We Know You Are Together
Available on CD and download.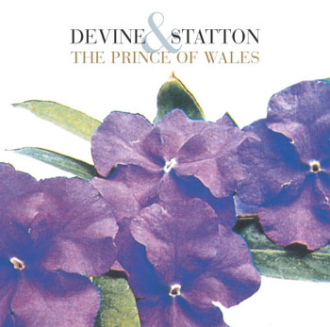 Reviews:
"A classic statement of understated, perfect pop. The superb selection of emotive ballads includes the intimate Under the Weather, the serene and longing Never Coming Back and a bouncy We Deserve It. I feel another crush coming on" (Melody Maker, 05/1989)
"A deceptively breezy LP of late-nite lullabies for thinking people" (NME, 06/1989)
"Bizarre Love Triangle slips unobtrusively into the slot marked 'classic' with sensuous grace. Single of the Week" (Melody Maker, 1990)
"A deliciously smokey an evocative LP, from autumnal musings to defiant Welsh nationalism and a wonderfully simplistic version of BLT" (Record Mirror, 06/1989)
"The duo create a silky, rootsy folk ambience that's warm and comfortable" (Music Week, 06/1989)
"The mood is relaxed and surprisingly upbeat, and the unquestionable highlight is the cover of Bizarre Love Triangle, where Devine's uncomplicated backing and Statton's detached delivery add a natural sense of euphoria to the New Order favourite. Prince of Wales definitely represents the 'pop' moments of Statton's career before she again moved into more jazz/latin-inflected circles with Spike" (Leonard's Lair, 01/2006)
"Now this comes along as a pleasant surprise! Definitely a treat, as Ludus and Young Marble Giants were the bands in post-punk Britain, and both made skewed pop music which carries on to these albums. Devine, to end on a bad pun" (Alternative Malta, 02/2006)
"A glorious showcase for Statton's exquisite voice the pair's subtle, melodic devotion to Welsh nationalism" (Exclaim!, 03/2006)