Richard Jobson \ The Ballad of Etiquette [LTMCD 2427]
Expanded edition of the debut spoken word album by singer, writer and director Richard Jobson, originally released in November 1981 on Bill Nelson's boutique Cocteau label. The Ballad Of Etiquette combines Richard's poetry with music performed by Virginia Astley, Josephine Wells and the late, great guitarist John McGeoch (Magazine, Siouxsie and the Banshees, Armoury Show). Parts of the music quote from Satie and Debussy. Stand out tracks include India Song (an homage to Marguerite Duras), Orphée and The Night of Crystal, the latter an imagined conversation between Albert Speer and Josef Goebbels.
The six bonus tracks include versions of India Song and Orphée recorded for Les Disques du Crépuscule with members of Tuxedomoon, two tracks recorded live at Richard Strange's infamous Cabaret Futura in 1981, and a poem recorded at a Crépuscule night at London venue Heaven in July 1981.
Tracklist
1. India Song
2. Don't Ever Tell Anybody Anything
3. Joy
4. Etiquette
5. Pavilion Pole
6. Thomas
7. Anonymous
8. Night of Crystal
9. Orphée
10. Stormy Weather
11. Armoury Show
12. India Song (Crépuscule version) 13. Orphée (Crépuscule version)
14. Daddy (live at Cabaret Futura)
15. India Song (live at Cabaret Futura)
16. Etiquette The Ballad (live at Heaven)
Digital remaster on CD and download running for over 70 minutes. The booklet features photos, images and a biographical note.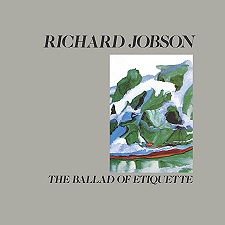 Reviews:
"A superb listening experience. As usual LTM have done a superb job with added tracks and meticulous sleevenotes. It's worth the price of admission for the beautiful evocative backing tracks courtesy of Virginia Astley, Josephine Wells and the late John McGeouch on guitar. Add to this Jobson's lilting Scottish brogue, his inspired reading of his own poetry, and the adaptions of other's work (Cocteau's Orphee being a prime example). Among the extras here is a deliberately hilarious live version of Daddy, with Jobson unafraid to mock himself. Chill out with Jobson in the afternoon!" (Record Collector, 6/2006)
"Jobson always fancied himself as a renaissance man, and it turns out he was. Thanks to the musical accompaniment it is a very likeable album with an unexpected sophistication, and Jobson's tongue leaves his cheek long enough for some touching, serious moments" (Exclaim!, 05/2006)