ltmcd2438.jpg
A Certain Ratio \ I'd Like To See You Again + Singles [LTMCD 2438]
Expanded CD edition of the third album by A Certain Ratio, originally released on Factory in October 1982 (Fact 65).
The last album to feature the original quintet of Donald Johnson, Jeremy Kerr, Martin Moscrop, Simon Topping and Peter Terrell, I'd Like To See You Again saw the band move from the spooked ambience of Sextet towards a more stripped-down funk sound, influenced by the latin and electro scene in New York. Stand-out tracks include Touch, vocoder workout Show Case and minimalist electro single Guess Who?
Five bonus tracks have been added to this remaster. These include the 7" and 12" versions of dancefloor favourite Knife Slits Water, flipside Tumba Rhumba, an exclusive remix of Guess Who?, and overlooked 1983 single I Need Someone Tonite, the first ACR record to feature keys player Andy Connell. Design by AGIDI.
CD tracklist:
1. Touch
2. Saturn
3. Hot Knights
4. I'd Like To See You Again
5. Showcase
6. Sesamo Apriti - Corco Vada
7. Axis
8. Guess Who?
9. Knife Slits Water (7" version)
10. I Need Someone Tonite
11. Tumba Rumba
12. Guess Who? (FBN Remix)
13. Knife Slits Water (12" Mix)
LTMCD 2438 is SOLD OUT and now available from Factory Benelux as FBN 17 CD.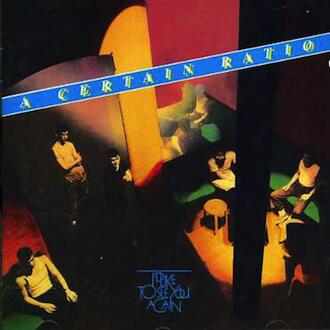 Reviews:
"Class trip to the land of the good groove. Wish I'd been there - rhythmic sophistication developed under the influence of then-current disco, funk and South American music, and the five bonus tracks make for a very happy package" (Spex, 07/2005)
"ACR had always been influenced by American disco and funk, but here that influence became more pronounced than ever. Opener Touch is perhaps the slickest, catchiest bit of R&B that Parliament never recorded, and Hot Knights features a swinging beat with some squishy analog synth to keep it bouyed. The highlight though is Axis, which features some truly jaw-dropping bass work from Jeremy Kerr and grooves languidly on a foundation of tightly syncopated beats and well-placed keyboard riffs" (brainwashed.com, 08/2005)
"In contrast to earlier ACR releases, this feels like an escape from the constraints of glum post-punk noises, and instead the direction is informed by the sounds of New York clubs, leading to a more danceable set which has lasted the distance of 20-plus years very well. The rhythms are applied to exemplary effect on Touch, Guess Who and Knife Slits Water, and five years into the 21st century much of this record could still attract a crowd on to the dancefloor" (Leonard's Lair, 07/2005)
"Touch is arguably the album's best track, bumping along on Kerr's mother of all rubber-thumb basslines and a distinctly bouncy positivity which suits ACR remarkably well. Both Axis and Saturn also serve up lithe funk based around disciplined trumpet work and DoJo's busy high-hat. The cream of the bonus tracks include the brilliant Knife Slits Water (tingly, atmospheric noir on the 7" mix) and the brasher post-Topping single I Need Someone Tonite, which signposts ACR's future direction on Force in 1985" (Whisperin' & Hollerin' 07/2005)