Hermine \ The World On My Plates + Singles [LTMCD 2473]
The World On My Plates by cult new wave diva Hermine was originally issued on Crammed Discs. An essentially unclassifiable performer, Hermine's career spans acting, comedy and tightrope-walking as well as singing, though her musical reputation rests on this beguiling mini album from 1982, on which the allure of her vaudeville torch songs is much enhanced by its iconic cover image of the artist loading singles into a dishwasher, poised and chic in a polka dot dress.
The World On My Plates features six songs, including skewed covers of Blue Angel and Too Many Men In My Life, both staples of her sets at the Comic Strip, and flaunting her deliberately erratic femme fatale vocal style. The seven bonus tracks include all sides from her first three singles, including Born a Woman, TV Lovers and Torture, the latter recorded for Virgin in 1980 and produced by David Cunningham of the Flying Lizards.
Tracklist:
1. Happy Holidays
2. The Thrill Is Gone
3. Waiting
4. I Won't Make It Without You
5. Too Many Men In My Life
6. Blue Angel
7. Torture
8. Veiled Women
9. Foxes Will
10. Born a Woman
11. TV Lovers
12. Valley of the Dolls
13. Veiled Women (version)
Digitally restored from the original master tapes, the CD features an attractive booklet including artist biography and images. The collection is also available as a download from Crammed Discs.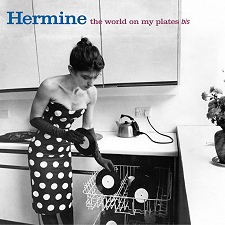 Reviews:
"Another music from a different kitsching. Musical backings are kept to a minimum: mistily tinkled piano keys, occasional snaking columns of cello and a bit of fake jazzy sax. Hermine is French and continues to exercise her almost petulant, devil-may-care abuse of bland English vowel sounds. It is this foreign larynx wrapping itself around, and warbling through, these songs that gives rise to the common torch singer description of 'Ridiculous!' Her quietly dazzling ability is to tread excruciatingly close to cabaret novelty yet shed light on the contradictions and dogma lurking within these songs. This vinyl succeeds in capturing the humorous but strangely unsettling talent that she displays live where the singles failed, and six songs allow time to savour and soak in the Hermine experience" (Sounds)
"Show me the way to the next café bar. Hermine lives in a demi-monde, a world of sleaze and cramped vamps. The torch sets this shadowland alight, though with a flame that puts Carmel, Ronni et al to the stake. All six tracks are wonders, and the voice coats every word in fondly rolled broken English. Old standards like Too Many Men in My Life are knocked out with a smattering of lines like 'eet ze sac' that brings the French farce of the singer into line with the ribald American humour of the lyricist. This one deserves to go gold" (NME)
"Sensitive, creative, contemporary quality pop at its best" (Music Week)
"The record of the moment" (Melody Maker)
"Unutterably sophisticated" (Hot Press)
"Atmospheric and intoxicating" (Zigzag)