Ultramarine \ A User's Guide [LTMCD 2430]
A User's Guide is the fifth album by Ultramarine. Originally issued in 1998, this eclectic and intriguing set marked a welcome return to the independent sector after five years on major label. Largely electronic, the album also represented a partial return to the ambient-techno textures of Every Man and Woman is a Star.
Recorded and produced by Paul Hammond and Ian Cooper in their London studio during 1997, reference points include Autechre, Carl Craig, Eric Dolphy and Scientist.
Tracklist:
1. All of a Sudden
2. Surfacing
3. Sucker 4U
4. On the Brink
5. Zombie
6. By Turns
7. Ambush
8. 4U Version
9. Ghost Routine
10. What Machines Want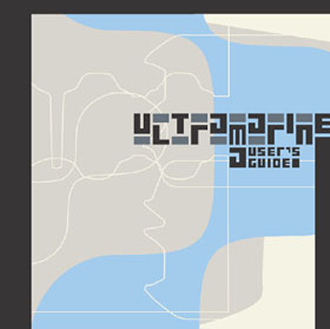 Reviews:
"Like the ambient-techno scene they headed in the early 1990s, Ultramarine were hailed as visionaries. A User's Guide attempts a return to their Detroit-influenced techno roots, and there's a lot to like. Futuristic chill-out" (Q Magazine, 12/2005)
"Sounds like a different era altogether, when chill-out had yet to be commercialised and Boards of Canada were barely shimmering on the horizon. Dubby interlude 4U Version is the highlight" (Uncut, 01/2006)
"As swansongs go, there was still plenty of mileage and inventiveness in Ultramarine. Intelligent chill-out that actually stands up to Boards of Canada's Music Has the Right to Children, released in the same year. Surfacing and Ambush certainly share the same gifts for haunting ambience. Other standouts are the noir-ish Ghost Routine and On the Brink, where a lovely melody persists underneath the clanking metal. These unfussy, inventive instrumentals certainly make up a surprisingly excellent send-off" (Leonard's Lair, 10/2005)
"This is a key visionary piece in the timeline of the post-club music scene that still stands up to close scrutiny today. A User's Guide concisely and brilliantly highlights the most interesting route that came from the ambient perimeters of techno and which is still being mapped today by the likes of Boards of Canada" (Whisperin' & Hollerin', 02/2006)