Gnac \ Twelve Sidelong Glances [LTMCD 2446]
Twelve Sidelong Glances is an album by Gnac, the sophisticated instrumental project from Mark Tranmer, whose 3 previous albums are Friend Sleeping (1999), Biscuit Barrel Fashion (2001) and the singles compilation Sevens. Biscuit Barrel Fashion appeared on the Poptones label, and was declared album of the month by Russian Playboy magazine.
The 17 tracks on Twelve Sidelong Glances follow in the tradition of Biscuit Barrel Fashion, exploring imaginary mid-week mid-afternoon murder mystery music (Midgley Moor), electronica melodica (Green With Fright), and vespertine guitar (As Night Falls Upon Us). Also included are two themes commissioned by Neen Scene artists, including Vanessa Beecroft's Wedding, first performed at her wedding ceremony in Italy.
Tracklist:
1. Spanish Winter
2. From Cougorge to Gougougnac
3. Observed Vs Expected
4. Chenin Blanc
5. Perec's Beard
6. As Night Falls Upon Us
7. Midgley Moor
8. Twenty-Second Night
9. Brouillard
10. Telebanco
11. Rocky Road
12. Shinjuku Park
13. Vanessa Beecroft's Wedding
14. Green With Fright
15. The Struggle
16. Cold Flower
17. Obstacles of Course
Available on CD and download. Artwork by Benoît Hennebert.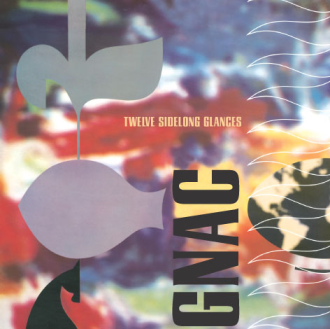 Reviews:
"Twelve Sidelong Glances continues in the vein of moodily elegant instrumental releases from earlier years, but with smokier, almost late-night jazz edge. The blend of piano, strings and vibes on Spanish Winter and the drama-laden opening of Shinjuku Park, with keyboards creating an instantly mood-setting feel, hit perfectly. Twelve Sidelong Glances (actually 17 tracks all told) often feels like a soundtrack to a film and intermission music during the breaks (the organ track on From Cougorge to Gougougnac in particular seems like it should be accompanied by an announcement about where to get treats in the lobby). The quieter pieces - Chenin Blanc, Telebanco - readily call to mind another master of understated work, Vini Reilly of the Durutti Column. Twelve Sidelong Glances' greatest strengths lie in its deft touches - how Perec's Beards' restrained organ and sense of hush evoke a rundown seaside funhouse, for instance. Meanwhile there's also the sweetly unabashed romanticism of Twenty-Second Night, and the slightly spacey synth tones of Green With Fright feel like a radar broadcast in the night, giving a gentler, less threatening touch to the album as a whole, as well as evoking the sly sweetness of the album title" (Billboard, 05/2006)
"Beautiful, haunting, imaginary, instrumental Miss Marple murder mystery music from the Montgolfier Brother" (Plan B, 6-7/2006)
"Mark Tranmer makes a form of easy listening that is both intelligent and strangely compelling, and Twelve Sidelong Glances is his most consistent offering yet" (Leonard's Lair, 05/2006)
"Now we have the first new Gnac material in ages. To get the most out of this you'll need a darkened room, a red velvet plush chair and a foot stool. You'll need to be wearing a dressing gown and have a pipe at hand (or in mouth). On the table beside you there should be an ashtray, a glass of cognac, a pot of tea (with optional additional biscuit). The final ingredient will be a murder mystery story, Hercule Poirot and Agatha Christie. Easy on the ear and that. Well lovely" (normanrecords, 05/2006)
"On this album Gnac revisit vintage soundtrack influences (Roubaix, Morricone), and deliver a set of melancholic, minimalist vignettes. A beautiful set of contemplative pop to dream by" (PopNews, 06/2006)
"There's not much here that could be described as commercial, but there's no denying Tranmer's talent. Twelve Sidelong Glances sounds like a very good easy listening compilation, with a wealth of different moods and styles represented. There will be occasions when it's hard to imagine a better soundtrack than this" (Exclaim!, 07/2006)
"Tranmer doesn't deviate from his exquisite instrumental path, which now stretches from Spain (Spanish Winter) to Japan (Shinjuku Park) via France (Brouillard). En route, in the twilight, we glimpse shadows of Francois de Roubaix, Vini Reilly and Maurice Deebank, and hear sensual electronica, discrete arrangements, scintillating arpegios and furtive percussion. Not least among the attractions on Twelve Sidelong Glances is that it's recommended bedroom listening" (Magic, 06/2006)
"Cinematic, brilliantly melodic and stylistically diverse" (More Russia, 08/2006)
"Soft and pleasant, with piano, synth pads, percussion that persists into an infinity of simple beats and rubbery effects. This is one calm lake from beginning to end" (brainwashed, 07/2006)
"A new collection of pop vignettes of overwhelming beauty that draw on minimalism, nouvelle vague soundtracks and intimate and ethereal English pop. Intensely romantic and lighter than air, but it manages to escape from muzak thanks to Tranmer's knack for melody and emotional density" (Rockdelux, 09/2006)