Boutique \ Benny Profane \ Trapdoor Swing + Dumb Luck Charm [BOUCD 6613]
Formed by Dave Jackson and Becky Stringer from the ashes of lauded Liverpool indie-popsters The Room, Benny Profane went on to explore darker musical territory over the course of their two albums released in 1989 and 1990, both of which are included on this extended CD. Remastered by drummer/guitarist Joe McKechnie (formerly in The Passage), this edition also features two tracks from the first Benny Profane demo in 1985, featuring guest Will Sergeant of Echo and the Bunnymen on guitar.
Tracklist:
1. Man on the Sauce
2. Skateboard to Oblivion
3. Pink Snow
4. Quickdraw McGraw Meets Deadeye Dick
5. A Handful of Nothing
6. Rob a Bank
7. Tear the Web, Wall to Wall
8. Stitch That
9. Here Comes the Floor
10. Time Bomb
11. Hey Waste of Space
12. Maureen
13. Beam Me Up
14. Devil Laughing
15. Walk Away Macbeth
16. Ghoul Friend
17. Perfect Girl
18. SHC
19. Everything
20. Vain Profane
21. Credulous as Hell
Enhanced artwork with band images and text by Dave Jackson. CD and download, 75 minutes of music.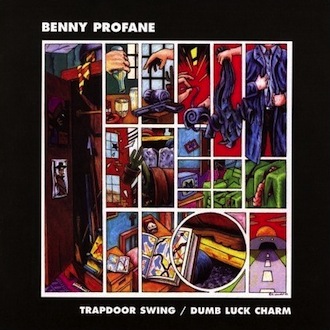 Reviews:
"They may have taken four years to release their first album Trapdoor Swing, but it was well worth the wait. Both albums stand the test of time and are just as strong as anything that James, the Mighty Lemon Drops or any of the more highly-touted contemporaries were releasing. A very pleasant listen indeed" (Exclaim!, 05/2006)