Antena \ Toujours du Soleil [LTMCD 2456]
Retrofuturism from the re-made, re-modelled Antena trio, which on this 2006 album consisted of main songwriter Isabelle Antena together with daughter Penelope Fasy (in place of her father Sylvain) and deejay Axailes Solar. Conceived as a sequel to Camino del Sol, Toujours du Soleil ('always the sun') was recorded on the French Riviera - where else? - and produced by Dr Drak, Shape and Cool Groove Sessions.
Featuring a stellar cast of prestigious international guests, the 2006 Antena trip takes you from Paris to Tokyo, Goa to Washington DC. Stand-out tracks include pin-sharp stepper Le Spinner (featured in a Samsonite luggage advert), future lounge favourite Toujours du Soleil and electro-blissout Love Is To Blame, as well as three tracks co-written with Rob Garza and Eric Hilton of Thievery Corporation.
Tracklist:
1. Le Spinner
2. Toujours du Soleil
3. Caribbean Island
4. Rendez-Vous Manque
5. Blind Date
6. Horse With No Name
7. Issy Est d'Ailleurs
8. Love Is to Blame
9. Groovy Grooving Groove
10. Le Ping Le Pong
11. Starlit Skies
12. Les Rois des Voleurs
13. Seven Colours
14. Liquid Sky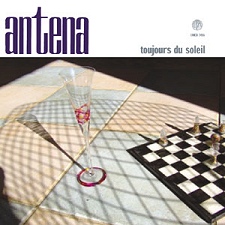 Reviews:
"The reconstituted Antena is unexpected, but when the end results are as enjoyable as Toujours du Soleil there's no need to complain. The most dramatic change from the days of Camino Del Sol comes in the arrangements: instead of murky but captivating negotiations between post-punk melancholia and lighter pop roots, everything here is much more in keeping with Isabelle's later and brighter blends of jazz, bossa nova and gentle dance grooves. Often the latter stands a little more to the fore, adding an extra kick to tunes like Love Is To Blame and Blind Date. In contrast, the title track shows the more traditional Antena side very well, while Antena's most notable American supporters, Thievery Corporation, help out with a bit of co-writing, notably the title track and the slinky but sharp beats of Rendez-vou Manque" (Billboard, 05/2006)
"A wonderful return to form that continues with the easy listening and sweet melodic vibe that has paved the way for everyone from Everything But the Girl and St Etienne to Brazilian Girls and Thievery Corporation. Blind Date and Caribbean Islands offer a more polished, cosmopolitan Euro-dance feel, and Toujours du Soleil still brims with the kind of smart dance tunes that threaten to whisk you away to far locales" (Exclaim!, 07/2006)