Diagram Brothers \ The Peel Sessions [LTMCD 2558]
Active between 1979 and 1982, Manchester art-punk quartet Diagram Brothers released four singles and one album, Some Marvels of Modern Science, on New Hormones, the label founded by Buzzcocks. Feted by John Peel, the band recorded three BBC radio sessions in as many years, and drew comparisons with Gang of Four, XTC and Fire Engines for their angular, dissonant dance music.
The Peel Sessions features all thirteen tracks from the group's three visits to Maida Vale 4 and Langham 1, originally broadcast in March 1980, February 1981 and July 1982.
Tracklist:
1. We Are All Animals
2. Bricks
3. Bikers
4. There Is No Shower
5. Postal Bargains
6. Those Men In White Coats
7. I Didn't Get Where I Am Today By Being A Right Git
8. My Bad Chest Feels Much Better Now
9. Hey Dad!
10. Tracey
11. You've Got To Pick A Pocket Or Two
12. The Expert
13. You'll Never Walk Alone
Available on CD and download.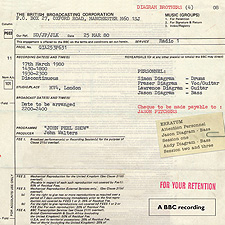 Reviews:
"Art-punk discordo pioneers The Diagram Brothers have had their sought-after Peel Sessions combined by fantastic label LTM. The three sessions, from 1980, 81 and 82, collect fantastic strong performances from slap bang in the midst of the fertile post-punk scene" (www.thisisoffset.co.uk, 04/2011)
"Hailing from Manchester, Diagram Brothers married the arrant shapes of Wire and Gang Of Four into their own sonic briefcase which, once opened by John Peel, secured them a number of his famous sessions in London's Maida Vale studios. Though the band released a number of singles and an LP, they always felt that recording four tracks against the clock in one day brought out the best in them. Their first session from March 1980 confirms this, with both We Are All Animals and Bricks showcasing febrile playing and the group's somewhat day-to-day lyrical concerns ("Bricks: very useful objects/They're not expensive at all"). Bikers, on the other hand, has a stunning guitar solo to match the high-octane lyrical content. By February 1981, the brothers had grown in competence and confidence, recording arguably their best session. Every track's a gem, with special mention going to I Didn't Get Where I Am Today By Being A Right Git." (Record Collector, 07/2011)
"Still sounds fresh and invigorating" (The Big Takeover, 10/2011)
'A thoroughly likeable band' (Westzeit, 08/2011)