The Other Two \ The Other Two And You [LTMCD 2551]
Expanded CD edition of the debut album by The Other Two, the electronic pop duo featuring Stephen Morris and Gillian Gilbert of New Order. The Other Two came into being in 1990, spurred by Morris and Gilbert's work on television soundtracks, and a temporary lull in New Order activity in which Electronic and Revenge also released albums.
Produced with Stephen Hague, The Other Two & You was originally scheduled for release on Factory Records in late 1992, but delayed by the collapse of the label, and instead emerged on London in 1993. This new edition (remastered by Stephen Morris) features all tracks from the original Factory/London album as well as six bonus tracks from the three companion singles, including mixes by Moby, Pascal Gabriel and Boys Own. It also includes Loved It, originally released as a free CD to celebrate the opening of the Fac 251 Factory HQ on Charles Street, Manchester, in September 1990.
The remastered CD runs for 76 minutes, and features new artwork and detailed sleevenotes.
Tracklist:
1. Tasty Fish
2. The Greatest Thing
3. Selfish
4. Movin' On
5. Ninth Configuration
6. Feel This Love
7. Spirit Level
8. Night Voice
9. Innocence
10. Loved It (The Other Track)
11. Tasty Fish (Pascal 12" Mix)
12. Selfish (That Pop Mix)
13. The Greatest Thing (Pascal Mix)
14. Movin' On (Moby Mix)
15. Tasty Fish (Almond Slice Mix)
16. Selfish (Junior Style Mix)
A full length bonus disc featuring rare mixes and unreleased tracks by The Other Two is available only to LTM Mailorder customers who buy The Other Two & You and Super Highways together.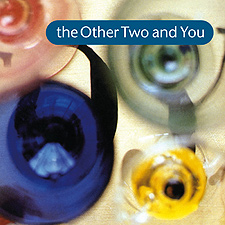 Reviews:
"The best fusion of form with function comes with the sleek Eurodisco drama of Moving On, rewriting the desperate escapism of Thelma and Louise as a shiny autobahn ride to liberation. So, The Other Two and You proves that pleasant, down to earth, contented thirtysomethings can still make terrific pop music" (NME, 11/1993)
"This is a New Order LP, except for Hooky's surly bass and Barney's sarky mumbling. Inevitably, there are moments to treasure. Moving On is all silence and snowdrifts, Ninth Configuration is an ace kicking club anthem for people who don't really go to clubs, and two year old single Tasty Fish turns all the tricks that New Order do" (Melody Maker, 11/1993)
"Tasty Fish is New Order re-jigged by Stock, Aitken and Waterman" (Melody Maker, 09/1991)
"A giddy, masterfully conceived vat of froth - wondrously dumb and dizzy. Single of the Week" (NME, 09/1991)
"Quite charming. A more intimate, bedsit take on New Order's Balearic dance" (Uncut, 03/2010)