Eric Random \ Subliminal 1980-82 [LTMCD 2437]
Double CD set from cult Manchester electronica pioneer Eric Random, best known for his early post-punk recordings for New Hormones and Crépuscule, and collaborations with Pete Shelley (Buzzcocks), Cabaret Voltaire and Nico. As an original member of The Tiller Boys with Pete Shelley, Random injected a healthy dose of Krautrock into the dour Manchester post-punk scene in 1978/79, before going solo the following year.
Early singles included Dow Chemical Company, Subliminal and That's What I Like About Me, the latter an NME Single of the Week in 1980. His first album, Earthbound Ghost Need, arrived in March 1982, and features guest contributions from Richard H. Kirk and Stephen Mallinder of Cabaret Voltaire. These early records are variously informed by electronica, loops, jazz, dub and mutant funk.
This digitally remastered set features the first three Eric Random singles on New Hormones and Les Disques do Crépuscule together with two rare compilation-only tracks for Touch and Plurex, with the 1982 album Earthbound Ghost Need on the second disc. The whole adds up to 105 minutes of sinister, sonambulent Random music.
Full tracklist:
Disc 1
1. Fade In
2. Dirty Bingo
3. Call Me (Live at the Lyceum)
4. Fade Out
5. Subliminal
6. 23 Skidoo
7. Skin Deep
8. Dow Chemical Co
9. In Cassette Conference
10. 6.55
Disc 2
1. Rubber Dabble Dub
2. Eastern Promise
3. Regret and Despair
4. Forced Feed
5. Sense So Lightly
6. Bolero (version)
Available on CD and download. Artwork based on an original image by Claude Stassart. Booklet features liner notes and archive images.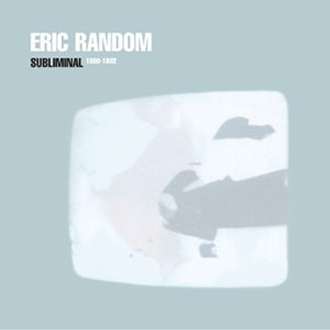 Reviews:
"Eric Random's 23 Skidoo is a prescient bolt of weirdness - a stumbling collage of dubwise rhythms, submerged tape snippets and flickering electronics that wouldn't have sounded out of place on The Orb's debut album a full decade later. It's a heck of a long way from 'here are three chords, now form a band'." (The Wire, 02/2014)
"Born in Manchester, but a Sheffielder in musical spirit. While the likes of Dirty Bingo (with its spitting drum machines, heavily mistreated vocals and spidery guitar), or Fade Out (muffled, vocal intimations of some Big Brother in the offing) are faithful imitations of early Cabaret Voltaire, they remain immensely listenable. Furthermore, it wasn't long before Random established his own variant sound, with the nightmarish, full-frontal overload of 23 Skidoo a case in point. And CV would surely never have thought of conducting an exercise like Random's heavily messed but strangely faithful version of Ravel's Bolero. For those who enjoy wheeling around in the weightless past/future zone of early 80s Sheffield industrial, this set is mandatory" (The Wire, 10/2005)
"Turning the focus away from Random's relatively well-known role as a collaborator to his solo work is both a sharp way to recontextualize his work as well as a good excuse to reissue some intriguing songs. The nearest point of contemporary comparison to his debut EP might be the Durutti Column, in that it was Random, his guitar, beatboxes and multiple effects, and nothing more, but instead of Vini Reilly's reflective work, Random is far more direct and unsettling, distorting his vocals, adding dub-heavy basslines and creating auras of nervous tension throughout. The remainder of the first disc covers shorter tunes, though working in the same vein, from the murky and dub-heavy Subliminal and Skin Deep to noisier arrangements on 23 Skidoo. Earthbound Ghost Need, meanwhile, continues the partnership with Cabaret Voltaire, and both Kirk and Mallinder contribute to the six songs. Dub again is central to the woozy, hanuted feeling, but additions of Arabic and Middle Eastern instruments and arrangements hint strongly at where his musical goals would turn next" (All Music Guide, 10/2005)
"Using a variety of of tapes, ranging from Cabs-like voices to harshly metallic alloys, he achieves a sensurround effect that might have disturbing connotations, if it didn't have such a human base" (NME, 10/1980)
"A record of incidental music for austere occasions" (NME, 06/1982)
"A tasty album filled with chunky mind teasers and an audacious variety of music" (Melody Maker, 07/1982)
"Production, arrangements and styles seem to take priority over songwriting, but Random is a talented artist" (Trouser Press)