Minny Pops \ Standstill To Motion (Live 1981) (CD+DVD) [LTMCD 2566]
Factory Records artists Minny Pops present an archive two-disc live CD+DVD project, which documents a band captured at the height of their headstrong, rhythmic powers at Amsterdam's legendary Melkweg venue on 19 March 1981. The 15-track set has been newly mixed and mastered by Reinier Rietveld, an acclaimed soundscape artist and ex-member of Factory labelmates Quando Quango.
The deluxe package also includes a 16-track bonus DVD, Live in Amsterdam and New York, featuring highlights drawn from performances at Amsterdam's Oktopus club and Filmacademie between 1979 and 1981, together with legendary New York clubs Hurrah and Peppermint Lounge in 1981.
Tracklist:
Disc 1 (CD)
1. Wong
2. Lights
3. Trance
4. Mountain
5. Blue Roses
6. Kogel
7. Mental
8. Jets
9. Time
10. Island
11. Son
12. Vital
13. Tracking
14. Dream
15. Crack
Disc 2 (DVD)
1. Kogel
2. Stralers
3. Time
4. Mono
5. Dream
6. Wong
7. Lights
8. Trance
9. Een Kus
10. Crack
11. Goddess
12. #2
13. New Muzak
14. Total Confusion
15. Mono
16. M.D. Mania
17. Dolphins Spurt
DVD format is NTSC, Region 0. Price as 2xCD.
Reviews:
"Britain had Joy Division; Holland had Minny Pops. Trance, from a newly released 1981 live album, Standstill to Motion, is a doleful delight, its sonorous vocals conveying a sense of internal warfare" (The Guardian, 01/2012)
"Fine, Dutch minimalist electro noiseniks Minny Pops, who were signed to Factory back in the day as a kind of European Joy Division and hint compellingly at Kraftwerk" (Time Out, 01/2012)
"This Dutch band were part of the scene that took punk into new wave. This live CD is well-produced and captures a startling performance, suggesting their role in swaying rock towards electronic should have been more prominent. In these days of hackneyed Eighties revivalists, one recommends a serious listen to some forgotten pioneers" (Clash, 02/2012)
"Sharp, crispy, live and alive - a band of thumping confidence, pushing to a powerful new level" (The Quietus, 01/2012)
"Recording for Factory was the making of analogue experimentalists Minny Pops, and this live CD+DVD combo captures the quintessence of their Human League kling and Pere Ubu klang" (Uncut, 02/2012)
"Cold, minimalist pop. STM freeze-frames a past epoch which nonetheless continues to inspire any number of musical adventures today" (RifRaf, 02/2012)
"A snug fit to the Factory roster, Minny Pops explored similar territory to the likes of Cabaret Voltaire, with music underpinned by a drum machine over which hangs sparse guitar, bass and electronics, plus Wally Van Middendorp's layered vocals. Capturing the band in fine form on home territory, this is wonderfully atmospheric and the sound quality fantastic. Four stars" (Record Collector, 03/2012)
"The 15-song document exudes a compelling feeling even three decades out, when such a sound (post-punk, coldwave, call it what you will) was still something just strange and new enough instead of a well-worn pathway by so many bands down the line. Trance helps shift the tone from slow progression to clipped art-funk, with a performance that could measure up to erstwhile labelmates Section 25 at the same time; a dramatic, strong performance of Kogel and the focused throb of Time are other strong moments, a kind of Downtown 81 feeling on the other side of the Atlantic. Island provides a nice look back in contrast, with its glam rock rolling beat a merry contrast to the thick overlay of guitar and singing not otherwise changing at all from the rest of the set. An instrumental like Mountain retains the same feeling of focused, glowering power, at once catchy and, if not forbidding, then agreeably mysterious - and to have it followed up with the catchy skip-start of Blue Roses's beatbox is an amusing touch" (All Music Guide, 02/2012)
"Holland's answer to what if Joy Division and Cabaret Voltaire had a jam session. By all means essential" (The Big Takeover, 04/2012)
"Exhibiting tuneful minimalism and, even now, freshness" (Q Magazine, 01/2013)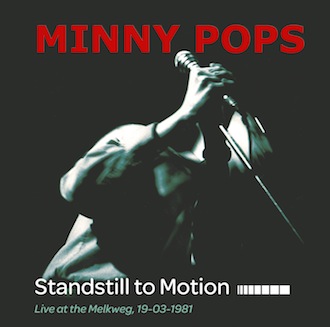 Standstill to Motion: Live at the Melkweg, 19-03-1981
Liner notes
I never wanted to be in a band, and my plans were for Minny Pops to be a project with a strictly limited lifespan. I wanted to make a statement, I wanted to release records, and I wanted audiences to hear and face our music - and whether they danced and clapped or got confused and hostile almost didn't matter.
If you'd asked me back then what I was, I wouldn't have been able to give you a precise answer. If you asked me now, I'd say I was a conceptual artist, although admittedly one who never attended art school. And if you see yourself as an artist who does not play any instruments (besides flicking switches on a Minipops drum machine and playing a Korg MS-20 with two fingers), and if you want to create songs and make records, you need musicians, and sometimes lots of them. Don't ask me where I found them or under what conditions they had to audition; it was ultimately all about putting them through a test.
Over the years Minny Pops existed, I had the honour of working with talented, creative and independent-thinking musicians. They probably needed to be all those things to understand my cryptic instructions along the lines of "That needs to sound like the high end of the Chopin record you played the other day" or "Can you please make that sound more scratchy?" My fellow Minny Pops were kindred spirits and patient sparring partners. Sometimes stubborn, sometimes just hilarious, and sometimes unable to appreciate the importance of the right shirts and matching suits. But they were all determined to deliver their best, and they were all full of mischief and astonishing sounds. Each one of them played a part in the story. I realise it wasn't always easy to work with me, as Minny Pops were run under a system I liked to call "democratic dictatorship". That approach in pursuit of conceptual-art goals might explain the number of line-up changes that Minny Pops went through in a relatively short period of three years.
Over time, our sound changed from minimal electronics to brutal and confrontational guitar-slinging. We drove to our early gigs in a Peugeot 104, but as with our music, we matured and started using a van. Fortunately we never had to drive for hours, as our performances were already a kind of psychological and musical warfare; long drives doubtless would have resulted in lots of arguments and maybe even fights.
Minny Pops played a decent number of shows in Holland in the first two years, and things started to accelerate in the autumn of 1980 when we recorded a session in London for John Peel's BBC radio programme and played some additional UK dates along the way. By December we found ourselves preparing for a short tour of North America that would take us to New York, Boston and Toronto in January 1981. Our work visas literally arrived on the day of our departure - and we landed in New York and played our first show the same day. And it was everything we had hoped for. Every venue we played brought a somewhat different audience response, but there was always a lot of appreciation, which was certainly welcome in the chill of a dead-of-winter tour.
I still remember sharing a dressing room at the Peppermint Lounge with Alan Vega and Martin Rev of Suicide, with Alan owning the dressing room and strutting around like a peacock in a leather jacket with diamonds on its back. We met Giorgio Gomelsky, who said he thought there was lots of angst in our music, something very European and very recognisable to him. In Toronto we were asked to play two sets, which was something we had never done before. After the show there was a note from three girls saying "You are very smart guys" - but by then the girls had disappeared.
In March 1981 we shared a bill with Das Wesen and Nasmak at the Melkweg in Amsterdam. It was a homecoming gig for us after our adventures in the US, and if you had gone by my haircut, it might have looked like our last gig ever before I joined a monastery. Thirty years later as I listen to an 8-track recording of this show, I realise just why this set sounds so powerful and strong. It's because we sound united, and in spite of all my best-laid plans, on this recording we sound exactly like a band.
Wally van Middendorp
November 2011