Snakefarm \ Songs From My Funeral [LTMCD 2539]
LTM edition of the debut album by the acclaimed downtempo/folktronica duo comprising Anna Domino and Michel Delory. After a decade in Europe recording as Anna Domino for chic indie labels including Les Disques du Crépuscule and Factory Records, the cosmopolitan partnership relocated to New York in the mid 1990s, and decided to cut an album of traditional American songs, reworked in radical retrofit style.
The sombre yet slinky results defy easy categorisation. Acid blues? Trip-hop? Nick Cave meets Sneaker Pimps? None - or all - of the above? Defying genre diktat, haunting Songs From My Funeral sold 30,000 copies on its original release in 1999, with St James and Banks of the Ohio becoming airplay hits in America.
Tracklist:
1. St James
2. Rising Sun
3. This Train That I Ride
4. Frankie And Johnny
5. Laredo
6. John Henry
7. Black Girl
8. Tom Dooley
9. Banks of the Ohio
10. Pretty Horses
Available on CD and download.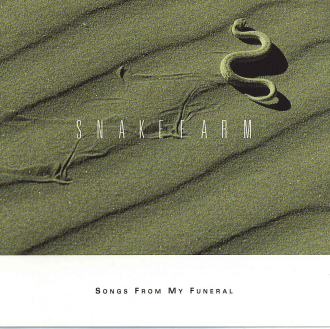 Reviews:
"Slinky, funky interpretations of American standards and folk/blues classics" (Boomkat, 11/2010)
"Anna Domino has a new role as chronicler-in-chief of America's most blood-soaked folk music" (The Times, 10/1999)
"Groundbreaking trip-hoppery through the sacred cows of American folk music, right on the button" (Folk Roots, 11/1999)
"Brilliant!" (Rock n' Reel, 11/1999)
"This album had already caused major waves for the striking boldness of the way it strips down hoary old folk-blues standards and reinvents them in a series of astonishing inventive free-form arrangements. Arrangements swerve daring from trip-hop to subtle jazz to minimalist rock to mild heavy metal - a strange brew indeed" (Mojo, 08/1999)
"The familiar strains of traditional Appalachian ballads, blues standards, dust bowl folk; the harmonicas traded for electronica, but still a banjo and dobro here and there, and over it all, sultrysharp vocals as rich and disarming as the greenblack waters of the drowned French Quarter. Truly astounding!" (Amazon.com, 2001)