Diagram Brothers \ Some Marvels Of Modern Science + Singles [LTMCD 2480]
Extended CD and download by Diagram Brothers, the cult Manchester art-punks and John Peel favourites. Some Marvels Of Modern Science was originally released by the New Hormones label (founded by Buzzcocks) in 1981 and has been digitally remastered from the original studio tapes. In addition, the expanded CD and download features ten bonus tracks from their four singles released between 1980 and 1982, including cult favourites Bricks and Discordo, as well as the ultra-rare German EP.
Tracklist:
1. Those Men In White Coats
2. My Bad Chest Feels Much Better Now
3. Seals/Fur Coats
4. Put It In A Bigger Box
5. Words From Major
6. Here Come The Visitors
7. Isn't It Interesting How Neutron Bombs Work
8. Ron! The Morris Minor's Gone
9. I'm A Policeman
10. I Didn't Get Where I Am Today By Being A Right Git
11. Aggeravation
12. I'm Not Going To Fight For Oil
13. Litter
14. Bikers
15. Bricks
16. Postal Bargains
17. Discordo
18. My Dinner
19. Fondue Soiree
20. Cherry Blossom
21. We Are All Animals
22. There Is No Shower
23. I Would Like To Live In Prison
24. Right Git (German version)
Booklet features original artwork and detailed liner notes.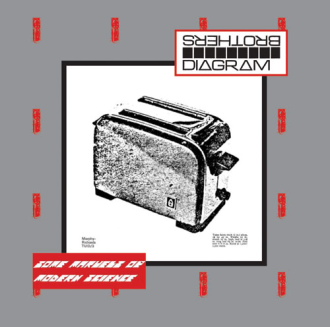 Reviews:
"The Diagram Brothers play an extraordinary, quirky, jerky brand of speedo funk, as if some Pavlovian behaviourist has got hold of The Gang of Four and started to do tricky experiments on them... Science before sentience, the didactic before the ecstatic seems to be the unusual anti-rock n' roll idea... SMOMS is an album of observations which are never dull, and of music which - in spite of being clinical - is never cold. I quite warm to this kind of off-beat fun and to the proof that the English eccentric spirit needn't necessarily take twee grown-up public schoolboy forms" (NME, 12/1981)
"If Devo came from Manchester they'd probably sound like this oddball quartet who, of course, aren't brothers at all. This 10-incher finds them singing lines like "How important is my dinner?" over sharp and jerky rhythms. Sounds silly? It is. Good though" (Record Mirror, 7-8/1982)
"Not easy to dance to. I tried and twisted my ankle, because the music kind of stops and starts" (The Leveller, 05/1981);
"An uneasy funk, in which two guitars appear to throttle each other" (Smash Hits, 04/1981)
"A great new pop band, Manchester's most potent contenders" (NME, 11/1980)
"Freakzone's featured album of the week!" (BBC6 Music, 2/2007)
"A dissonant, jagged, discordant form of Pavlovian post-punk not a million times dissimilar to their peers Gang of Four, Talking Heads and Dislocation Dance. Sweet" (Plan B, 03/2007)
"The Diagram Brothers were funny, slightly scary and like no-one else in the world. For this I loved them - their repertoire of bleakly downbeat observational songs inspired insane devotion" (Stuart Maconie, Cider With Roadies, 2004)
"No other band so effectively captured the feel of a time when, if one strayed from the mainstream, anything seemed possible. Excellent throughout - four stars" (Record Collector, 04/2007)