DVD \ Shadowplayers: Factory Records & Manchester Post-Punk 1978-81 [LTMDVD 2391]
Shadowplayers is a feature-length oral history documentary DVD issued in 2006, tracing the early history of iconic Manchester label Factory Records between 1978 and 1981.
The myriad Facts and fictions are explored through candid interviews with 22 key participants, including Anthony H. Wilson (founder) and Peter Saville (designer), as well as musicians including Peter Hook (Joy Division/New Order), Vini Reilly (The Durutti Column), Simon Topping and Martin Moscrop (A Certain Ratio), Chris Watson (Cabaret Voltaire) and Howard Devoto (Buzzcocks/Magazine).
Other interviews include members of Section 25, Crispy Ambulance, The Names, Minny Pops, Swamp Children and Thick Pigeon, as well as other eyewitnesses and insiders such as Richard Boon, Annik Honore, Lindsay Reade, Richard Jobson, Graham Massey and Killing Joke.
The film runs for more than 2 hours and is divided into 19 chapters, covering subjects such as The Factory Club, sleeve art and graphic design, genius producer Martin Hannett, the riot at the Joy Division concert at Bury in April 1980, the Factory Benelux connection, the tragic suicide of Joy Division singer Ian Curtis, the beginnings of New Order, and the decline of the post-punk culture in 1981.
Shadowplayers is based exclusively on new spoken word interviews, with soundtrack music by Section 25 and New Order, and rare images and graphics. The cover art is based on the first Factory design (Fac 1) by Peter Saville.
SHADOWPLAYERS - detailed content (19 chapters)
1. USE HEARING PROTECTION - The Factory Club, May 1978 to April 1980
2. A FACTORY SAMPLE - 2x 7" single (Fac 2) released January 1979, featuring Durutti Column, Cabaret Voltaire, John Dowie and Joy Division
3. FACTORY FOREMEN - Five heterosexual directors: Tony Wilson, Alan Erasmus, Peter Saville, Rob Gretton and Martin Hannett
4. UNKNOWN PLEASURES - Joy Division's debut album (Fact 10) was released in May 1979, produced by Martin Hannett
5. ZERO - Martin Hannett, record producer
6. SITUATIONIST GROUP - Vini Reilly and The Durutti Column housed their first album (Fact 14) in a sandpaper sleeve
7. THE THIN BOYS - The first single by A Certain Ratio, All Night Party (Fac 5), appeared in May 1979. With no drummer
8. LARRY AND VINNY - Section 25 are from Blackpool. Ian Curtis and Rob Gretton produced their first single (Fac 18)
9. GET IN THE VAN - Heads, tales, Cocks and Jokers on the road
10. RUE DE MANCHESTER - Joy Division and Cabaret Voltaire play Plan K, Brussels, 16 October 1979
11. THE RAINBOW - On 4 April 1980 Joy Division played two London venues, The Rainbow and The Moonlight Club
12. FACTORY BENELUX - Friends in Belgium (and Holland)
13. DISORDER - Bury Derby Hall, 8 April 1980
14. IN A LONELY PLACE - 18 May 1980. On the eve of Joy Division's first American tour, Ian Curtis hangs himself at home in Macclesfield
15. BENEATH THE PAVEMENT - New Order debut at The Beach Club, Manchester, on 29 July 1980. U2 go home
16. OF FACTORY AMERICA - New Order and A Certain Ratio in New York, September 1980
17. FUTURISTS - The first New Order album, Movement (Fact 50), was released in November 1981
18. CHOIR BOYS - Schoolboy lyrics and timbales: Vini Reilly and Simon Topping
19. LIKE PUNK NEVER HAPPENED - 1981: new pop, old ways
135 minutes. The DVD is available as a Region 0 NTSC disc priced £12.00 via LTM Mailorder. DVD extras include individual profiles for each interviewee.
Reviews:
"The stark succession of talking heads shares the pure austerity of Peter Saville's famous Factory artwork. The designer himself has lots to say, as do Anthony Wilson and Peter Hook. The best quotes, though, are from and about Section 25" (Word, 8/2006)
"Contains plenty of fascinating data for the hardcore fan" (Sight & Sound, 05/2007)
"Golden memories from the defunct indie label's insiders. There's something about the Factory label that doesn't age. This film concerns the imprint's early period and contains 24 interviews with players big and small, and it's a tale rich in drama, inspiration and strangeness. Four stars" (Q Magazine, 09/2006)
"Exploring the facts and debunking the myths, an in-depth and intelligent documentary that follows the rise of Factory through honest and revealing interviews" (Rotten Tomatoes, 2006)
"The story covers Factory Records' inception, from Tony Wilson's initial vision for A Factory Sample, to the nervous emergence of New Order from the shocked debris of Joy Division. Director James Nice must be commended for allowing it to move at a reasonable pace, and he broadens the story in an effortless and accessible manner. As ever, Tony Wilson hovers between the profound and the absurd, while the true worth of Shadowplayers lies in the supporting cast of 'shadowplayers' such as Lindsay Wilson and the intriguing Larry and Vin Cassidy of Section 25. For those new to this cycle of myth and lies, Shadowplayers offers a glimpse beyond Joy Division and the dominance of Anthony H." (Record Collector, 09/2006)
"Quite honestly one of the most captivating documentaries I've ever watched, this superb DVD concentrates on the first four years of Factory, exploring the almost endless facts and fictions of those seminal years 1978-1981. This works so well because of the vast wealth of information it has to offer, not only to followers of Factory but also anyone with an interest in the history of independent record labels, the industry as a whole, graphic design and the subtle art of communication, packaging and unwillingness to compromise. It's the small ancdotes that make this all most memorable. A genius documentary, and an utterly essential purchase" (Boomkat, 08/2006)
"A great two-hour DVD, countering a lot of the myths perpetuated by the 24 Hour Party people film, with a series of candid, revealing interviews and tight editing. Reinforces the uniqueness of the period and the people" (Cyclic Defrost, 08/2006)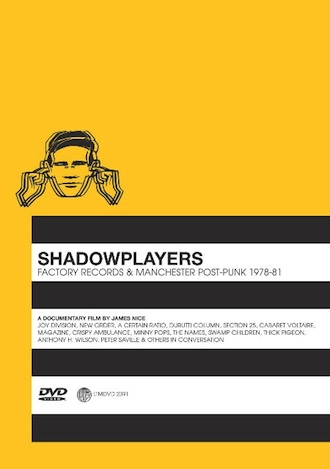 Auto-interview with James Nice (2006)
What exactly is Shadowplayers about?
It's a feature-length indie documentary about the first four years of Factory Records (1978-81), with the main focus on the musicians, but also covering design and, erm, Situationist aesthetics. Plus some good-humoured North-West wit. What it isn't is another Joy Division or Madchester film.
The title reflects the monochrome mood of the time, and the fact that most of the groups were operating (or perceived to be operating) in the shadow of Joy Division.
So why is the DVD so bloody long?
It's a complicated story, and Factory's cultural currency is increasing year on year. Factory was the most important label of its era. Peter Saville was the best designer of his generation. Martin Hannett was the best producer. The suicide of Ian Curtis was a generational tragedy long before Kurt Cobain. To tell the story properly, I had to interview all the main protagonists, not just the ones who cracked the Top 40. A Certain Ratio, Durutti Column, Section 25, Cabaret Voltaire and the others are all important too.
In some respects Shadowplayers is an antidote to the Factory movie 24 Hour Party People (2002).
Why no archive or music clips?
Mainly because it would detract from the narrative. From the outset I wanted to make an 'old school' film, not exactly arthouse, but not timed or edited for mainstream television either. Shadowplayers was made specifically for DVD. You can dip into it chapter by chapter, like a book.
Everyone was interviewed within a five month window in 2005, so they all share the same degree of hindsight, which gives it a kind of integrity too. Twenty-five odd years is quite a good remove: people can recall the facts and feelings accurately enough, and they're more candid than they would have been at the time. In fact Shadowplayers would have made for a pretty dull two hours if I'd filmed it in 1980. They'd have all simply muttered that "the music speaks for itself."
You seem to have spoken to everyone. Did anybody say no?
No-one, which is a bit of a coup. In fact I filmed more interviews than I used, about 36. I had an advantage in that I had had existing contacts with almost everyone I interviewed.
Through your record label, LTM?
Mainly, yes. And breaks like having a leak next to Howard Devoto at a Ludus gig, that kind of thing.
Any favourites?
Well, Tony Wilson, Peter Saville and Peter Hook provide the backbone of the story. But Larry and Vin Cassidy of Section 25 make a hilarious double-act. There's a lot of humour in the film, thankfully.
The filming seems to be all over the place!
I presume you mean the locations. Most of the interviews were filmed in peoples' homes, which brings an engaging element of 'through the keyhole' voyeurism to the piece. They're very naturalistic too, all first take. I simply turned on the camera and popped the questions.
Everyone gets quite animated about the 'riot' gig at Bury
Yes, I guess a ruck is always quite exciting for young male adults. I think Bury Derby hall in April 1980 was their Battle of the Somme, like a Pals Battalion in 1916. And probably that gig was more of a critical event for Ian Curtis than people realised at the time.
Martin Hannett (producer) and Rob Gretton (Joy Division/New Order manager) also cast long shadows...
It's a terrible thing that they also died so young. I think Rob Gretton in particular will remain an enigma to those who didn't know him personally, and I certainly didn't. Hannett I met only once, in 1985, but by then he was lost in drugs.
Any plans for a sequel? Blue Monday, The Haçienda etc?
Nope! Maybe a book version one day though...