Minny Pops \ Secret Stories [LTMCD 2353]
Secret Stories collects together material by several iterations of Minny Pops, and is lead by the four tracks released on their two Factory singles, Dolphin's Spurt and Secret Story. The album also features four tracks from a radio session in 1980, rare compilation album tracks such as Possessed by the Stars and She Said Go-Go-Go, and four tracks each from the later Poste Restante and 4th Floor albums.
Tracklist:
1. Dolphin's Spurt
2. Goddess
3. Island
4. Secret Story
5. Mono (radio session)
6. Ice Cube Wall (radio session)
7. Jets (radio session)
8. Goddess (radio session)
9. Time (unreleased 12" mix)
10. Kogel (demo)
11. Body Language (demo)
12. Final Drink in the Hilton Lounge
13. Possessed by the Stars
14. Vreemde Dagen, Vreemde Nachten
15. Left Behind (Achtergelaten)
16. Wandering (Wandelen)
17. Cool (Koel)
18. Fighting Man
19. West Desert Shore
20. Back Home
21. Palm Beach
22. She Said Go Go Go
Remastered for CD and download. Booklet contains archive images and liner notes.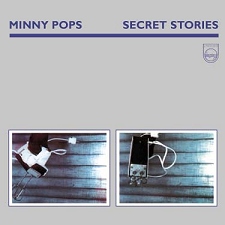 Reviews:
"Post-punk electro pioneers" (Uncut, 05/2003)
"The two Factory singles are excellent" (Muzik, 05/2003)
"They still sound challenging, occasionally wayward and often bafflingly brilliant" (Tangents, 03/2003)
"Like Suicide or the Human League with a PhD" (Glasgow Herald, 03/2003)
"The two Factory singles are among their finest achievements, with Dolphin's Spurt spurred on by some nicely bleached Keith Levene-ish guitar" (Whisperin' and Hollerin', 03/2003)
"All four Factory single sides are amazing" (gullbuy.com, 02/2003)
"The first seven tracks show the band at their best, a balance of bizarre electro-funk and edgy industrial disco" (Brainwashed, 05/2003)
"Minny Pops were a Dutch experimental band that soldered fizzy, crackling electronics to stern, robotic post-punk; despite the precious name, they were harsh and confrontational, relentlessly and unapologetically cold. A striking and volatile anomaly" (eMusic, 09/2006)