Powerful second studio album from Crispy Ambulance, recorded in 2002 by the original quartet of Alan Hempsall, Gary Madeley, Robert Davenport and Keith Darbyshire. Produced by long-time band collaborator Graham Massey, whose other credits include 808 State, Bjork and Biting Tongues.
Tracklist:
1. Step Up!
2. Loupgarou
3. Metal Grey
4. Re-animator
5. Heatwave
6. Parallax
7. The Drop
8. End Game
9. Even Now In Heaven, There Are Angels Carrying Savage Weapons
10. Sound Block
Scissorgun is a co-release with Darla Records (DRL 126).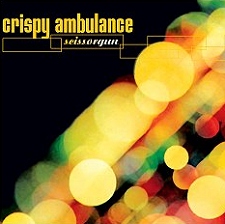 Reviews:
"Has done what few Factory-influenced bands have: taken the old sound and gone somewhere new with it. The Ambulance infuses its old swing, giving most of the tunes a gracefulness rarely heard in rock" (Time Out New York, 08/2002)
"A dynamic, energizing piece of rhythmic post-punk with the feel of a live performance, standing comparison to the group's earlier output" (Epitonic, 06/2003)
"It's got the same rough-hewn, grimy grandeur as the best Factory releases - an album worth listening to quite apart from its contextual significance" (Splendid, 07/2002)
"A beefy take on archetypal early 80's Mancunian post-punk" (Record Collector, 07/2002)
"An excellent, sharp collection of darkly tinged rock, and an unconventional sound that still sounds fresh" (Erasing Clouds, 07/2002)
"Darbyshire's fluid, probing basslines are positively subterranean, while Madeley's spinning drums on tunes like Endgame spur the quartet on to some superb sonic violence… In Loupgarou, Step Up!, End Game and Parallax the band have moulded their fiercely distinctive sound into something live, livid and kicking - bloody good to have them back" (Whisperin' & Hollerin', 05/2002)