Crispy Ambulance \ The Powder Blind Dream [LTMCD 2372]
Produced by Graham Massey of 808 State/Biting Tongues, The Powder Blind Dream is the third studio album from cult Factory Records band Crispy Ambulance. The album comprises eleven original songs and was recorded in Manchester in June 2003. An old friend returns in the guise of the ARP Odyssey synth, which featured heavily on their classic 1982 debut album and gives the new album a sharp retro-futurist feel.
Crispy Ambulance are Keith Darbyshire: bass, Robert Davenport: guitar, Alan Hempsall: vocals, Gary Madeley: drums.
Tracklist:
1. Quarter Caste
2. Triphammer
3. Evil Eye
4. Protocol
5. Any Second Now
6. Four Line Whip
7. Chimera
8. Lucifer Rising
9. Bad Self
10. Houses Sinking
11. Pain and Pleasure
The Powder Blind Dream is a co-release with LTM's American partners Darla Records (DRL 138). An outtake from the same sessions appears on the Tobacco Perfecto compilation CD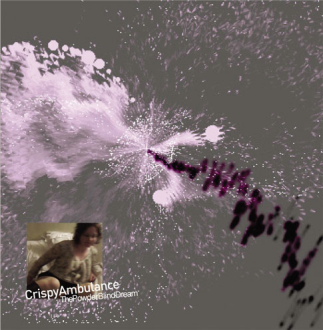 Reviews:
"Sterling audacity - the monochrome, semi-industrial rhythms and doom-laden guitar of Quarter Caste and Protocol sound irrevocably 1979" (Q Magazine, 07/2004)
"At times truly riveting" (Erasing Clouds, 07/2004)
"The hour's body of work that this unique collective have constructed puts the relatively lacklustre efforts of men half their age to shame - 4/5" (Leonard's Lair, 05/2004)
"A powerful and creative new effort, built mostly on whiplash rhythms, stinging guitars, Hempsall's expressive vocals and Massey's strategic, live-sound production" (Whisperin' and Hollerin', 05/2004)
"Retro modern rock - imagine lethargic Fugazi with an ARP Odyssey synth and the inability to perceive time and space, and you've got Crispy Ambulance. A bold, spirited album" (Outburn, 07/2004)