Point Final is the first CD release by Belgian cold wave band Isolation Ward, formed in Brussels in 1979 and centred around musicians Stéphane Willocq and Jean-Pierre Everaerts.
After live shows at venues such as Plan K, the band recorded haunting classic Lamina Christus as their first single, produced by Peter Principle of Tuxedomoon, and released by Les Disques du Crépuscule in April 1982. Following live dates with diverse artists including The Birthday Party, Antena, 23 Skidoo and Siouxsie and the Banshees, the band released their second Crépuscule single Absent Heart a year later. However line-up changes troubled the band, and Isolation Ward played their final gig in May 1983.
Point Final features all tracks from the Crépuscule singles as well as the cassette album Point de Départ. The booklet features archive images and detailed sleevenotes.
Tracklist:
1. Lamina Christus
2. Babes and Sucklings (A Lullabye)
3. Deadlock
4. Hope and Despair
5. Illusions
6. Meat in Motion
7. Once and for All
8. Remember
9. Feeling the Pain
10. Try Again
11. Still From Heaven
12. Waste
13. Absent Heart
14. A Request
15. Fifth Rate Puritains
16. Slow (N.T.)
17. Dangerous
Available on CD and download.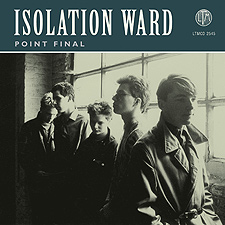 Reviews:
"Isolation Ward's best efforts are smart examples of nervous, melancholic electronic/rock fusions. Plenty of comparison points can be drawn thanks to keening vocals and bass/drum-heavy arrangements - Wire just before their first breakup, 17 Seconds-era Cure, the earliest work of The Passions, Modern English and Cocteau Twins, and perhaps above all else Siouxsie and the Banshees. A typically comprehensive overview" (All Music Guide, 11/2009)