Crispy Ambulance \ The Plateau Phase [LTMCD 2315]
The Plateau Phase is the debut album by Manchester group Crispy Ambulance, originally released on Factory Benelux (FBN 12) in 1982. An overlooked jewel in the Factory catalogue, the core album was produced at Strawberry Studio by Chris Nagle. The three bonus single tracks are full-length versions of Sexus, The Presence and Concorde Square, the latter two produced by Martin Hannett.
Tracklist:
1. Are You Ready?
2. Travel Time
3. The Force and the Wisdom
4. The Wind Season
5. Death From Above
6. We Move Through the Plateau Phase
7. Bardo Plane
8. Chill
9. Federation
10. Simon's Ghost
11. The Presence (from FACBN 4)
12. Concorde Square (from FACBN 4)
13. Sexus (from FBN 16)
Available on CD and download. Detailed sleevenotes, Benoit Hennebert design. The CD is also available with the original De Roeck artwork as FBN 12 CD.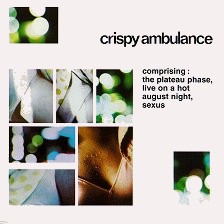 Reviews:
"One of the best albums Britain's second city has unleashed" (Q Magazine, 03/2006)
"Seventeen years on The Plateau Phase sounds like what it probably always was: urgent, postmodernist psychedelia with less debt to Joy Division's music than to the universal abstract existential tension that comes with being young" (Uncut, 12/1999)
"An enthralling glimpse at a moment in musical history when the DIY ethos of punk gradually gave way to experiments with electronics and song structures" (NME, 01/2000)
"Mixes driving rock, gritty new wave and odd atmospheric stuff" (Option, 1990)
"Cold and ferocious, but with enough inventive melody to lighten the black abyss of the overall mood" (Les Inrockuptibles, 02/2012)
"The album's strength lies in its varied songwriting approach and diversion away from standard verse-chorus composition (Flipside, 03/2013)
"Phasers on stun!" (Sounds, 05/1982)
"The Plateau Phase may not be an outright masterpiece but it comes awfully close" (All Music Guide)
"Thrillingly discordant and abstract, much of this requires slotting into the post-punk canon" (The Arts Desk, 02/2013)
"A wonderful album with a compelling gravitational pull" (Record Collector, 03/2013)