Boutique \ Spherical Objects \ Past & Parcel/Elliptical Optimism [BOUCD 6614]
Digital remaster of the first and second albums by Manchester pioneers Spherical Objects. Released in July 1978 and October 1979 via Object Music, both sets featuring Steve Solamar, John Bisset-Smith, Fred Burrows, Duncan Prestbury and Roger Hilton. Booklet includes archive images and detailed liner notes, with contributions from chief Object Steve Solamar.
Tracklist:
1. Born to Pay
2. Situation Comedy
3. You Can Become
4. The Crystal Tree
5. If I Can Chose (Oh Babe)
6. Lover Flow
7. Drama Queen
8. The Face I Want To See
9. What Goes On
10. Past & Parcel
11. Metropolis
12. Show Me
13. Comedians
14. Elliptical Optimism
15. Ten to Nine
16. Another Technique
17. I Should Have Left Him
18. It's So Good to be Alive (Tonight)
19. Lying Again
20. I Don't Remember
21. Walk Away
22. Lucy
23. I Remember You
Available on CD and download.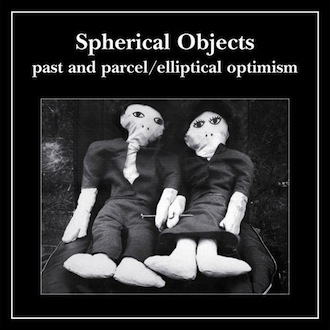 Reviews:
"The tightly structured music is hardly imitative or naive. By regulating distinctive influences - Love, Buckley, Reed are heavily discernible - alongside their own fully charged elegance the group achieves a music that is distinctly eclectic yet undeniably original and special. It is a very personal uncommon music, irregularly based with versatile, individual embellishments from Bisset-Smith's delicate introverted lead and Prestbury's subtle illuminative keyboards. The very curious Objects sound is totally unlike anything else anybody else is doing" (NME (Paul Morley), 1979)
"All four albums collected on these two CDs are forgotten classics. When I say forgotten, I don't - he said smugly- include myself, of course. I still have my trusty vinyl copies" (Stride, April 2009