The classic first album by Gina X, first released on Crystal in 1979 and now digitally remastered with 4 bonus tracks. Produced by Zeus B. Held and Martin Homberg, the album features influential electro singles No G.D.M. (Dedicated to Quentin Crisp) and Nice Mover, as well as the original version of Do It Yourself.
Tracklist:
1. Nice Mover
2. No G.D.M.
3. Plastic Surprise Box
4. Casablanca
5. Be a Boy
6. Exhibitionism
7. Black Sheep
8. Tropical Comic Strip
9. No G.D.M. (Berlin 1992 Mix)
10. Nice Mover (7" edit)
11. No G.D.M. (7" edit)
12. Homage â B.B.
Available on CD and download. The booklet preserves the original artwork from the 1979 vinyl release, as well as a detailed artist biography.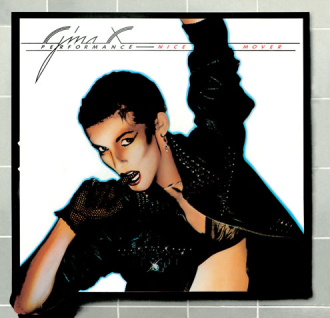 Reviews:
"Like an artier Moroder, the noirish synth-funk textures provide the iciliy futuristic backdrop for gender-bending tales. 4 stars" (Uncut, 06/2005)
"Pioneering electro-pop - hints of Kraftwerk, Nico and Studio 54-era Grace Jones" (Mojo, 09/2005)
"No G.D.M. is one of the most influential songs to come out of the Continent" (Q Magazine, 2005)
"Did you ever wonder where Grace Jones and Miss Kittin learned all their moves? Look no further than Gina X Performances's 1979 electro new wave classic. The highly influential club singles Nice Mover and No G.D.M. are ground zero for the combination of cold-wave electro, cocaine-fuelled disco sleaze, dark cabaret and gender-bending performance aesthetics that would come to dominate the Berlin and NYC scenes during the early 1980s, and then again in the late 1990s" (brainwashed.com, 07/2005)
"Toying with sounds that would later dominate the Euro new wave scene for the next several years, the album is filled with electro, funk and cabaret stylings. Nice Mover is a slinky sexy cold wave creeper that brings to mind Amanda Lear hanging with Kraftwerk at Danceteria" (Catascopic.com)
"This new wave avant-electro art prancing is so similar to today's product that I actually checked the CD case to see if this was secretly made in the past year, and packaged as a reissued for authenticity. But no, it's the real deal - tarty Cologne-tinged English lyrics of fashionable discontent (society, drugs) with music that could be Air around the time of their Virgin Suicides soundtrack. Hot damn, what a gem! Unlike your clothes that won't fit in the future, this does fit - and very very well" (Exclaim!, 07/2005)