Recorded in 2003, the third studio album from Blue Orchids sees mainman Martin Bramah joined by Stuart Kennedy, Alastair Murphy, Charlotte Bill and Bud Umu. Mystic Bud features nine Bramah originals, ranging from the naked soul of Shining Brow to the more upbeat Soul Stuff and Freak Show, and troubadour gem Sub Rosa. By way of a surprise, the set closes with a narcoleptic cover of the Archie's classic Sugar Sugar. Bubblegum trance?
Quoth Bramah: "I'm back from the wilderness with some interesting specimens. It's an album of songs I discovered in the inner jungle, made in my kitchen/living space plus bits I found in the backyard. I wanted it to be casual yet intimate, like the best encounters. I kept the mix quite dry and natural sounding, understated."
Tracklist:
1. Soul Stuff
2. Shining Brow
3. Freak Show
4. Angel of the Loop
5. The Secret of the Sacred Orchid
6. Earthling
7. Black Peg's Son
8. Bemused
9. Sub Rosa
10. Sugar Sugar
11. Radiance
12. Black Pig
Available on CD and download.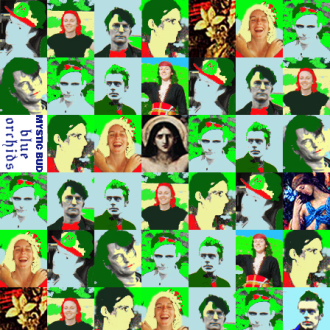 Reviews:
"A free-ranging set of folk, rock and power-pop" (Magnet, 03/2005)
"The songs offer ragged reminders of their author's singular talent. Campfire guitars, flutes and dulcimers replace the electricity of yore, but on chirruping opener Soul Stuff or the mordant, declamatory Freak Show, Bramah proves that age has hardly withered his muse" (Q Magazine, 05/2004)
"A mature album from a mature artist who still sounds as relevant as ever. This is probably - whisper it softly - Bramah's best offering yet" (Leonard's Lair, 03/2004)
"Bramah's ear for skew-whiff psychedelia remains strong, and a flat-out lovely nod to the past comes with a cover of Sugar Sugar, given a slow, moody reworking that turns it into a beautiful pop equivalent of the Velvet Underground's Heroin" (All Music Guide, 03/2004)
"A far more intiminate, secretive plant that grows gradually on you with repeated plays. More pastoral, there's an element of low-key, wistful English psychedelia, and the songs are pretty, fragile and quite sublime" (Whisperin' & Hollerin', 03/2004)
"Mystic Bud is a psychedelic folk record beautifully carved from hushed vocals, dense arrangements and a hazy, indiscrete production" (Exclaim!, 04/2004)