Formed around vocalist Wally van Middendorp in 1978, Dutch art-punk electro pioneers Minny Pops released several singles and an album on their own label Plurex before joining Factory Records in 1980. After a strong of acclaimed singles such as Dolphin's Spurt, Secret Story and Time, and becoming the first Dutch group to record a BBC session for John Peel, the group released keynote album Sparks in a Dark Room in 1982. Two further albums followed before the band split in 1985, though in 2012 Minny Pops reformed for a string of live shows to promote archive live CD/DVD package Standstill To Motion.
The creative anchor of Minny Pops was Wally van Middendorp, a key player in Amsterdam's underground Ultra art scene, and founder of the Plurex label in early 1978. His first single, as The Tits, coupled We're Glad Elvis is Dead with Daddy Is My Pusher, a fairly typical (though darly humorous) new wave record. In September Minny Pops were formed as a predominantly electronic band, taking their name from a primitive Korg rhythm box dubbed Mini Pops, and having something in common with Suicide, The Normal and The Human League. The first line-up, featuring Wally on vocals and drum machine with bassist Frans Hagenaars, guitarist Peter Mertens and two dancers (including Wally's brother Rob), made their live debut on December 12th at the Brakke Grond in Amsterdam.
Wally recalls: "A lot of people couldn't understand the visuals or the sounds because we were working with distorted guitars and bass. At that time people in Holland didn't realise there were new upcoming groups with new ways of approaching their music. One of the first ideas was to play really mechanical music with weird noises in it. Scratching guitars, very simple vocals, and a simple bass line reinforcing the drum-machine beat. The stage act was also very strict - we didn't move, we stood like statues and occasionally moved our hands. That changed over a period of time."
Minny Pops wasted little time in recording their first EP. Kojak, also featuring Footsteps and Nervous, was issued by Plurex in March 1979, and consisted of ironic dialogue borrowed from the US television cop show. In June the line-up changed to include guitarists Dennis Duchhart and Stef Emmer, after which the group recorded their debut album, released in September as Drastic Measures, Drastic Movement. Much of the album was resolutely left-field, with opening instrumental Springtime sounding like an outtake from Metal Machine Music. Explained Wally at the time: "It's background music which you can't ignore, new muzak. The title gives you the idea of a nice, flowing song. It's like a big drill! Actually, it fits in with the pacing of the set, which is confusing as well. The album's full of confusion - there's nice songs, then all of a sudden total distortion."
As far as live performance went, live shows in 1979 were restricted to shows in Holland, with a major date at the Melkweg with Red Crayola and Scritti Politti in April, and a support with XTC at the Paradiso in December. The group also played a dozen dates around the country with the excellent Comsat Angels in September. Both single and album attracted notice outside Holland by virtue of the Rough Trade distribution network, and a prominant review in British weekly Sounds, but it was not until the group linked up with Factory Records that they began to attract the attention they deserved. After being booked to support Joy Division at dates in Den Haag and Eindhoven in January 1980, Rob Gretton then invited Minny Pops over to play with the band at the Factory Club (aka Russell Club) in Manchester on April 11th. While in England the visitors also performed at the infamous Bury 'riot' gig with Joy Division and Section 25 on April 8th, and played their own headlining show at Derby Blue Note on the 10th. By now Frans Hagenaars had departed, and Minny Pops recruited their first keyboard player, Willem (Wim) Dekker, who now teamed up with Wally to form the musical core of the group.
NME writer Andy Gill found much to like about Minny Pops, even if their unorthodox live presentation was somewhat challenging: "When I saw Minny Pops supporting Joy Division earlier this year in Manchester, they adopted the odd habit of standing silently, arms folded, for as long as a minute after each song. This caused considerable confusion amongst the audience, who seemed unsure whether to clap, shout, or ask for an encore. Their expectations were confounded by a device as simple as Wally's explanation for it. 'We figured that normal rock and roll is set up as a fast-paced set - one song ends, the next starts within four seconds. I thought that if you break up the pacing between numbers, it might give people a chance to look over what you've done.'"
The band returned home for a Dutch tour with The Tapes in May, which resulted in a rush-released Minny Pops Live ep in June, featuring Night Out, Dolphin's Spurt and Mental (a song later re-worked as Een Kus). In August Minny Pops returned to Manchester to record their debut Factory single, and complete a short headlining tour of the north of England in August, taking in Leeds Warehouse, Sheffield Blitz and the Beach Club in Manchester.
In a barbed review of the Beach Club gig, Mick Duffy of NME had this to say of an approach to live performance which bordered on performance art. "Wally, Minny Pops' lead singer, whose height is maybe just a little extraordinary. He's a wiry, gangling figure approaching seven feet tall. Sporting an ill-fitting plain dark suit with trouser legs and sleeves desperately short, an all-American-boy haircut and large, square-rimmed glasses, he looks like a caricatured Elvis Costello on stilts. He is accompanied by a trio of seemingly undernourished dwarves who must be the proverbial Oxfam refugees. They're dressed in clothes that must have been salvaged from Oliver, or discovered in the attic of some decayed Victorian mansion, in the tea-chest marked Servants Clothes. You see, we British just don't realise how lucky we are, Despite our so-called recession..."
"Minimalists in sound and likewise in movement, they remain almost motionless throughout the entire set. Their feet seem to be permanently glued to the ground. They never smile, never communicate with us or each other between numbers. Occasionally one member, usually the bassist, attempts some half-second clockwork-clone jerk with his rigid limbs. Then all is still once more. Minny Pops are interesting statues but alienating performers. There is no encore."
Interviewed by Sheffield fanzine It's Different for Grils [sic], Wally explained some of the problems the band faced at home in the Netherlands, where there was only one music magazine, no fanzines, and next to no radio play for bold electro-explorers. "It's a strange situation, us being in England doing a single and hardly getting any press back home in some way. It's getting better since we're doing this Factory single, but before that people said, 'Well, you know, your music is not so good...' The music hasn't changed between April and now, but since we could tell people we're doing a single for Factory they say, 'Yeah - I always thought your music improved a lot over the past few months."
Minny Pops recorded their Factory single at Strawberry Studio in Stockport with house producer Martin Hannett, at the same time as Belgian group The Names cut Nightshift. The line-up featured Wally and Wim, together with new bass player Leon van Zoeren and interim guitarist Pim Scheelings. Cut in a single day, Dolphin's Spurt (Fac 31) coupled a harder version of a standout track from Drastic Measures with a newer song, Goddess, which was more indicative of the direction the band would take on their second album. The tracks were mixed by mercurial Hannett several weeks later, of whom the band would observe: "It's strange working with Martin Hannett. He just lets you record whatever you want. He told us, 'Just go ahead and record whatever you think is suitable and I'll see what I can do with it.' Sometimes he laid down on the floor of the mixing room for half an hour at least, just thinking."
Released in January 1981, Fac 31 was housed in a typically smart Martin Atkins sleeve which played on the Philips corporate house style, an ironic nod to the group's Dutch heritage. Reviews were excellent, and the band gained an ally in Paul Morley of NME. "Daniel Miller has said that he likes music at either end of the scale - Throbbing Gristle or Silicone Teens. Nothing midway. Minny Pops are, simplistically speaking, floating somewhere in between. Intellectuals light heartedly treating serious themes or a pop group losing their trust in surface coherence: which ever way, they're wilfully retarded. They could, though, quite easily be a Mute group, and if I had a daytime Radio 1 show they could quite easily be very famous. As it is, they're on Factory, so they'll probably be treated as half human."
Here Morley identified a core dilemma for Minny Pops. Had it not been for their involvement with Factory, it's doubtful that the band would have been heard outside Holland, where in any event they were largely ignored. Yet Factory was a double-edged sword, being a label made top-heavy by the success and legacy of Joy Division and New Order, which tended to overshadow other groups such as Section 25, The Names and A Certain Ratio. Hannett's cold production of Dolphin's Spurt worked well enough, but the freewheeling 'occasional labour in culture' work ethic at the label ran contrary to Wally's own instincts and experience. "Factory's attitude is different from ours. They wouldn't explain exactly where and what time we should turn up unless asked. So it takes a while to get used to their way."
In November 1980 Minny Pops returned to Britain to play a London date at the LSE with A Certain Ratio and the Au Pairs, as well as recording a four song radio session for John Peel (the first by a Dutch band), comprising Dolphin's Spurt, Mono, Jets and Ice Cube Wall. In December the band rounded off a busy year with a date supporting a still-embryonic New Order at Hal 4 in Rotterdam, then flew to the United States for a short seven date of the East Coast. Together with four dates in New York (at the Rock Lounge, Peppermint Lounge, Mudd Club and Hurrah), Minny Pops also played in Hoboken, Toronto and Boston. Despite losing perhaps $700, the tour was undoubtedly a success at a time when few bands from mainland Europe not called Kraftwerk or Tangerine Dream were taken seriously in Britain and America.
Whether North America was ready for Ultra performance artists Minny Pops is another matter, if the reaction of the Toronto Globe and Mail is anything to go by. "Van Middendorp chanted over a pair of synthesizers (one live, one on tape) and some simple guitar and bass riffs. When the taped synthesizer (definitely the musical star of the show) was in high gear, the outfit sounded a little like a dirty Gary Numan, When it was in low gear, the result was something resembling Nina Hagen played at slow speed. Occasionally, Van Middendorp recited some emotionally wrought free-form poetry without musical accompaniment. It was not destined for posterity. Actually, bizarre as all this sounds, the result, in some perverse sort of way, was not unlistenable or uninteresting. Although the concept was ultimately more interesting than the music itself, I didn't go away with the feeling that I had seen just another ordinary rock and roll band. There was obviously something happening there. I'm just not exactly sure what it was."
Both Minny Pops and their label appeared to be going from strength to strength. November 1980 saw a three page feature on the Dutch scene in NME, and during 1981 Plurex would release a raft of records by cutting edge Dutch artists, including Nasmak, Young Lions, The Tapes, A Blaze Colour and (via the Factory connection) Eric Random. Indeed the label's extraordinarily high standard of packaging would match that of Factory itself, courtesy of designer Rob van Middendorp. Minny Pops themselves returned to Britain in April, playing with Comsat Angels and The Delmontes in London, then supporting New Order in Nottingham and Birmingham. In October the band completed a Dutch tour with Benelux labelmates The Names, and on the 24th even drove down to Italy for a one-off show at Gabbice a Mer.
The group were also writing material for their second album, for release through Factory Benelux, though recording was delayed by the departure of guitarist Gerard Walhof, who was not replaced. A powerful demo tape was made in July, and one track from it - Een Kus - issued in October as a flexi disc (FBN 13) with Vinyl magazine. Sparks in a Dark Room was eventually recorded at Arnold Muhren studio near Amsterdam at the end of the year, with Wally and Wim joined by bassist Pieter Mulder and a live drummer, Orpheus Roovers. As a result, Sparks sounds like a different band to the one that created Drastic Measures two years earlier. Nevertheless, the self-produced sophomore set was an assured electro-pop triumph, with the driving, motorik rhythms of Dream, A Feeling, Trance and Tracking rubbing shoulders with eerie, twilit essays such as Black Eye and Vital.
Released by Factory Benelux in May 1982, Sparks drew praise from Chris Bohn in NME. "Their sound is based around tight, slight rhythm figures, out of which half melodies and exquisite synth lines spring. Once you get over the vocalist's gregorian moan, which contributes to the overall aridity, you'll sense the sort of subtleties in Minny Pops that makes minimalism the worthwhile thing it is. On the other hand Blue Roses has the lush lurch - or should that read lurch of a lush? - of Simple Minds at their grandest and best."
Back at home, Dick Rijken of Vinyl magazine missed the point entirely. While praising the polished production, and the evident danceability of much of FBN 15, Rijken found the perceived gloom of Wally's lyrics and vocals too much to bear. "I find myself at a bit of a loss confronted with the combination of disco and doom.... Melancholia, dependency and weltschmerz are well represented. The musical structure is fairly simple on the whole - not only the tight rhythms, but also their chords and modulations are pretty predictable. Add to this the fact that the vocal, low and dark in tone, and lacking in volume, follows the tone of the musical framework and the monotony becomes tense and unhealthy."
Factory Benelux also released the excellent non-album single Time in April, while Secret Story appeared on Factory (Fac 57) six months later. In truth, however, the group was already fragmenting, and had played their last live shows the previous December. At the beginning of 1982 Wim Dekker, Pieter Mulder and new drummer Ruben Ootes recorded an instrumental EP, Werktitels, under the name Smalts, while Wally acted a master of ceremonies on an ambitious epic Crépuscule package tour, Dialogue North-South, which wound through France and the Low Countries in February. Smalts also played a short set at the Amsterdam show. Some of Wally's confrontational dialogue is preserved as 'Raving Lunatic' on Crépuscule's souvenir album, Some of the interesting things you'll see on a long-distance flight (TWI 082).
Wim and Wally were subsequently commissioned to write the score for a musical play, Poste Restante (a box number for forwarded mail), which was recorded in October and subsequently released as an album on Plurex. However, like the reunion album 4th Floor in 1985, this was a patchy affair, and rather confusing to an audience which expected a more logical progression from the artistic peaks of Dolphin's Spurt, Time and Sparks in a Dark Room. In effect, Minny Pops had disbanded following a group meeting in August 1983.
During 1983 and 1984 Wally and Wim returned on Factory with a brace of 12" electro singles under the name Streetlife, namely Act on Instinct (Fac 97) and No More Silence (Fac 124). LTM also released Een Kus as a 7" single in 1984. Outside the recording studio, Wally continued to work in an executive management role for a number of labels, including Boudisque, Megadisc, PIAS and Sony. Wim Dekker, Ruben Ootes, Pieter Mulder and Zip Boterbloem reconvened as Smalts in 2002, releasing
It's Good to be on a Well-Run Ship on CD through Staalplaat, which includes an updated version of Kogel, one of the great lost Minny Pops tracks from two decades before. Much of Minny Pops back catalogue was remastered for CD and issued by LTM between 2003 and 2004.
In January 2012 Wally, Wim and Pieter Mulder returned to play the first Minny Pops live gigs in three decades, performing four dates in Britain and releasing the archive CD/DVD package Standstill to Motion, which combined a live album recorded at Amsterdam Melkweg on 19 March 1981 with a bonus DVD featuring vintage live footage from 1979, 1980 and 1981. The live album gave a good indication of how Sparks might have sounded with guitar, and for the superlative 2012 shows Minny Pops were augmented by guitarist Mark Ritsema. Further dates followed in the Netherlands and Belgium, and the anniversary marked by the release of a brand new single, Waiting for This To Happen, produced in Manchester by Tim Burgess, an avowed fan.
James Nice
Sources:
'A lot of people...' Shades (Peter Noble), 4.81
'One of the first...' NME (Andy Gill), 22.11.80
'It's background...' NME, 22.11.80
'When I saw...' NME, 22.11.80
'Wally, Minny Pops'...' NME, 30.8.80
'It's strange working...' Shades, 4.81
'Daniel Miller has said...' NME, 7.2.81
'Factory's attitude...' Unknown (Kishi Yamamoto), 11.80
'Van Middendorp chanted...' Toronto Globe (Alan Niester), 15.1.81
'Theirs is also...' NME, 5.81
'I find myself...' Vinyl, 5.81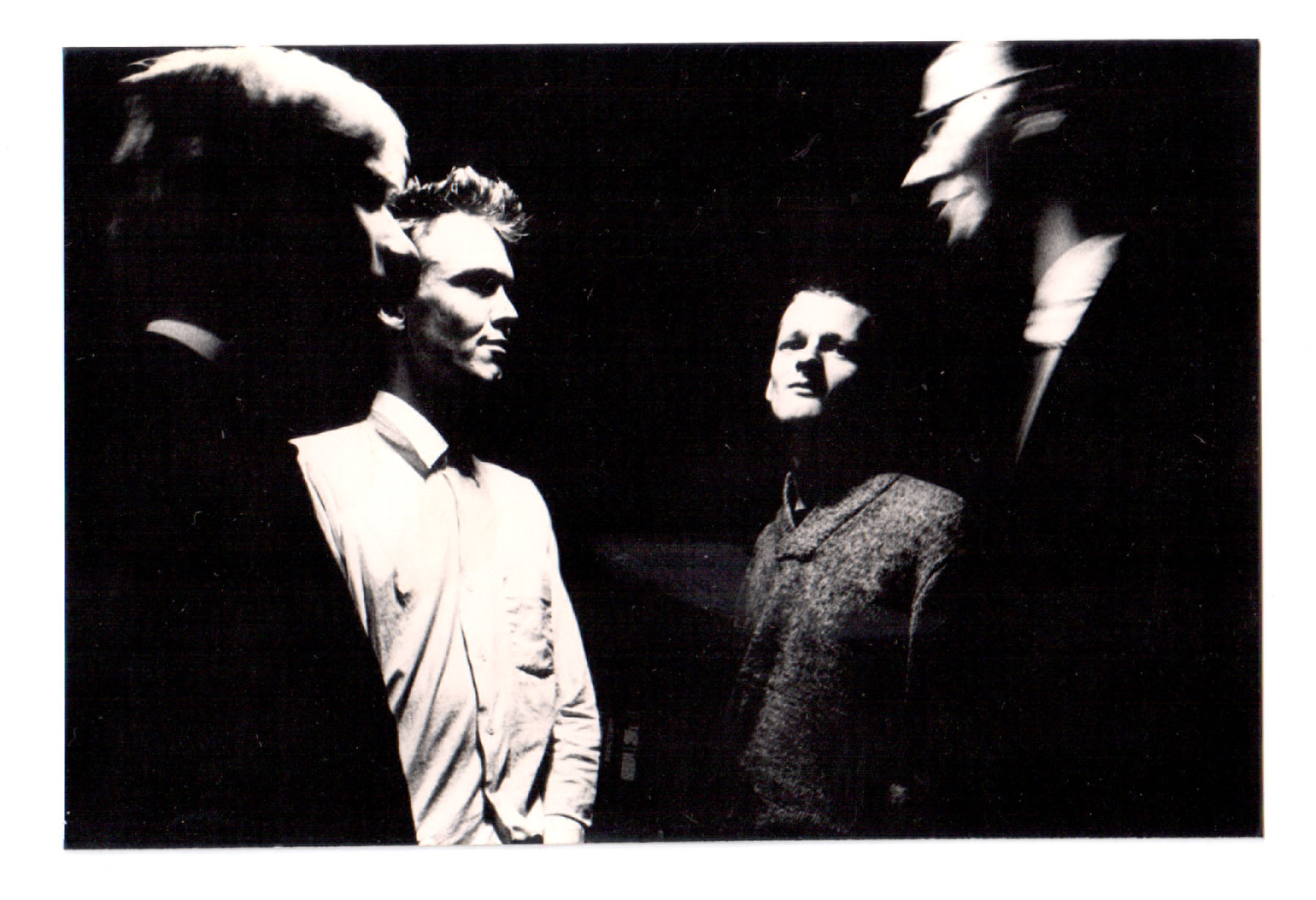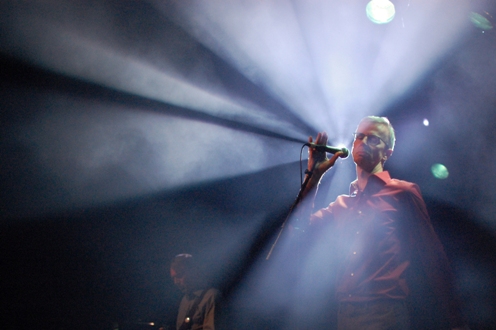 2012 Minny Pops images by Jos van Vliet and Leonor Jonker