Dislocation Dance \ Midnight Shift + Singles [LTMCD 2463]
Remastered edition of the Rough Trade album Midnight Shift from 1983 along with five bonus tracks from satellite singles Show Me and Violette, as well as the original version of St Michelle, originally released on the Heures Sans Soleil compilation.
Tracklist:
1. Show Me
2. I'm Doing Fine
3. Here Comes Love
4. Remind Me
5. Tyrannies of Fun
6. Open Cages
7. Baby Blue
8. With a Reason
9. Mr Zak
10. Bottle of Red Wine
11. Midnight Shift
12. San Michelle
13. Violette (7")
14. Remind Me (Instrumental)
15. Show Me (12" version)
16. Show Me (Dennis Bovell Dub Mix)
17. Vendetta
18. We Can Work It Out
19. San Michelle (Original Version)
Available on CD and download. Revised artwork, 74 minutes of music.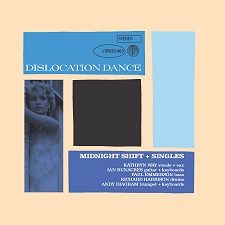 Reviews:
"Dislocation Dance experimented with a range of rhythmic, lyrical and instrumentation possibilities that bore richer fruit for Orange Juice, The Smiths, James, Scritti Politti and Haircut 100. Why is it that one band hops about on the fringes, but doesn't actually prize cash out of pockets, while another dives headfirst into the bottomless pit of public acclaim?" (Whisperin' & Hollerin', 2/2006)
"Much remains disarmingly pretty and melodic, as the wonderful instrumental Remind Me illustrates" (Q Magazine, 05/2000)
"Some perfect British indie pop, which bands like Belle and Sebastian owe so much to. It's hard not to be stirred by the infectious hooks of Rosemary or Show Me, and these reissues will restore some credit where it's due" (Exclaim!, 04/2006)
"I have this overwhelming desire to grab you, the reader, by the throat and scream, Hey! Listen! This is one helluva great group!" (Maine Music, 03/1982)