Live in Brussels 1986 originally appeared on Les Disques du Crépuscule in 1986 (TWI 637). Recorded at the Beursschouwburg in February of that year with a four piece band, this powerful set includes versions of several of Blaine's best known solo numbers, including Broken Fingers, Birthday Song and Mystery and Confusion, as well as early Tuxedomoon classics What Use? and Volo Vivace. Most surprising of all is the gritty take on Uptown, an extended essay on urban paranoia.
Tracklist:
1. Intro
2. Volo Vivace
3. Night Air
4. Birthday Song
5. What Use?
6. Uptown
7. Broken Fingers
8. Ash & Bone
9. Paris en Automne
10. Radio Ectoplasm
11. Burn Like Rome
12. Mystery and Confusion
Remastered with 6 bonus tracks not included on the original Crépuscule edition.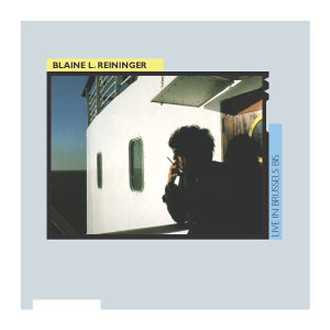 Reviews:
"Reininger's music has a strong autobiographical element, and Tuxedomoon often creeps up in the songs. Ash & Bone is about their travels together, and a later song was dedicated to Steven Brown, whose birthday it was. The set grew in power with powerful drums frm Daniel Wang and the scorched guitar playing of Alain Goutier. Blaine's voice was strong and confident on songs like Windy Outside, and he even went so far as to sing in French on Paris En Automne. The climax of the show was a long hypnotic take on Uptown, which started with Blaine invoking Satchmo, and grew to an almost orchestral finale that had the audience clamouring for more" (The Bulletin, 02/1986)
"The extraordinary thing about this recording is its freshness and relevance. You can hear all the Bowie, the Scott Walker, the (later to become) Jeff Buckley passion for European high art. A real plunder chest for any contemporary band on the lookout for fresh ways of upping the pop-rock ante. It would sit well in any serious collection that doesn't already know about this stuff" (Whisperin' & Hollerin', 03/2004)