Cath Carroll \ The Gondoliers of Ghost Lake [LTMCD 2350]
Written and produced with her husband and collaborator Kerry Kelekovich, the 14 songs which make up The Gondoliers Of Ghost Lake were recorded by Cath in her adopted home town of Chicago between January and July 2002. Standout tracks include The Divine Miss A (Morrissey meets the Kinks in tribute to transgendered Mancunian), Free (post 60s mystical rock), Man Goes Down the Highway (rarified folk-dub, on the same continuum as Luscious Jackson and Pulsillama) and the infectious Mystified (romping dance-pop with a Latin underpin).
Tracklist:
1. All Our Lives
2. The Divine Miss A
3. Free
4. Mystified
5. In Your Own Way
6. Man Goes Down the Highway
7. 7/7
8. Average and Unsaved
9. Dunvant Junior Prayers
10. Blood Roar
11. Leaving Song
12. The Boy From Islamorada
13. Falling Over Tomorrow
14. All Our Lives (Epilogue)
Available on CD and download.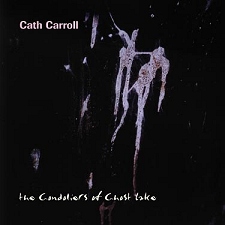 Reviews:
"Moody guitar textures and flat electronic beats discreetly light her diaphanous waft of a voice, which slip along reality's edge. Think Twin Peaks, even the Blair Witch Project"M (Q Magazine, 01/2003)
"Cath Carroll possesses an extraordinary voice, sensuous and dreamy and capable of uniting diverse influences with a cool grace, here acid-folk, Smiths-esque pop, hippie rock and Latino club romps are blessed with her hypnotic understatement and literate guile. This is grown-up pop resounding with heartfelt warmth and steely seriousness" (Uncut, 01/2003)
"The album is Carroll's best since her Factory days, and her most musically adventurous. There's a rich palette of shuffling electro loops, spooky atmospherics and funhouse psychedelia dappled with bright acoustic guitar" (Time Out New York, 12/2002)
"Proudly defiant... flows seamlessly and beautifully from beginning to end, uncompromising in its quality and beauty" (mundanesounds.com, 02/2003)
"Seductively ethereal" (Glasgow Herald, 12/2002)
"What a fine touch she has for effortlessly merging and blending styles and influences into something that sounds both contemporary and timeless all at once" (Careless Talk Costs Lives, 01/2003)
"The latin influences continue to appear, while In Your Own Way is an unsettling ballad par excellence, and Leaving Song a model of refined understatement. Full credit also for the alt.country of The Divine Miss A and Falling Over Tomorrow" (Leonard's Lair, 11/2002)