Section 25 \ From The Hip [LTMCD 2314]
Digital remaster of the classic 1984 electro-synthpop album produced by Bernard Sumner of New Order. The CD version includes both 12-inch remixes of seminal club hit Looking From A Hilltop (FAC 108) together with previously unreleased mixes of Beating Heart and Back to Wonder (FAC 68). Remaster also features two mixes of Dirty Disco II. Original artwork by Peter Saville and Trevor Key.
From The Hip is also available on deluxe double vinyl (FACT 90), featuring the original album on disc 1 plus a bonus 12-inch single containing the original 1984 Megamix of Looking From A Hilltop by Bernard Sumner and Donald Johnson, backed with a 2010 reboot of the same track by Stephen Morris. Artwork digitally 'remixed' by Peter Saville in 2012.
CD tracklist:
1. The Process
2. Looking From A Hilltop
3. Reflection
4. Prepare to Live
5. Program For Light
6. Desert
7. Beneath the Blade
8. Inspiration
9. Looking From A Hilltop - Restructure (FAC 108)
10. Looking From A Hilltop - Megamix (FAC 108)
11. Dirty Disco II (FBN 45)
12. Dirty Disco II (Premix)
13. Beating Heart - 12" remix
14. Back To Wonder - 12" version
15. Beating Heart - 12" version
2xLP tracklist:
A1. The Process
A2. Looking From A Hilltop
A3. Reflection
A4. Prepare to Live
B1. Program For Light
B2. Desert
B3. Beneath the Blade
B4. Inspiration
C1. Looking From A Hilltop - Megamix (FAC 108)
D1. Another Hilltop - Stephen Morris Mix
High quality Optimal pressing. The double vinyl version is available at £15.00 per copy plus postage. A special 2xCD anniversary edition of From The Hip is also avaiulable from Factory Benelux (FBN 33 CD)
Reviews:
"Includes the skyscraping phantom-funk of 1984's still-incredible Looking From A Hilltop (Megamix)" (The Wire, 04/2013)
"This massively influential album from 1984 saw the Cassidy brothers work with producer Bernard Sumner to incorporate the electro beats and synth atmospheres of New Order's Power, Corruption & Lies into Section 25's doomy post-punk world view. Packaging for the new Factory double vinyl edition is top notch" (Mojo, 08/2012)
"From The Hip saw Section 25 emerge as a new band with a new mandate, as half the album's songs prominently featured electro-funk drum machines and brightly-hued synthesizer leads. Looking From A Hilltop smuggles in a spiky machine rhythm from Kraftwerk under billowing layers of keyboards. Other aspects of the song now seem prescient: In Looking From A Hilltop (Megamix), a minimally reworked single version of the album cut, a squelchy, resonant bass line lies wriggling deep in the mix. A year later, Chicago's disco scene would be reborn as acid house thanks to this technique's telltale squirm" (The Pitchfork 500, 2008)
"Sounds resolutely modern even now, like the precursor of house and techno. From The Hip is the group's masterpiece" (The Wire, 06/2002)
"So ahead of the game that no-one knew how to play it" (Record Collector, 05/2010)
"Although the former Blackpool guitar band's pulsating Looking From A Hilltop became an unlikely hit in New York clubs, their Bernard Sumner-produced electronica experiment was initially ignored. However, sampled by Orbital and The Shamen, From The Hip's trance states and 303 drum machines now sound like an accidental prototype for techno" (The Guardian, 11/2007)
"Lovingly repackaged... Unveils the band as a spiked synthetic pop unit of considerable merit" (Melody Maker, 01/1992)
"Interesting forays into ambient textures and also an instant club classic in Looking From A Hilltop" (Record Collector, 11/1998)
"Beautifully pale and wan" (Q Magazine, 08/1999)
"This is the gleaming, future-dwelling SXXV" (Uncut, 08/2000)
"Section 25 moved from guitar psychedelia to US clubland darlings with the seminal Looking From A Hilltop single in 1984. Synthetic sound might be commonplace today, but in the 80s it still had the power to shock, and shaped our perception of what pop music could be" (Record Collector, 12/2013)
"Looking From A Hilltop is the most important electro record of the early Eighties" (Boomkat, 02/2007)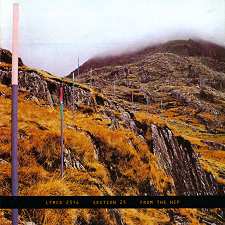 Jon Savage on Song: Section 25 - Looking From a Hilltop (Megamix)
The popularity of European electronics from spring 1977 onwards had a huge impact on disco and dance music. Donna Summer's I Feel Love and Kraftwerk's Trans-Europe Express (released on a US 12") announced that the future had arrived: their innovations were quickly ratified by stunning records like Sylvester's You Make Me Feel (Mighty Real).
One of the contrails of influence was a strong connection between Afro-futurism and the European avant garde. The early 80s was an incredibly fertile crossover time: just think of Planet Rock, Confusion, Adventures On the Wheels of Steel, Situation, White Lines, Alleys of Your Mind and A Number of Names' extraordinary Sharevari to name but a few.
Before Madchester became its millstone, Factory Records drank deep from this particular well. New Order already had the Moroder patch down by the time of 1981's Everything's Gone Green, let alone Blue Monday. Martin Hannett produced New York's ESG, while John Robie remixed Cabaret Voltaire's paranoid Near Eastern cut-up Yashar.
You could hear these proto-trance epics in the early days of the Hacienda. The club was not as much of a dead loss as the legend has it: thanks to regular DJs Hewan Clarke and Mike Pickering, its booming space echoed to a mix of post-punk electronics and early rap/electro jams like the Peech Boys' Don't Make Me Wait, the Extra T's E.T. Boogie, or the P-Funk All Stars' Hydraulic Pump.
Factory had a patch in 1982/3 when it released several good dance records: Yashar, Confusion, 52nd Street's Cool As Ice, A Certain Ratio's Knife Slits Water, Quando Quango's Love Tempo, Marcel King's Reach for Love, culminating with the wonderful Looking From a Hilltop (Megamix) by Section 25 - one of the last great productions in this early sequence before the label lost its way for a while.
Formed by brothers Larry and Vin Cassidy, this Blackpool group seemed like unlikely electro adopters. They'd begun in 1979 with Girls Don't Count, an obdurate slice of nihilism produced by Ian Curtis and Rob Gretton. Their first album, Always Now, contained downbeat trances like New Horizon, but tracks like Dirty Disco had nagging, repetitive rhythms taken both from dance music and krautrock.
After The Key of Dreams, a second album (released on Factory Benelux) that explored the ultimate punk taboo - psychedelic jams that, in the case of the astonishing Sutra, lasted nearly 15 minutes - Section 25 had a rethink. Original guitarist Paul Wiggin left, while a brief period as a three piece with a drum machine soon passed.
By 1983, the brothers added Jenny Ross and went electro: as Larry Cassidy stated that year, "you can't be a punk all your life". The result was third album From the Hip, produced by Bernard Sumner and released in early 1984 - from which Looking From a Hilltop was extracted as a single together with this remix by Sumner and A Certain Ratio's Donald Johnson.
Section 25's psychedelic past is right up front from the very first note: a reversed drumbeat. As you'd expect, the percussion is right up in the remix, trailed by dreamy keyboard melodies: as the vocal comes in, the rhythm resolves into a springy metal-beat, underscored by a hypnotic bass line and overlaid with hi-pitched synth sounds - like droplets of rain.
The voices - of Jenny Ross and Larry Cassidy - float in and out of this glistening sound picture. The lyric tunes in and out, and what you can hear has the usual Section 25 mix - the desire for freedom tempered by depression: "I just want to see your face to see your face to see your face to/I just want to see your face/Bring me down, bring me down."
In the end, Looking From a Hilltop (Megamix) is all forward motion. At eight minutes, the track isn't a second too long: all the elements are subordinate to the irresistible Moroder-esque modulations, which give a framework over which the group and the remixers pour backwards synths, wailing rock guitar, and all manner of ambient noises.
With this epic - one of the best tracks from a great year for electro - Section 25 finally achieved the grandeur that they had always sought. Released in June 1984, the 12" - with a bright orange sleeve - made waves in the UK and was a club hit in New York. It was also picked up by black radio stations in the Chicago area, and consequently fed into the early house scene.
The group, however, dissolved soon afterwards, although they continue to work into the 21st century. Sadly leader, singer and composer Larry Cassidy died from natural causes earlier this month: let this transcendent masterpiece be his fitting testament.
Jon Savage, The Guardian, 23 March 2010