Blue Orchids \ From Severe To Serene [LTMCD 2354]
The Blue Orchids at the BBC. In addition to the seven tracks recorded for their two legendary John Peel sessions in 1980 and 1982, this CD and download includes the rare Riding the Times EP recorded in 1987 as Thirst with ex-Fall drummer Karl Burns, plus several live tracks by Blue Orchids recorded at Manchester University on 3 October 1981.
Tracklist:
1. Work
2. The House That Faded Out
3. Low Profile
4. No Looking Back
5. Bad Education
6. A Year With No Head
7. Sun Connection
8. The Unknown
9. Crystal Kiss
10. Let Go
11. Riding the Times
12. Tighten My Belt (live)
13. The Flood (live)
14. Sun Connection (live)
15. Hanging Man (live)
16. Disney Boys (live)
17. Work (live)
18. Underground Breakfast (live)
This digitally remastered set runs for 74 minutes, with detailed sleevenotes in the booklet.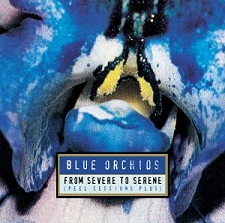 Reviews:
"This has dated incredibly well. In kinder times, the grimy Dickensian pop of Work and laconically catchy Bad Education would surely have troubled the charts - four stars" (Q Magazine, 04/2003)
"The Blue Orchids cut a caustic swathe through the early 1980s with songs like Work... The Charalatans and Inspiral Carpets both emulated their inventive use of Hammond organ" (Uncut, 03/2003)
"All pre-apocalyptic sense of wonder, it looked forward with awe to visions of what might have been, then ran for the hills instead" (Glasgow Herald, 02/2003)
"The second Peel outing is the real gem. Spacier and more considered than before, it features Bramah far more at ease with himself as a vocalist. If pushed, this reviewer would plump for A Year With No Head as his absolute fave Bramah tune" (Whisperin' & Hollerin, 02/2003)
"The Peel sessions actually serve the Blue Orchids better than their studio recordings - tighter, more intense, and better sounding. In fact their whole second Peel session is utterly wonderful" (Mundanesounds, 05/2003)