The Passage For All and None [LTMCD 2359]
This, the second Passage album, originally appeared in 1981 on their own Night and Day label, and saw mainman Dick Witts joined by guitarist Andrew Wilson and drummer Joe McKechnie.
Stand-out tracks include Dark Times, Hip Rebels and Lon Don. The four bonus tracks comprise all the tracks from two rare singles issued on Night and Day: Troops Out, and Devils and Angels. The latter featuring short-stay vocalist Lizzy Johnson.
Digitally remastered on CD and download. CD booklet features liner notes.
Tracklist:
1. Dark Times
2. Lon Don
3. The Shadows
4. Do the Bastinado
5. One to One
6. A Good and Useful Life (Begun)
7. A Good and Useful Life (Revived)
8. Flag Night
9. Shave Your Head
10. Tangled
11. Photo Romance
12. The Great Refusal
13. Troops Out (7")
14. Hip Rebels (7")
15. Devils and Angels (7")
16. Watching You Dance (7")
Available on CD and digital download. CD version is currently out of stock.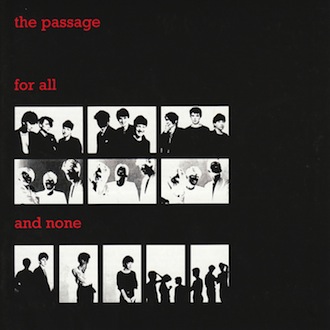 Reviews:
"The second album sacrificed nothing of the intensity and power of their debut, while demonstrably stretching their ambition with complex arrangements and a more polished production" (The Wire, 12/2003)
"Firmly presents the case for rediscovery" (Q, 07/2003)
"Their elaborate, Moog-driven segmented musical backdrops reflected Witts' classical background. Four stars (Uncut, 06/2003)
"FAAN kicks off with two of their best and most enduring songs, Dark Times and Lon Don. The album remains a dark, intelligent marvel to this day" (Whisperin' & Hollerin', 05/2003)
"A varied collection of melodic songs with both tension and depth, plus lyrics that successfully avoid the twin pitfalls of preaching or propaganda" (The Face, 10/1981)
"A lance falling straight into a block of ice" (Sounds, 09/1981)