Extended 70 minute CD edition of this forceful live album by Crispy Ambulance, comprising live performance mix-desk recorded around Europe and the UK during the winter of 1981-1982 on tour with Factory labelmates Section 25. The twelve live tracks capture the band at their most eerie, powerful and hypnotic, with eight of these numbers never recorded in the studio.
The CD and download is completed by three bonus studio tracks, including the rare debut single on Aural Assault from 1980, as well as Black Death, the b-side of 1982 farewell single Sexus on Factory Benelux.
Tracklist:
1. Rainforest Ritual
2. United
3. Choral
4. Green Shirt/White Shirt (Deaf)
5. Brutal
6. The Plateau Phase
7. Nightfall Ends the Ceasefire
8. Bardo Plane
9. At The Sounding of the Klaxon
10. Chill
11. I Talking/You Talking Pts. 1 + 2
12. Lucifer Rising
13. Black Death (Life Is Knife) (from FBN 16)
14. From the Cradle to the Grave (from AAR 001)
15. Four Minutes From the Frontline (from AAR 001)
Band biography in booklet, plus live photos.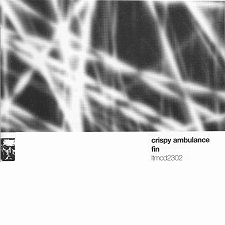 Reviews:
"Here was a band that had a vision all of its own without any help from the rest of the pack. Too bad this fine band ended up in the casualty ward" (NME, 09/1990)
"The instrumentals included here are some of the best jams this reviewer has ever heard, from a band retrospectively cordoned off into the English new wave scene" (Ear Magazine, 1990)
"Revealing a psychic bond with Mission Of Burma, New Order and JG Ballard... a band that became really vital in many ways at their final hours" (The Blow Up, 02/2001)
"Powerful yet still mysterious in concert. Plateau Phase is arguably the standout number, it's driving, rampaging post-punk power simply stunning" (All Music Guide)