Cath Carroll \ England Made Me [LTMCD 2348]
Recorded in Sheffield, London, Chicago and Sao Paulo, England Made Me was first released by Factory Records in 1991 (Fact 210) and offers a smooth yet sometimes sinister amalgam of moody dance, sensuous daydreams and warped bossa nova. Available on CD and download.
Tracklist:
1. Moves Like You
2. Unforgettable
3. Beast on the Streets
4. Train You're On
5. Send Me Over
6. Subtitled
7. Watching You
8. Next Time (He's Mine)
9. To Close Your Eyes Forever
10. Too Good To Live
11. Moves Like You (7" remix)
12. Send Me Over (Alternate Mix)
13. Beast on the Streets (John Fryer remix)
14. England Made Me
Digitally remastered by Cath and Kerry Kelekovich with four bonus tracks, plus biographical notes and original sleeve artwork.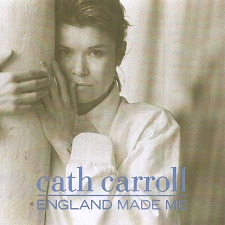 Reviews:
"Over a decade on it still sounds classy, an amalgam of Latin beat and European machine grooves, like New Order accosting Sade on a jazz cruise. The title track may sound like a joyous salsa ride, but lyrically it's a vehicle for Carroll to express her disillusionment with her homeland. This combination of salsa and sadness is a compelling one" (Q Magazine, 09/2002)
"Just about flawless" (Time Out New York, 12/2002)
"Gentle grooves and a voice to melt your heart" (Chicago Sun Times, 09/2002)
"A cunning work of slinky, sinister pop and ghostly electronics - prefigures the sort of female-fronted dance pop popularized by groups like St Etienne" (All Music Guide, 10/2002)
"Add together some punchy remixes and we have a forgotten gem of an album" (Leonard's Lair, 08/2002)
"Hey - ten years ago I really did miss out on a great record. Stand-out tracks are the more dance-orientated tracks like Send Me Over, Subtitled and the fabulous opener Moves Like You. It's really that good" (Tangents, 07/2002)
"Her music is a farrago of curious influences - Brazilian dance pop, the Manhattan Transfer, Herb Alpert maybe, and (mostly because of her potent low-volume vocalizing) Sade. She found a genuinely new frontier - underground MOR" (The Chicago Reader, 1993)
"An album worthy of obsession - a rainy-day afternoon pop-lite affair that is really rather enjoyable" (mundanesounds.com, 2002)