The Passage \ Enflame [LTMCD 2363]
The fourth and final Passage album originally appeared in 1983 via Cherry Red and reunited Witts, Wilson and McKechnie. Stand-out tracks include Sharp Tongue (also issued as a single), Horseplay and Sunburn; Drugface was later sampled by Moby for his 1991 single Drug Fits The Face. The seven bonus tracks include non-album single Wave, and five demos from 1983.
Tracklist:
1. Sharp Tongue
2. Clear As Crystal
3. Drugface
4. Man of War
5. The Half Of It: Twats
6. The Half Of It: Sissies
7. Dogstar/8th Day
8. Horseplay
9. brd usa ddr jfk
10. Sunburn
11. Wave
12. Angleland
13. Song to Dance (demo)
14. Tattoo (demo)
15. Drugface (demo)
16. Man of War (demo)
17. Sing the Praise (demo)
Digitally remastered. Liner notes in booklet.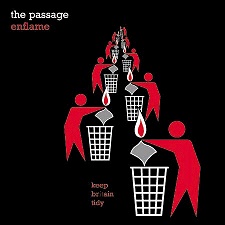 Reviews:
"Degenerates and Enflame still bristle beautifully. Witts might have been as bilious and polemic as The Fall were, but he understood the majesty of Kraftwerk" (Q Magazine, 07/2003)
"Seemed to achieve the impossible, with The Passage becoming more poppy and more avant garde at the same time" (The Wire, 12/2003)
"A groundbreaking outfit, and few have attempted their complex, keyboards and drums dominated sound before or since. This is a thrillingly expanded reissue that still sounds ahead of much of the game today" (Whisperin' & Hollerin', 04/2003)