Minny Pops \ Drastic Measures, Drastic Movement [LTMCD 2384]
Drastic Measures, Drastic Movement first appeared on Dutch label Plurex in September 1979. An artful, uncompromising album, the 13 track set mixes hard-edged electronica with modernist noise, and shares much in common with contemporaries Cabaret Voltaire, The Normal, Suicide and early Human League. As well as an early version of the classic Factory single Dolphin's Spurt, the album also includes junk-food satire MD Mania and a cover of R.U.21 by US punk band Novak.
The 9 bonus tracks include all three cuts from their debut ep Kojak, also released in 1979, and the 2003 remix of Dolphin's Spurt by Zip and DJ Smacker.
There are also 12 minutes of vintage audio-visual clips featuring 5 live tracks recorded at the Amsterdam Filmakademie in 1979, playable in QuickTime format.
Tracklist:
1. Springtime I
2. Minny Pops
3. Hologram
4. Total Confusion
5. Dolphin's Spurt
6. Motor City
7. Springtime II
8. Monica
9. Flash Goes the Eye
10. M.D. Mania
11. R.U. 21
12. Mono
13. Muzak
14. Kojak
15. Footsteps
16. Nervous
17. Dolphins Spurt (2003 remix)
18. New Muzak (video)
19. Total Confusion (video)
20. Mono (video)
21. M.D. Mania (video)
22. Dolphin's Spurt (video)
Digitallly remastered on CD and download by Wim Dekker. CD version currently out of print.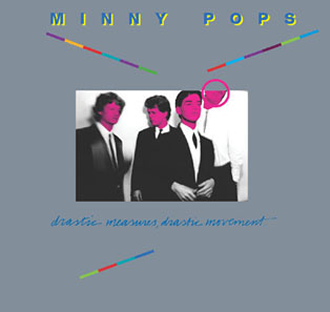 Reviews:
"A fine album filled with the sort of contemporary, essentially 'electronic' conciousness recently witnessed on the brilliant new PiL album. Perhaps the liveliest and strangest album I've heard all year" (Sounds, 01/1980)
"One of those enjoyable albums that is at once of its time and just slightly out of it. Minny Pops here slot into more of an early Human League / Cabaret Voltaire approach of minimal melodies and murky, crumbling noises shot through with murmering keyboards" (All Music Guide, 10/2004)
"Amsterdam's forgotten art-punk era terrorists (think Residents, Flying Lizards, Cabaret Voltaire) had no shortage of interesting and provocative musical and lyrical ideas. There's also a surprising warm pop sensibility to the fractured synth-pop and funky mechanics which makes this reissue that much more in time with what's happening today. Check out the booty-moving clank of Mono for an indication that these four dudes were swept under new wave's rug and deserve far more attention and recognition" (Exclaim!, 10/2004)